While vaccine brands to be offered in specific sites will not be announced in advance, officials stress that several steps in the vaccination process still ensure informed consent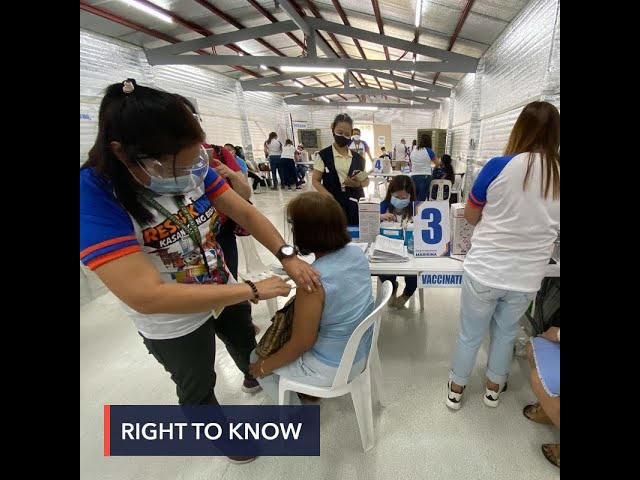 The Department of Health (DOH) assured the public that information on coronavirus vaccines, as well as the type of shot to be offered to them, will still be given to people once they are in vaccination sites.
The health department issued the statement on Thursday, May 20, following criticism of its plea to local government units (LGUs) to refrain from announcing in advance which vaccines will be offered in specific sites.
Health Undersecretary Myrna Cabotaje made the suggestion in a virtual briefing on Wednesday, May 19, saying the health department wanted to avoid a repeat of incidents where hundreds queued in sites across Metro Manila for a chance to get Pfizer's vaccine.
In an official statement on Thursday, the DOH refuted arguments that not announcing in advance the vaccine brands to be offered clashed with a patient's right to know what vaccine they would be taking. Several steps in the vaccination process still assured informed consent, it added. (Know more about steps in the vaccination site here.)
"Not announcing what brand will be available in inoculation sites will not take away the right of individuals to be informed of the vaccine they are taking, as the vaccination process entails on-site vaccine education, proper recording using vaccination cards, and monitoring for Adverse Events Following Immunization," the DOH said.
Prior to the DOH's proposal, several local governments had already observed the practice of not announcing which vaccines will be offered in specific sites, while others informed its constituents which shot would be offered to them upon their scheduled vaccinations.
Following the DOH suggestion, people can now expect to know which vaccines will be offered to them once they arrive in specified vaccination centers for their scheduled shot.
DILG agrees
The DOH further explained its request to LGUs, saying vaccine brands should not be used to boost public confidence as all vaccines granted emergency use authorization in the Philippines have been proven safe and effective against COVID-19. Vaccines available and cleared by the Food and Drug Administration for emergency use, it added, were also appraised by several vaccine expert groups in the country.
"Safety and efficacy of COVID-19 vaccines are scrutinized based on latest available data and scientific evidence from global clinical trials. All vaccines available now in the country are safe, effective, and have been found to reduce risk of severe illness and prevent death after completing the required doses," the DOH said.
This was echoed by Interior Secretary Eduardo Año, who urged people to receive the vaccine already available to them. Earlier in 2020, Año contracted COVID-19 twice, and returned to work on April 16, after an extended medical leave to recover from the disease.
Under Año, the Department of the Interior and Local Government (DILG) ordered LGUs not to announce in advance the brand of vaccines to be used in particular vaccination centers.
Año said the measure was needed to prevent long lines and crowds from becoming "mass gatherings" in vaccine centers, adding that a person's right to know was still respected.
"The person will be informed of the brand in the vaccination center and he will have to give his informed consent but if he refuses, he will have to go back to the back of the line," he said in a separate statement.
"We need to educate the people in order to overcome brand preference. All FDA-approved vaccines are (under) Emergency Use Authorization…. All of them prevent hospitalization or critical illness from COVID. That is what is important," Año added.
Since the launch of the government's coronavirus vaccine campaign on March 1, some Filipinos have preferred to wait for vaccine brands touting "better" efficacy rates against COVID-19.
Medical experts and scientists, however, have emphasized that vaccine efficacies against symptomatic COVID-19 are difficult to compare across brands due to a number of factors and that all vaccines available so far meet the crucial criteria of lessening hospitalizations and deaths due to the disease. – Rappler.com