'Their average daily deaths show increasing trend since August,' says Health Undersecretary Maria Rosario Vergeire
The Department of Health (DOH) said on Monday, September 20, it was monitoring Metro Manila and seven other regions due to their high number of COVID-19 deaths for the first half of September.
In a press briefing on Monday morning, Health Undersecretary Maria Rosario Vergeire said the following regions are being closely monitored by the DOH:
Metro Manila
Central Luzon
Calabarzon
Central Visayas
Western Visayas
Cagayan Valley
Ilocos
Cordillera Administrative Region
Vergeire said, "these regions posted the highest deaths for the two weeks of September. Their average daily deaths show increasing trend since August."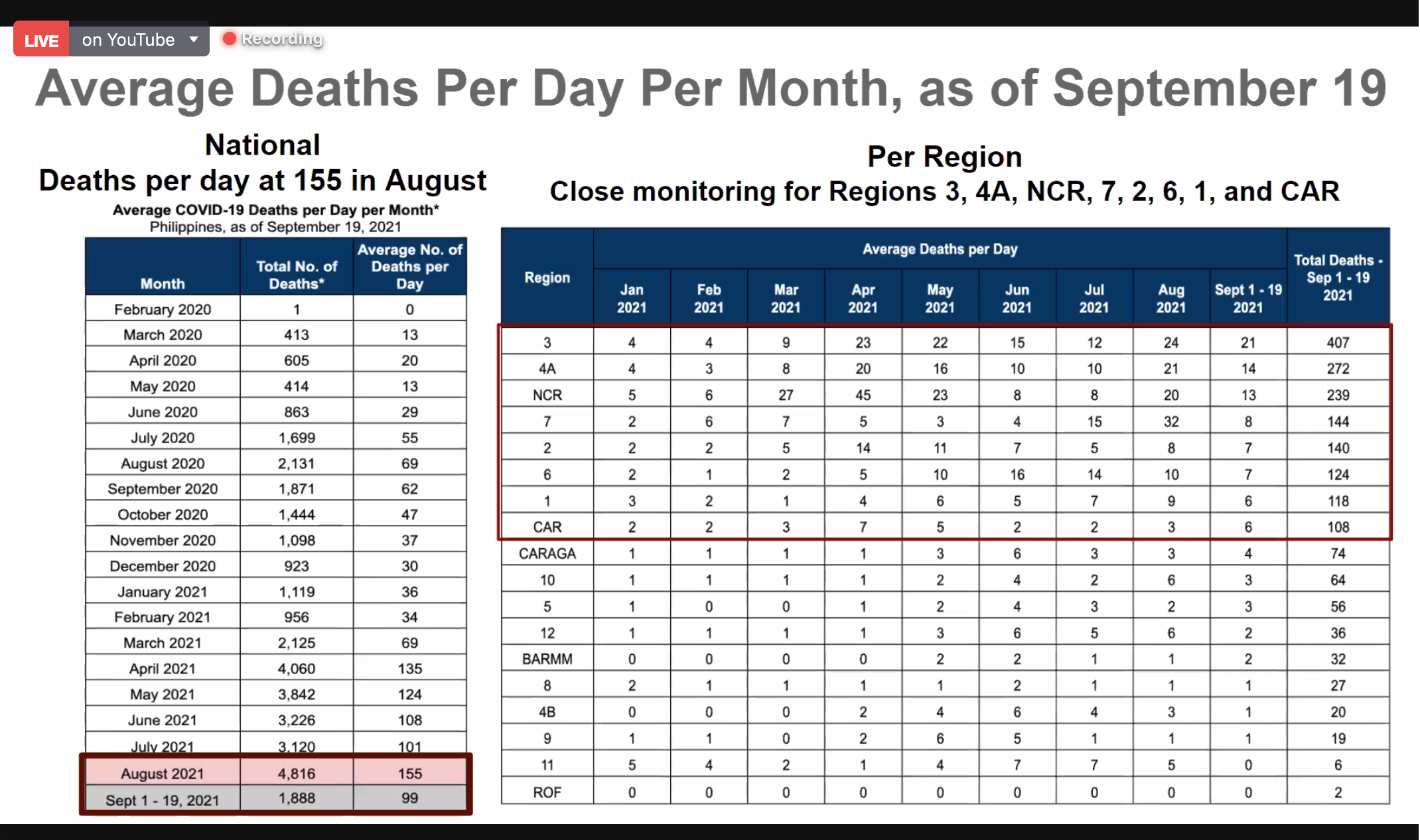 Vergeire also said the average deaths per day in August 2021 was 155, and this has exceeded the reported deaths of April 2021, when the first surge in infections this year driven by the Alpha variant happened.
"Partial data for September show an average of 99 deaths per day," she added.
319 more Delta cases
The DOH also reported 319 new cases of the highly transmissible Delta variant, which has been driving the surge in infections across the globe. The total Delta cases detected accounted for 85.3% of the 374 positive samples recently sequenced.
The Philippines now has 3,027 known cases of the highly transmissible variant, but there are concerns that the actual number may be far higher, as the Philippine Genome Center is only sequencing a small percentage of the positive cases.
Vergeire said that Delta now accounts for 24.2% of all the variant cases from the 12,530 samples sent for genome sequencing since the country started its biogenomic surveillance this year.
She added that there has been a "gradual increase" in the number of variant cases detected at the national level since they started sequencing early this year.
Vergeire said that variants of concern only accounted for 22.9% of samples collected in February. By March, it was up to 82.8%, and in August, was at 97.7%.
"The increased proportion of these variants can be attributed to their increased transmissibility," Vergeire said.
However, she said that methodology also affects these proportions as samples from target areas or populations are prioritized more.
As of Monday, the country has 2,385,616 confirmed cases of COVID-19, with 36,934 deaths and 2,171,832 recoveries. Of the total, 176,850 are active cases or currently sick.
The Philippines ranks 9th among countries in the world with the most number of COVID-19 cases since the pandemic began in March 2020.
– Rappler.com