The Department of Health says the limited COVID-19 vaccine doses should be distributed to other regions too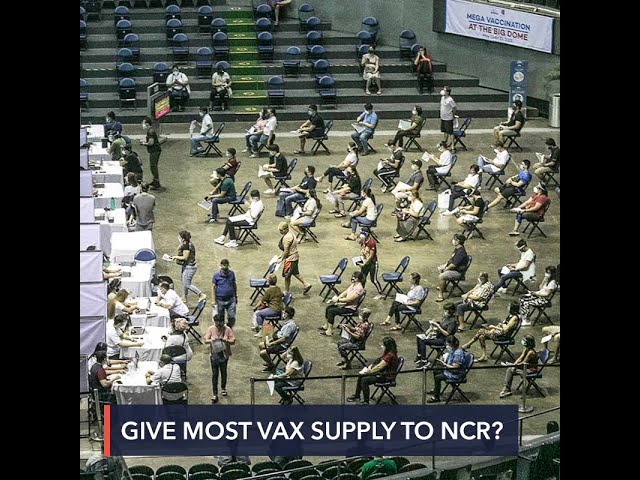 The Department of Health (DOH) on Monday, May 24, turned down a proposal to devote 90% of the Philippines' COVID-19 vaccine supply to Metro Manila, citing the need to distribute scarce shots to other regions as well.
Health Undersecretary Maria Rosario Vergeire made the statement in a media briefing, saying the strategy first proposed by the Octa Research group is not possible considering that vaccine supplies remain unstable.
"In our view, this is not possible because we also need to give attention to other regions in the country. We have put in place focused interventions in the 'NCR Plus' bubble and we see cases are decreasing here," Vergeire said in Filipino.
The "NCR Plus" bubble refers to the areas of Metro Manila, Bulacan, Rizal, Laguna, and Cavite, where majority of COVID-19 cases in the country have been concentrated.
The DOH's position on Octa's proposal is consistent with its past statements, as the department previously said such a move would drive inequity.
For the mass vaccination campaign, the government's strategy has been to prioritize the nine regions in the "NCR Plus 8" group, which include Metro Manila, Bulacan, Rizal, Laguna, Cavite, Pampanga, Batangas, Metro Davao, and Metro Cebu.
The nine regions have been reporting high infection rates and are economically critical.
What Octa proposed
Octa earlier called on the government to dedicate 90% of vaccines to Metro Manila and the remaining 10% to medical frontliners and senior citizens in the rest of the Philippines.
The group's mathematical models showed that devoting 100% of vaccine supply to Metro Manila, the epicenter of the pandemic in the Philippines, would halve the number of active COVID-19 cases nationwide. Allocating 90% would reduce active cases by 30%.
The proposal, added Octa, would make the government's goal of attaining herd immunity in the capital region more doable by November.
The government earlier adjusted its target from achieving herd immunity nationwide in 2021 to seeing broad coverage in Metro Manila by November, as vaccine shipments are expected to be affected by India's deadly COVID-19 surge. The South Asian country is a major hub for vaccine production.
Octa Research fellow and mathematician Guido David earlier said that while areas outside Metro Manila and Calabarzon are seeing an increase in cases, their caseloads were not nearly as alarming as Metro Manila's.
Herd immunity 'long-term goal'
On Monday, Vergeire said allocations given to Metro Manila are aiding in providing protection to medical workers, senior citizens, and persons with comorbidities – the first three priority groups.
Vergeire added that attaining herd immunity in the Philippines, with at least 70% of the public vaccinated, is a "long-term goal." A more immediate goal, she said, is to have vaccines help in decreasing hospitalizations and deaths.
"The 70 million [target vaccinees] is a long-term goal. Our goal right now is really to protect our vulnerable sectors," Vergeire said. – Rappler.com