The Department of Health says Visayas has 9,725 active cases, while Mindanao has 13,435 active cases
The Department of Health (DOH) said on Friday, June 11, that it saw a "faster increase" in new COVID-19 cases in the Visayas and Mindanao.
Health Undersecretary Maria Rosario Vergeire told reporters in a press briefing that Western Visayas, Central Visayas, and Eastern Visayas, as well as the Zamboanga Peninsula, Northern Mindanao, Davao, Caraga, and the Bangsamoro Autonomous Region in Muslim Mindanao (BARMM) showed a two-week positive growth rate in COVID-19 cases.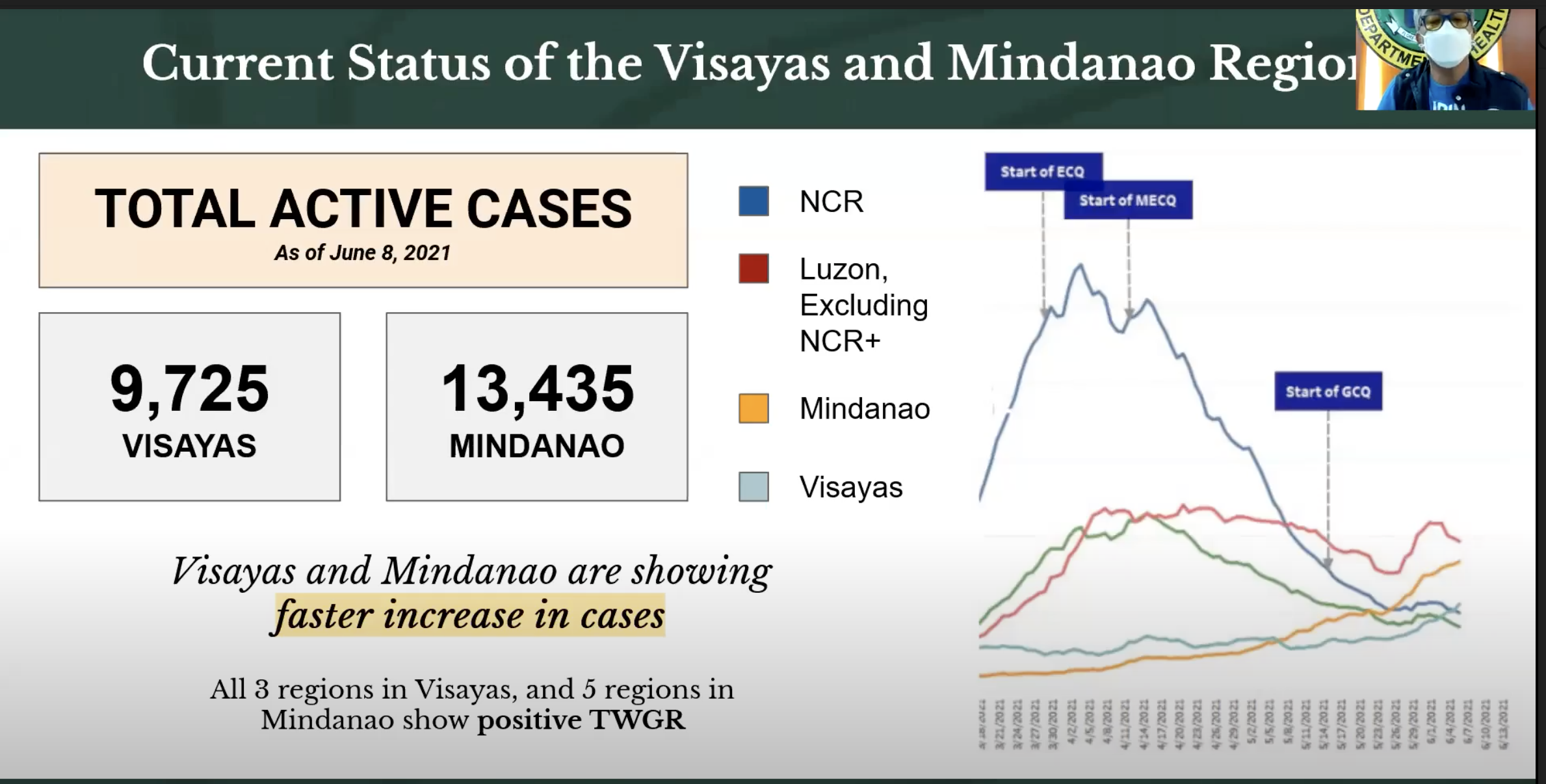 The DOH said Visayas has 9,725 active cases or those currently sick, while Mindanao has 13,435.
Vergeire said that the virus transmission in these regions usually happen in workplaces, and not in residential communities. She also added that the presence of the highly-infectious variants of COVID-19 is another factor why the cases in the regions are increasing.
Meanwhile, the Octa Research group noted in its report that the rise in COVID-19 cases in Mindanao has slowed down based on its one-week monitoring.
"The trends continued to move downward in Cagayan de Oro and Zamboanga City, but Cagayan de Oro continued to have high hospital occupancy rates," the Octa team said.
The experts also noted the "slight decrease" in COVID-19 cases in Davao City, which "dropped to second overall in the entire Philippines."
In the Visayas, the Octa team said that Dumaguete continued to have a surge in infections while Bacolod's upward trend in case has slowed down. – Rappler.com