Eligible individuals are also allowed to pick a different vaccine brand from their original two doses as their additional COVID-19 shot
The Department of Health (DOH) said on Monday, November 22, that senior citizens and immunocompromised individuals eligible to receive an additional coronavirus shot can choose to receive any authorized COVID-19 vaccine brand as their booster shot or third dose, respectively.
Eligible individuals will also be able to walk in any vaccine site to receive their additional coronavirus shot.
Based on the DOH's guidelines on the administration of boosters and third doses, eligible individuals will need to bring the following:
Original vaccine card showing completion of second dose or one dose for Johnson & Johnson (Janssen) vaccine
Valid ID
For immunocompromised individuals: medical certificate
Health officials said that seniors or individuals aged 60-years-old and above can receive a single dose of a COVID-19 vaccine at least six months after receiving their second dose in a two-dose vaccine regimen. Elderly who received the single-shot Johnson & Johnson vaccine can receive a booster at least three months after.
Eligible individuals may also choose to receive either the same vaccine brand used in their primary series – what is known as the first two doses – or another brand as their additional shot. The DOH provided the recommended dose schedule and combination as follows: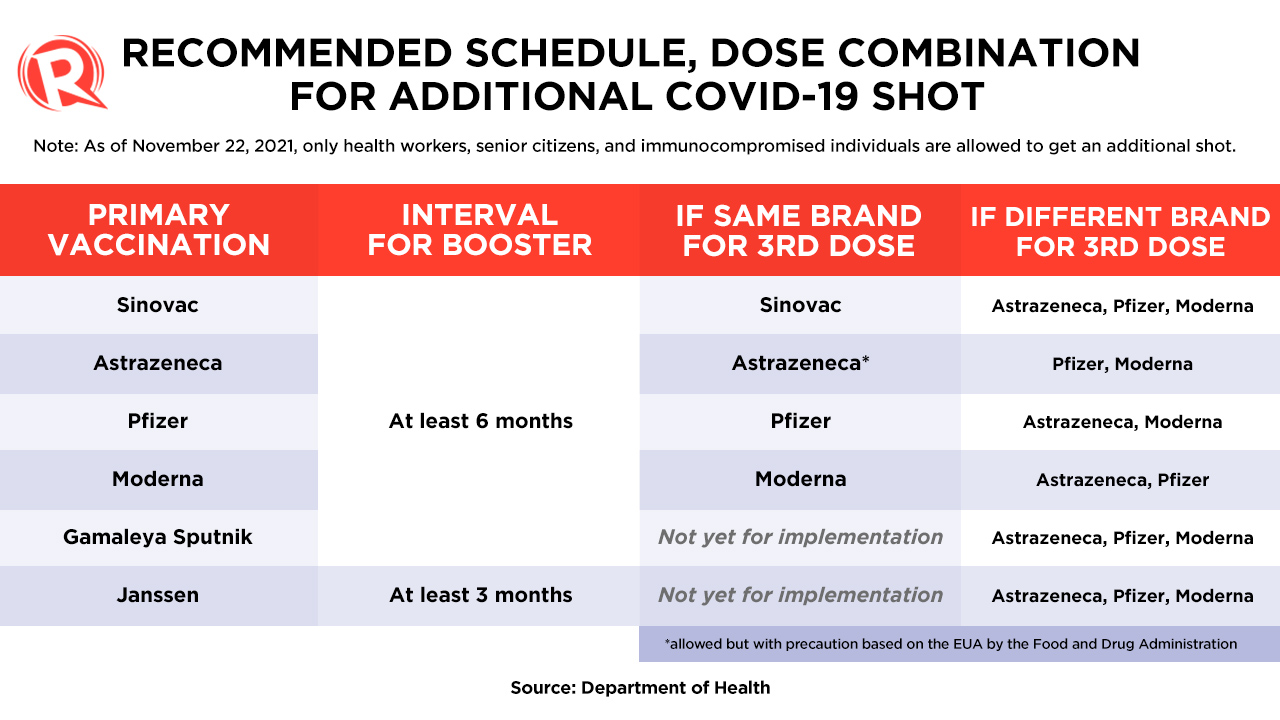 The following immunocompromised individuals were cleared to get a third dose:
Immunodeficiency state
People living with HIV
Active cancer or malignancy
Transplant patients
Patients under immunosuppressive treatments
Health authorities said that third doses for immunocompromised individuals would be needed for individuals in this population to be considered fully vaccinated.
Unlike the debate surrounding booster doses, scientists agree on the necessity of giving third doses to immunocompromised individuals. This is because they get little to no protection from the currently authorized vaccine dosage. The question of booster doses for this group has not yet been tackled.
On Monday, the Philippine government launched its coronavirus booster campaign for senior citizens aged 60-years-old and above, after initially rolling it out among health care workers.
Other priority groups, including other persons with comorbidities, economic frontliners, and the indigent population were not yet cleared to receive a COVID-19 booster shot. – Rappler.com