'Our protocol now is that we use single brand for now,' says Health Undersecretary Maria Rosario Vergeire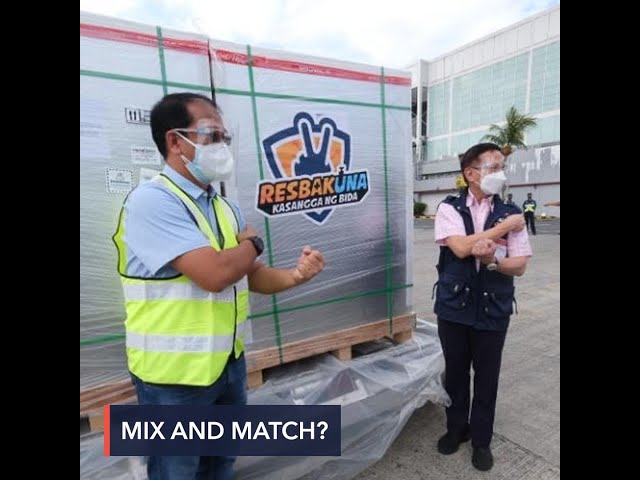 The Department of Health (DOH) said on Friday, May 7, that it was studying the possibility of "mixing" different COVID-19 vaccine brands to see if the combination of brands would provide additional immune response.
"We're already discussing and studying the mixing of brands. Last night, we had a meeting with the Department of Science and Technology regarding this matter. In our conversation, they presented the evidence being studied on that," Health Undersecretary Maria Rosario Vergeire told reporters in a mix of English and Filipino.
Vergeire said that the country's vaccine expert panel was present in the meeting, where they presented available evidence on the mixing of vaccine brands.
"In that conversation, we found out that there is only one country for now which is doing a trial on the mixing of vaccines," she added.
The BBC reported that a major trial in the United Kingdom was being expanded to see the effect on better immune response against the deadly virus.
The initial results of the trial are expected to be out by June or July, although the study will run for a year.
"Combining vaccines might give broader, longer-lasting immunity against the virus and new variants of it, and offer more flexibility to vaccine rollout," the BBC report said.
If proven effective, the mixing of vaccine brands would benefit the Philippines whose vaccine supplies are currently not equal among brands.
The Philippines, which is suffering one of the worst outbreaks in Southeast Asia, has so far 5,540,600 doses of vaccines – 5 million Sinovac vaccines, 525,600 AstraZeneca vaccines, and 15,000 Sputnik vaccines.
Current protocol: single brand
As experts conduct studies on mixing vaccine brands, Vergeire said the vaccination protocol in the country for now is single brand, which means an individual has to complete two doses of the same brand.
"In mixing of brands, our protocol now is that we use single brand for now. So if you were given Sinovac on your first dose, your second dose would also be Sinovac because we don't have enough evidence to state that we can already mix brands," she added.
The health spokesperson also said that the DOH could not give any recommendation on mixing of vaccine brands, even for President Rodrigo Duterte, due to lack of sufficient evidence.
Duterte on Monday, May 3, received his first dose of Sinopharm's COVID-19 vaccine, which has not yet been granted emergency use authorization. After drawing flak, Duterte said he would order the return of the 1,000 donated Sinopharm doses to China.
Meanwhile, Presidential Spokesperson Harry Roque on Thursday, May 6, said the President would still take his second dose of the Sinopharm vaccine as one of the donated doses would remain in the country for him. – Rappler.com