Red flags of trafficking in a community include households receiving money from international sources when they are known to not have any relatives abroad
The Department of Justice (DOJ) said on Thursday, July 30, that communities down to the barangay level need to be involved in the fight against human trafficking by increasing awareness on spotting red flags.
"Hindi magwo-work ang fight against trafficking kung 'yung national government lang ang malakas ang laban (The fight against trafficking will not work if only the national government is fighting hard)," said Justice Undersecretary Emmeline Aglipay Villar. (READ: Stolen: Pretty Girls)
Villar said the Inter-Agency Council Against Trafficking (IACAT), with the help of the Department of the Interior and Local Government, has been holding seminars for barangay officials on spotting badges of trafficking. Examples include:
Increased money service activity in a small barangay
A family who is known to not have relatives abroad, but receives money from different international destinations
Villar said they prioritize seminars in areas with high incidence of cases of trafficking and online sexual exploitation of children (OSEC).
The seminars are tailor-fit based on the most common issues in that area, such as how OSEC is prevalent in Cebu, general sexual exploitation in Pampanga, and in General Santos, there is a focus on the protection of fisherfolk against trafficking.
Villar said seminars have been suspended due to the coronavirus pandemic. Online versions of the seminars have not been possible yet due to internet connectivity capabilities of some communities.
Thursday marks the World Day Against Trafficking in Persons.
Trafficking in the Philippines
The Philippines celebrates its 5th straight year in Tier 1 of the US State Department's Trafficking in Persons (TIP) report, which means it meets the minimum standards for eliminating human trafficking. However, the problem remains rampant across the country. (FAST FACTS: Why online sexual exploitation of children happens in the Philippines)
Better coordination among the agencies in the IACAT has led to more convictions, Villar said.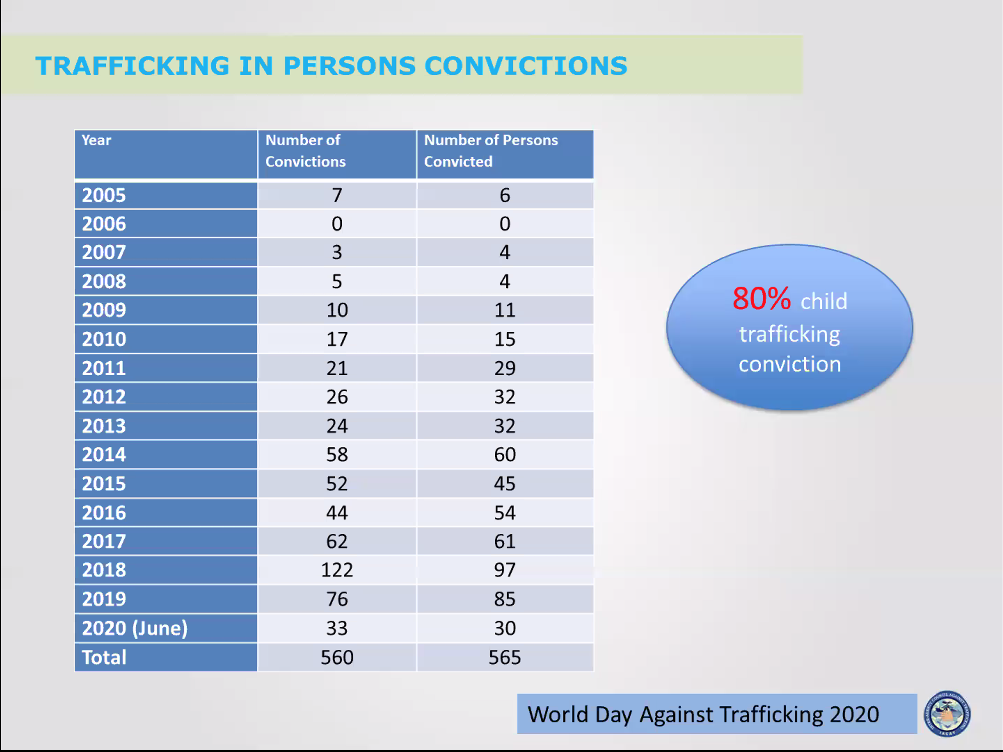 Why is trafficking still rampant even with a consistent Tier 1 status?
Foreign Affairs Assistant Secretary Enrico Fos said that even if trafficking remains rampant, the government's responses are also increasing.
"Lately we have started addressing the demand side of trafficking in persons, or those who do the exploitation. We have seen data from the Philippine Overseas Employment Administration (POEA) on the number of agencies closed, and surveillance operations. At the same time, we have expanded assistance for victims," Fos said in a mix of English and Filipino.
"The reason, in effect, why we keep our Tier 1 status is because we are doing all we can to fight [and prevent] human trafficking. We do not ignore it, the fight intensifies, and we convict traffickers. We do this in a cooperative manner," he added.
Has the pandemic affected the reported numbers of trafficking?
Villar said the bulk of reports on trafficking come from online platforms, social media, and through text, so these were not affected when the pandemic kicked in.
"Shifting to the time we had the pandemic, the channels were not hampered. I would say there are still many channels to report online, and those were the ones used anyway prior to the pandemic," she said in a mix of English and Filipino.
Villar, however, acknowledged that those who report physically are now challenged as their movements are restricted by quarantine measures.
To report cases of OSEC, call 1343 for Metro Manila and 02-1343 for outside Metro Manila. You can also report cases online at www.1343actionline.ph. – Rappler.com