'It's like there's a thorn in my chest whenever I hear news of killings,' says the parent of a drug war victim
The Philippine Department of Justice (DOJ) is still stonewalling on giving access to data on potential police abuses in President Rodrigo Duterte's drug war, saying that it is something they will "deal with later."
Justice Secretary Menardo Guevarra said on Monday, August 30, that they will submit this week to Duterte the department's second report on the drug war review, containing findings on the 52 cases of drug war deaths in police operations where administrative liability was already established.
This was Guevarra's response to a request for comment on the International Criminal Court's registry report that most of the drug war victims who joined the representation process "overwhelmingly support" an investigation. The ICC's pre-trial chamber is expected to decide by September if it will launch the crucial investigation phase, where summons and arrest orders can be issued.
Guevarra and Police Chief General Guillermo Eleazar have been passing the buck to each other on deciding whether to give data access to either the independent Commission on Human Rights (CHR) or at least to the families of the victims in their report.
"We'll deal with that later. We have to submit the report to [President Duterte] first," Guevarra said on Monday.
Guevarra said he can provide a gist of the report to the public, like he did when he told the United Nations Human Rights Council (UNHRC) in February that half of the cases they reviewed revealed a lapse in protocol on the part of the policemen.
It would turn out later on that the preliminary review covered only 300 cases. The entirety of the report is still a secret. The police were limited to giving just 52 of their own cases due to what Duterte deemed national security concerns.
"I did it before, I will do it again. At the proper time," Guevarra said when asked if he can make a summary statement.
The drug war review, opened in June 2020 as international pressure mounted, is supposed to reinvestigate and file criminal complaints for the at least 7,000 deaths in police operations. More than a year later, no complaints have been filed as a result.
The Supreme Court still has not resolved a four-year-old petition seeking to declare the drug war unconstitutional. A Rappler investigation also found that the documents submitted to the High Court were rubbish and stalled the litigation process.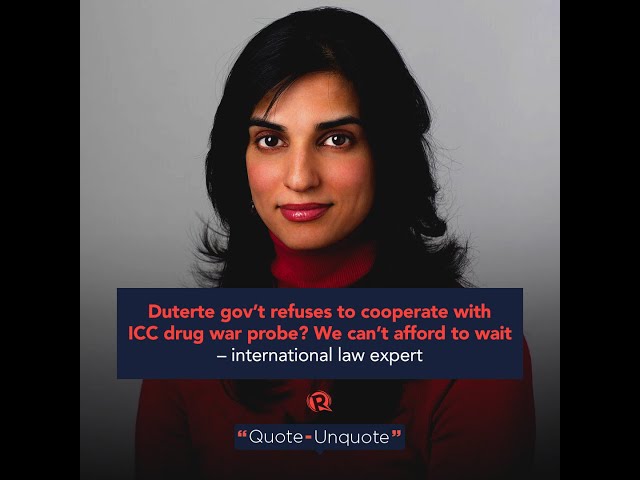 'Disillusioned'
The victims who had come to the ICC for the representation process said they are "disillusioned with the domestic legal system."
"Legal processes within the country are manipulated/pressured by the
state to the disadvantage of the victims' families," one victim said.
The representation process is the phase where victims tell the ICC their views, concerns, and expectations. It is not an indication or an application to formally join the court process if indeed a trial will ensue.
One parent told the ICC: "It's like there's a thorn in my chest whenever I hear news of killings of people by policemen and authorities because of [the] drug war."
"I remember my son and I can't breathe," the parent said. – Rappler.com