A policy watchdog expresses 'serious concern' as the government starts easing physical distancing onboard public utility vehicles
A directive to reduce social distancing onboard public transport from one meter to 0.75 meter will push through starting Monday, September 14, said the Department of Transportation (DOTr).
The Inter-Agency task Force (IATF) on Emerging Infectious Diseases, which heads the government's COVID-19 response, has agreed to a recommendation by the Economic Development Council (EDC) to practice "optimization of social distancing" on all modes of public transportation, DOTr Undersecretary Artemio Tuazon Jr said in a virtual media briefing on Saturday, September 12.
Although the IATF has agreed to reduce physical distancing on public transport to 0.5 or half a meter, Tuazon said Transportation Secretary Arthur Tugade wanted a "prudent and gradual way" to implement the directive by starting with 0.75 or three-fourths of a meter on Monday.
"Nais po namin ipaalam sa inyo na ang mga bagong protocol na ito ay ipatutupad na namin simula September 14 o sa Lunes (We wish to inform you that these new protocols will be implemented starting September 14, on Monday)," Tuazon said.
On the MRT-3, one of the most vital modes of public transport in Metro Manila, this means each coach's passenger capacity will increase from 51 to 68. Composed of 3 coaches, each MRT-3 train will increase its capacity from 153 passengers to 204.
With the same social distancing of 0.75 meter, the following will be the changes in the passenger capacity of Metro Manila's other train lines:
LRT1: from 155 passengers to 204
LRT2: from 160 passengers to 212
PNR: from 166 passengers to 184
Talking and phone calls will be prohibited inside trains. Standing passengers will be required to face the same direction. These are to minimize the chances of inhaling particles exhaled by fellow passengers. There will be at least one marshal on each train "as much as possible," the DOTr said.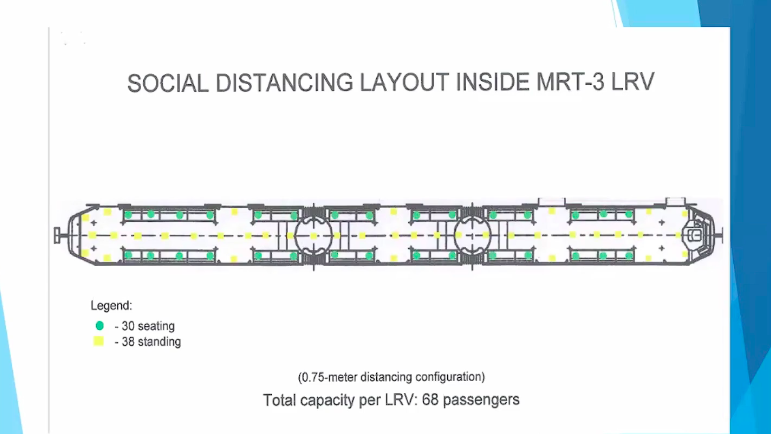 Buses with a current capacity of 24 to 25 passengers will be allowed to take on 6 to 8 more, or to as many as 36 passengers on a single bus.
Jeepneys will be allowed to take on 1 to 3 more passengers, increasing their capacity by 10% to 12%.
Talking and phone calls will be highly discouraged onboard buses, jeepneys, and any mode of public transport. Operators and drivers are encouraged to turn off air-conditioning so that air flows into and out of the vehicle, instead of just circulating inside it.
Face masks, face shields, frequent hand washing or sanitizing, and regular disinfection of vehicles will remain mandatory.
"Nakita namin na puwede namang liitan ang pagitan ng mga pasahero, basta nandoon pa rin ang health protocols katulad ng face mask, face shield, hand-washing, at thermal scranning bago sumakay," Tuazon said.
(We saw that it was possible to reduce the space between passengers as long as health protocols were still there, like wearing face masks, face shields, hand-washing, and thermal scanning before embarkation.)
The government plans to further ease the physical distancing threshold to 0.5 meter by September 28, and then down to 0.3 meter by October 12.
DOTr Undersecretary Timothy John Batan said the agency made a survey of other countries' health safety protocols on public transport, and found that many have already relaxed physical distancing while maintaining other protocols.
Quoting a study by the International Union of Railways, Batan said, "Using other measures in combination with social distancing, such as wearing a mask, will modify the threshold of social distancing, and thus enable to increase the occupancy rate of the trains."
The government has been hard-pressed to provide commuters transport options as it encourages a measured return to work and business in order to resuscitate the economy.
Tuazon said the reduction of physical distancing on public transport was supported by Trade Secretary Ramon Lopez, Socioeconomic Planning Secretary Karl Chua, Social Welfare Secretary Rolando Bautista, and Anti-COVID-19 policy implementation czar Secretary Carlito Galvez Jr.
Health Undersecretary Maria Rosario Vergeire on Friday, September 11, said the health safety aspects of the new DOTr policy was still under discussion.
'Bereft of scientific evidence'
On Saturday, the non-governmental organization Action for Economic Reforms (AER) expressed "serious concern" about the new policy.
"Lessons from countries with a resurgence of COVID-19 cases are fresh and stark. They show that the success of containing the spread of COVID-19 is contingent on the simultaneous implementation of social distancing, wearing masks, and other health and safety practices," the group said in a statement.
"The strict enforcement of health protocol while aboard public transport, such as the mandatory wearing of face masks and face shields, and barring passengers from talking or making phone calls, needs to be coupled with strict physical distancing to prevent a resurgence of cases," AER added.
The group said any policy or action by the government on the COVID-19 pandemic, including those involving public transport, must be guided by the Department of Health.
"The DOTr's proposal of reducing physical distancing between commuters to an initial 0.75 meter, then to 0.5 meter, and later to 0.3 meter, is bereft of scientific evidence, and lacks proper vetting and peer review…. Opening the economy and recovering livelihood without endangering the health of commuters necessitates policies and safety protocols which are data-driven and scientifically sound," AER said. – Rappler.com