Only authorized persons outside of residence will be allowed to use mass transportation
The Department of Transportation (DOTr) announced Tuesday, August 3, that there will be mass transportation during the Metro Manila lockdown but will be limited to authorized persons.
After discussions with the Inter-Agency Task Force (IATF), the DOTr proposal of retaining the current supply and 50% capacity in public utility vehicles (PUV) was approved.
Transportation Secretary Arthur Tugade reiterated only authorized persons outside of residence (APOR) will be allowed to board PUVs.
"Restrictions will be applied on passengers. There will be stricter enforcement to ensure that only APORs are permitted to use public transport, as mandated by the IATF," said Tugade.
"APORs are reminded to be ready to present to transport marshals identification cards issued by the IATF or other documents or IDs as proof that they are authorized to travel," Tugade added.
Tugade, however, said that should the IATF decide to take back its approval, the DOTr "will abide."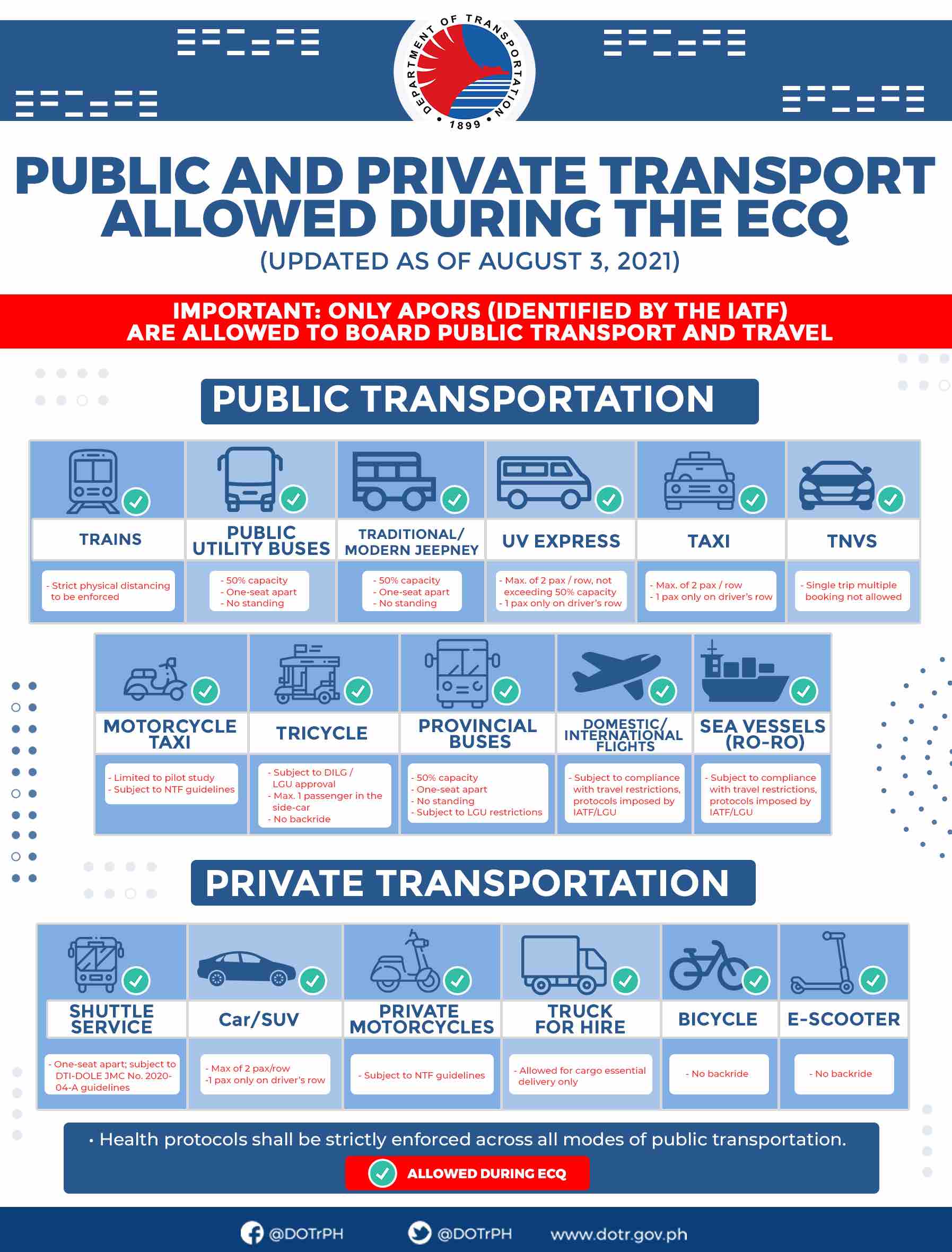 Metro Manila will be under lockdown from August 6 to 20. Initially, the IATF decided to suspend public transportation during the lockdown, but the DOTr recommended otherwise.
Similar to what has been allowed during the general community quarantine, half capacity in mass transportation is retained, but standing passengers for PUVs will not be allowed.
Only one person can sit in the front row for road-based transport.
Motorcycle taxis and ride-hailing apps are also allowed to ply the roads.
For tricycles, DOTr said that only one passenger can ride the cab. As tricycles are under local government units (LGUs), DOTr said that tricycle operations still have to be approved by the interior department and the LGU concerned. – Rappler.com