'We are responsible to the Senate, not to the House, [we are responsible] to the public who voted us in office,' says Senate Minority Leader Frank Drilon
Veteran legislator Frank Drilon said the House of Representatives broke inter-parliamentary courtesy when members of the lower chamber tried to discredit the Senate's ongoing probe into the Duterte government's pandemic deals.
Speaking to Rappler Talk Newsmaker on Tuesday, October 12, the Senate Minority Leader said comments thrown by House members at the manner by which senators conducted their investigation breached inter-parliamentary courtesy. 
Inter-parliamentary courtesy is a time-honored tradition in Congress where both houses do not meddle into each other's affairs. 
"Parliamentary courtesy would prevent me from making any comment on the way the House has conducted itself, but I also wish that the House will observe the same courtesies," Drilon said.
"Well, commenting on the way we conduct our hearings is a matter of courtesy that they should not do," added Drilon, who has been serving in the Senate for close to 24 years now.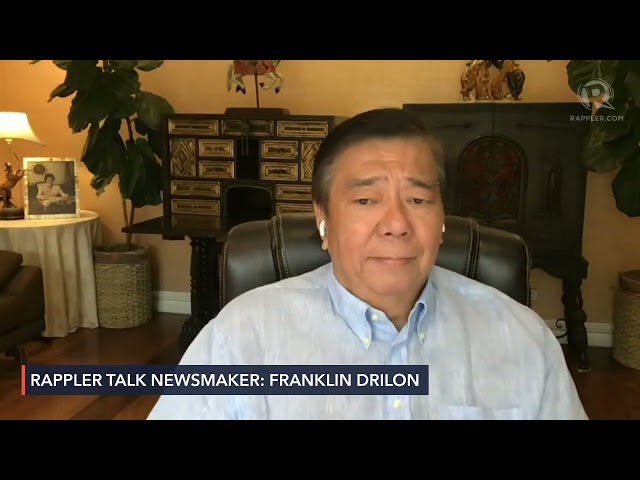 The Senate blue ribbon committee has been grabbing headlines these past weeks after senators kept on uncovering one red flag after another in the multibillion-peso pandemic deals forged by President Rodrigo Duterte's government with Pharmally Pharmaceutical Corporation.
Duterte, however, continued to defend the businessmen and government officials embroiled in the Pharmally scandal. 
Taking a cue from the President himself, representatives from the Duterte-controlled House have been using their own hearings on Pharmally to counter the findings of the Senate and defend the Duterte government's contracts.
House good government and public accountability panel chair Michael Aglipay even accused several senators of using the the hearings to amplify their electoral bids in the 2022 polls.
For Drilon, however, House members should not interfere in the Senate's affairs.
"The criticisms of the way we conduct our own business is a matter that is reserved to the Senate. We have the rules in the Senate which the senator is obliged to follow. And we are responsible to the Senate, not to the House, [we are responsible] to the public who voted us in office," he said.
Pharmally is a small company with only P625,000 in capital but was somehow awarded the biggest pandemic contracts, worth P10 billion, courtesy of the Procurement Service-Department of Budget and Management.
The Senate hearings have shown that to manage its contracts, Pharmally would be financed by Michael Yang, former economic adviser to Duterte. Yang would also serve as guarantor to Chinese suppliers.
Several senators have argued that government officials and businessmen involved in the scandal may be held liable for graft, as the Duterte government's preference for Pharmally and the substandard supplies by the company are still covered by the anti-graft law. – Rappler.com