This is AI generated summarization, which may have errors. For context, always refer to the full article.
Al Christian Gobres' message to the youth who are struggling during the pandemic: 'Marami sa atin ang naapektuhan talaga financially, emotionally, and also mentally. But let's not give up on our dreams.'
The son of a company driver from Legazpi City in Albay topped the October 2021 Chemical Engineer Licensure Examination, a feat he credited to the support of his family and relatives, the Department of Science and Technology's scholarship program, and his unbending determination to reach his dream.
Al Christian Regorgo Gobres, a 22-year-old University of the Philippines Diliman graduate, topped the exams with a score of 84%. Less than half or 321 of the 679 examinees passed the October 2021 exam, based on the results released on October 11.
Gobres is the second of three children of Lorenzo, a 54-year-old company driver, and Agnes, 49, a private employee. Agnes is from Oas town, Albay, while Lorenzo is from Bulan, Sorsogon. Barangay Rawis in Legazpi City has been home to their family for the last 26 years.
Gobres was the Class 2011 valedictorian of the Ibalon Elementary School in Legazpi, and graduated with the highest honor at the Philippine Science High School-Bicol campus in 2015. A DOST scholarship brought him to UP Diliman where he graduated magna cum laude in 2020.
Surpassing challenges
When asked about the challenges he encountered on his way to becoming a chemical engineer, Gobres cited the financial situation of his family and living away from home. His DOST scholarship took care of his tuition and provided him a monthly stipend, and he also got help from his parents, but there were other expenses that came along with studying in the capital region.
Fortunately, his relatives were there to support not only him but also his Ate (older sister) Christine, who is on her way to becoming a professional – she is taking up medicine at the Bicol University College of Medicine and is an intern at the Bicol Regional Training and Teaching Hospital. She, too, is a DOST scholar.
Gobres is the first professional in both his paternal and maternal sides.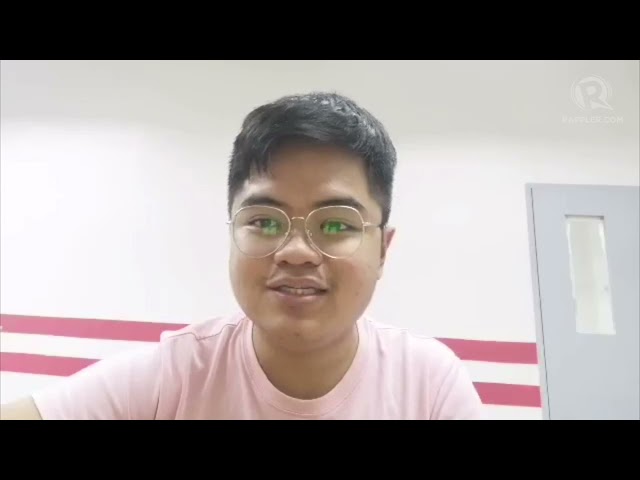 "We are really putting all our efforts na mabigyan ng pride ang family namin, ang relatives na sumusuporta sa amin (to bring pride to our family, the relatives who are supporting us)," said Gobres in an interview with Rappler.
Gobres' youngest sister, 18-year-old Justine Glee, is a management freshman at Bicol University.
'Don't give up'
Gobres said he had funneled all his energy into preparing for the 2020 licensure exam but it was canceled due to the pandemic, adding to his frustration. But he knew that he had to keep his eye on his goal.
"I was on the verge of giving up kasi nakakapagod (it got exhausting) and all but then I just kept my focus, I kept my motivation and dedication, and eventually I started again reviewing just a few months ago and I took the exam and I reached this achievement," he said.
Asked for his message to the youth, especially students who are struggling with the pandemic, Gobres said: "Marami sa atin nag-iisip to just give up and nawawalan na ng pag-asa na ituloy ang pag-aaral nila, especially pandemic. Marami sa atin ang naapektuhan talaga, financially, emotionally, and also mentally. But let's not give up on our dreams."
(A lot of us are thinking of just giving up and are losing hope in continuing their education, especially as it is a pandemic. May of us are really affected financially, emotionally, and also mentally. But let's not give up on our dreams.)
Gobres noted that there are different ways to get help through scholarships and also educational assistance from different agencies. "So hindi tayo dapat  sumuko kung anuman ang gusto natin. Sabi nga,  grit and passion come a long way," he said.
(So we should not give up on whatever we want to achieve. As they say, grit and passion come a long way).
Gobres also urged the youth to view problems as challenges that would make them stronger.
"Whatever happens, we may fail a lot and we may struggle a lot but let's use those struggles and mistakes para mas maging malakas tayo (to make us stronger). And we will come back stronger when we face those problems again," he said.
Gobres is currently a supply chain engineer at Huawei in Laguna.  – Rappler.com