Trade Secretary Ramon Lopez cites the suggested retail prices of the items at the start of the pandemic to justify the budget department's purchases, even if these were bought in bulk
President Rodrigo Duterte brought trade chief Ramon Lopez to his "Talk to the People" public address aired on Saturday, August 21, to explain why the Department of Budget and Management-Procurement Service (DBM-PS) bought face shields and masks at steep prices from private suppliers at the start of the pandemic in 2020.
The DBM-PS bought face masks for P27.72 per piece, and face shields for P120 per piece from different private suppliers at the start of the pandemic in March 2020.
Trade Secretary Ramon Lopez explained that the prices in 2020 "were really uncontrollable because of scarcity."
"We distinctly remember and we reviewed the documents and even news reports, it shows that at around March, we declared an SRP (suggested retail price) of P28 per piece [of face mask] because prices then were really going up," said Lopez.
The Cabinet official showed screenshots of news reports from March 2020 about government's announcements on the SRPs of face masks.
"Maganda na nabalita 'yan kasi during those days, 'yan talaga ang presyuhan noon (It's good that these were reported because during those days, that's really the pricing)," he said.
But shouldn't the wholesale price be lower than SRPs? That was the question of Senator Imee Marcos during a hearing on Wednesday, August 18, when senators scrutinized why the DBM-PS bought the items at what Senator Richard Gordon described as "astronomical" prices.
"Hindi ho ba negotiated bid ito, at kapag buy in bulk ang gobyerno, we have a right to discounts?" Marcos asked during the August 18 hearing.
(Wasn't this a negotiated bid? And if the government buys in bulk, don't we have a right to discounts?)
Negotiated procurements
The audit report on DBM-PS showed that the face masks and face shields were a negotiated procurement. "The cost of P28.00 and P120.00 per piece was used by PS in market surveys for its negotiated procurements," said the audit report.
The audit report also showed that on April 8, 2020, DBM-PS bought 50,000 pieces of face masks from Newlife Pharmaceutival for P16 per piece. But on April 16, it proceeded to do more bulk orders from four other companies, with prices ranging from P22.50 to P27.72 per piece. The highest priced face masks, or P27.72 per piece, were brought from Pharmally Pharmaceutical Corporation.
The DBM-PS bought 2.4 million pieces from Pharmally at P22.50 per piece, and then another 500,000 pieces for P27.72 per piece, both purchase orders having the same date, April 16, 2020.
On April 20, 2020, it made another purchase from Pharmally: 10 million pieces at P22 per piece. Then on April 27, 2020, it bought 100 million pieces from EMS Components Assembly Incorporated for P13.50 each.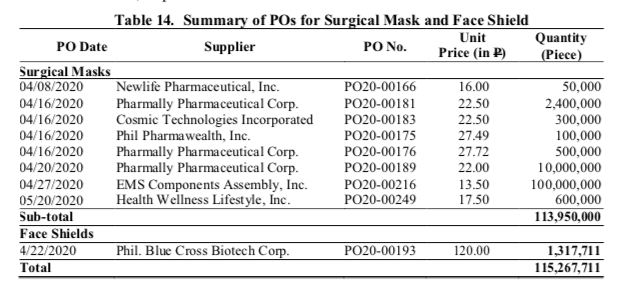 During the Senate hearing on Wednesday, Gordon said the Philippine Red Cross was able to buy face masks at P5 per piece, and shields for P15 per piece.
"We purchased ours from the very beginning but we purchased ours at a lower rate," said Gordon.
Because the supply eventually increased and market prices dropped, the DBM-PS is having difficulty selling the masks and shields to its client agencies. The audit report said that P95 million worth of supplies are just sitting in depots.
These purchases were made by then-DBM-PS head Lloyd Christopher Lao, who resigned in June. Senator Bong Go had denied ties to Lao, but records would show that Lao served as an undersecretary at the Office of the Special Assistant to the President, Go's former office in Malacañang before he was elected as a senator in 2019.
Lao has been called to the next Senate hearing.
– Rappler.com