The 'Filtrepreneurs', as they are called, say it's about time they group together and explore ways to make their respective businesses grow as Dubai's economy starts to gather steam
Over 100 former overseas Filipino workers (OFWs) here who have opened their own businesses – from salons to restaurants, even public relations and professional consultancy services – have banded together to help each other amid disruptions caused by the COVID-19 pandemic.
The "Filtrepreneurs," as they are called, said it's about time they group together and explore ways to make their respective businesses grow as Dubai's economy starts to gather steam.
This solidarity effort could not even be more glaring than during an event recently organized by the Philippine Business Council in Dubai and the Northern Emirates (PBC-DNE), which brought "Filtrepreneurs" under the umbrella group The Executive Club (TEC).
The event in mid-March was graced by Consul General Paul Raymund Cortes who expressed hope that it could be the start of a flourishing business community of Filipino entrepreneurs.
"It is important that there should be an avenue for… Filipino entrepreneurs to share and discuss experiences and other concerns relative to their role as employment creators and providers of economic opportunities for everyone. For the longest time, many of our people have been known to be great professionals and employees but not as much as proactive players in the economic development of our host countries," the consul general told Rappler in an interview.
"The initiative of the business council to come up with an executive club shows the growing interest of Filipinos in the field of entrepreneurship. It also shows the resolve of our people to rise beyond the challenges of the post-COVID-19 pandemic and take these by the horns so that they direct their recovery according to their business acumen and not simply by chance or by the whims of others," Cortes added.
Realization
Marian Carella, PBC-DNE head, said they were only expecting up to 30 people at the event held in the Radisson Blu Hotel – Dubai Deira Creek. Actual turnout however was at over 100, she said.
"It was perhaps the realization that it would be beneficial for their businesses to be part of this first-of-its-kind group offered to the Filipino business community – a chance to get connected," Carella, herself a former-OFW-turned-entrepreneur, also told Rappler.
The TEC, Carella said, "is a platform that will connect the former OFWs towards mutual development and growth… where they can converge, discuss, and share best practices in leadership and business."
"It is a platform where they can explore windows for engaging and leveraging on market opportunities," she said.
Bayanihan
Thirty-three-year-old Lemuel Garrido Africa, who now runs an online clothing company with a Philippine-based business partner, said the event reflected the Filipinos' spirit of camaraderie.
"It showed one true Filipino culture, which is bayanihan (a term that refers to cooperation among compatriots). It is very timely and relevant during this trying times. We should set aside differences and work with one common goal to elevate Filipino-owned businesses through linkages," said Africa, who had undergone PBC-DNE training in 2019, where his e-commerce business start-up proposal won among several other entries, and for which he received a grant for from the business group through sponsors.
"One close deal may lead to another and, right now, recommendations are much more powerful than any other ways of marketing your products or services," added Lemuel.
Their clothing retail e-commerce was launched last month.
Opportunities
Meanwhile, Robie Torre-Gonzales, who has 20 years' experience in the field of human resources – 12 of which have been spent in Dubai – said the TEC launch "paved the way for an array of opportunities for us."
"As a start-up in the Dubai entrepreneurial community, the intimate gathering allowed us to understand the business scene. More than the information-sharing, the ecosystem of Filipino expat entrepreneurs gave me the confidence that somebody will somehow support and guide you through the life of a businessperson. It's the goal of helping the economy through your own community that stands out," Gonzales said.
Gonzales has recently opened an HR consultancy firm that helps companies create strategies, standardize processes and align skills to make the workforce a competitive advantage, she said.
Albert Alba, who had worked in the Dubai public relations field for over 10 years before recently setting up on his own as a freelance specialist, said launching TEC was a "timely, relevant, and pioneering initiative" that will "open doors for referrals and recommendations (as well as) huge opportunities to network with Filipino entrepreneurs, learn lessons from them, and hopefully start meaningful partnerships."
"In this challenging and difficult times, any and all forms of networking and help is a welcome opportunity. And as a budding freelance service provider, this is important (for me)," Alba said.
Solidarity
Dr Rex Bacarra, academic head and director for administrative services at the recently opened Southville International School and Colleges – Ras Al Khaimah (RAK) Campus, said the overwhelming attendance at the PBC-TEC event "indicates the need for more profound solidarity among Filipino entrepreneurs in times of pandemic."
"COVID-19 affected many businesses devastatingly, and one of the more meaningful ways to survive is to be with people in an organization sharing the same concerns. The 100-plus who attended from the expected 30 is telling. Filtrepreneurs need each other not just to survive but to flourish. This is Bayanihan in action. A communal unity. We lessen the worries of each one by encouraging one another," Bacarra said.
Bacarra and Dr Ben Lebig, who himself was also instrumental in opening a Southville branch in RAK, an emirate north of Dubai, said they were at the event to find out how they could help.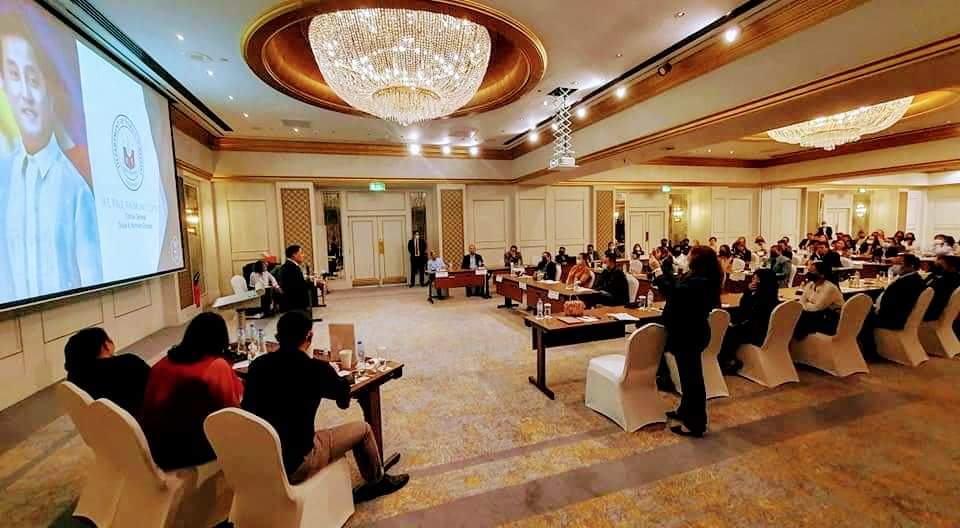 "Recognizing what one offers and supporting that endeavor through the actual use of service or product, recommending to other people, and sharing insights and strategies on how to improve, are just a few of the benefits each one gained from the event.
"All of them were happy to know that there is now a Filipino-owned higher education institution in the Middle East that the community can be proud of and one that will cater to our children's all-important educational needs and the young professionals who feel the need to enhance their careers," Bacarra said, referring to Southville-RAK.
Gabriel John Rimando, who runs an OFW learning center, the Filipino Institute, said the high attendance at the PBC event, speaks so much about the need to create a Filipino business group in Dubai. This group would not only provide trainings and related services, but would function similar to the way chambers of commerce operate.
"It means na need na talaga nating magkaroon ng Filipino business group na susuporta sa mga Filipino-owned companies. Dumarami na ang mga Filipino-owned companies, kaya maganda na magkaroon din tayo ng sariling group na mag-aasist sa kanila," Rimando said.
(The big attendance means there is really a need to have a Filipino business group that will support Filipino-owned companies. There is now a growing number of such companies and it is high time that we have a group that would assist them.)
Word-of-mouth marketing
Rolly Brucales, a restaurateur, said the event provided an opportunity to "pull each other up."
"It is also a good platform to share business experiences and information about suppliers," said Brucales, who runs a chain of popular seafood restaurants and a recently-launched Japanese dining venue in Dubai whose target client base is the mainstream local and expatriate market.
Gina Valbuena, another restaurateur who also runs a beauty shop that both aims for the mainstream market, echoed Brucales' remarks, saying the high turnout at the TEC launch event is a "testimony of the Filipino community's desire to lift each other up."
"While scattered across the emirates, TEC gives us a platform to build connections as well as an opportunity to support each other and innovate resources to cultivate a culture of collaborative business with a common goal: championing the Filipinos in the UAE," Valbuena said.
Valbuena said she was able to "establish the first step to prosperous relationships with other entrepreneurs" as "collaboration is key to moving forward."
The restaurants' popularity grew mainly by word of mouth and through social media where customers post their dining experience after having meals there.
"When I see positive reviews left by customers created by this expanded network, I am humbled and grateful to our team for realizing our vision to 'Bring the joy and taste of home,'" she said.
Network of suppliers
Meantime, Jeremy Paul de Jesus, operations manager at a cargo forwarding company said he was able to connect with people who could be vital for his company's operations.
"May mga nakilala ako na kailangan ko sa business ko (I met people whom I need for my business)," he said, citing one who is into auto works and can be handy for the company's motor fleets; and another, engaged in office fittings whom he could need should the company move to open new branches; and still another who provides office supplies.
Edith Gibbs, salon owner, said she was able to promote her beauty parlor, while Enrique Araneta III, who runs two automotive repair shops, said he wanted to help fellow Filipinos in terms of providing employment and career upgrade.
"Sinu-sino pa ba ang magtutulungan kundi tayong mga magkakababayan?" he said. (Who else would be there to help our compatriots but ourselves?)
Araneta said he has hired an OFW who used to be a cleaner but has now levelled up to become a mechanic.
Business-friendly
The UAE has business-friendly policies that allow expats to obtain business license permits or go freelancing such that an OFW, upon consummation of contract with an employer, may choose to change visa status and transition from being an employee to a business owner through the various "free zones" for certain fees and documentation requirements. In other cases, local partners are required.
The PBC-DNE is a nonprofit organization of OFWs assisting fellow OFWs in opening start-up businesses.
The PBC Dubai is a nonprofit organization of entrepreneurs and professionals recognized by the Dubai Chamber of Commerce and Industry. It was established under the initiative of then-Philippine ambassador to the UAE, Amable Aguiluz III, in April 2001.
Members were Filipino businessmen, entrepreneurs, and senior executives, who have decided to organize a group dedicated to promoting and improving the UAE-Philippines relations and development of bilateral trade.
It was formally established on April 6, 2001. – Rappler.com