The government airs the President's situationer meeting after he is criticized for his lack of visibility during the onslaught of the super typhoon
It was for Super Typhoon Rolly (Goni) that Malacañang aired President Rodrigo Duterte's remarks live for the first time since July.
At around 5:30 pm on Monday, November 2, state-run PTV channel aired Duterte's meeting with Cabinet members at the Malacañang Golf (Malago) Clubhouse in Manila.
It was the first time the public saw live video footage of Duterte since his State of the Nation Address (SONA) on July 27, or roughly 3 months ago. Over the last two days, many had been criticizing his absence from major government briefings on the super typhoon, the strongest to hit the country this year.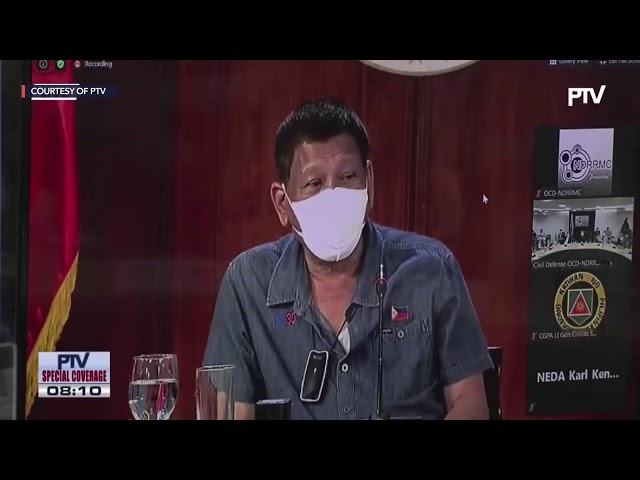 The Monday meeting was a situationer briefing where Duterte asked heads of departments and agencies to report on their efforts in the aftermath of the storm, which left at least 20 people dead.
It lasted for around 3 hours, until around 8:10 pm.
Most of these reports were updates on what the Cabinet secretaries had earlier reported during a press situationer led by Presidential Spokesperson Harry Roque on Monday morning. Officials of state weather bureau PAGASA gave a wrap of all the weather bulletins they issued on Rolly.
Duterte's inputs during the meeting were as follows:
Told Public Works Secretary Mark Villar and Environment Secretary Roy Cimatu to look into quarrying in Guinobatan, Albay, that the town's residents said exacerbated landslides and flooding
Said he promised Guinobatan residents that the government would provide food and financial assistance
Reiterated his support for Health Secretary Francisco Duque III and his belief that the official is doing a good job ("That's why I cannot find any plausible or even meager argument for your suspension.")
Said he wants COVID-19 national action plan chief implementer Carlito Galvez Jr to be in charge of vaccine negotiations and distribution
Ordered Labor Secretary Silvestre Bello III to ensure distribution of cash aid to overseas Filipino workers by Christmas, to which Bello said the aid would be given not later than November 25
Read out names of PhilHealth officials suspended by the Office of the Ombudsman
Read out names of Bureau of Customs personnel being investigated for corruption, but said he is "excluding" Customs chief Rey Leonardo Guerrero from any suspicion.
Reacted to criticism that he was in Davao City and not in Metro Manila which was in the super typhoon's path and is the capital region. Duterte said, "So what's your problem? Ang mga papeles pinadala mo diyan, tapos pirmahan ko, padala ko ulit…. Do you want me to stand doon sa white sand ni Roy Cimatu just to show that I am here?" (The papers were sent to me, then I signed them, sent them back…. Do you want me to stand on the white sand of Roy Cimatu just to show that I am here?)
To explain why the government communications arm stopped airing Duterte's speeches live, Roque previously said it was because the Chief Executive's remarks were mixed in with his long meetings with coronavirus task force officials which often took place late at night.
The pandemic has also forced Duterte to shun invitations to gatherings outside of Malacañang or his Davao City office.
Before the pandemic, Duterte's speeches were often aired live, including his visits to calamity-struck areas and situation briefings with officials there.
Before the meeting on Rolly, Duterte had visited storm-hit Guinobatan, where he had taken off his mask in front of a crowd of people who did not follow physical distancing rules.
The President had promised assistance for those affected by the storm.
Rolly had weakened into a tropical storm and is expected to exit the Philippine Area of Responsibility on Tuesday morning, November 3. – Rappler.com