(1st UPDATE) 'It's not because I'm afraid of debates,' says President Duterte during a meeting where he calls two Cabinet members to defend his West Philippine Sea remarks
After backing out from a debate he himself proposed, Philippine President Rodrigo Duterte called on more Cabinet members to defend his West Philippine Sea policy during a partly televised meeting on Monday, May 10.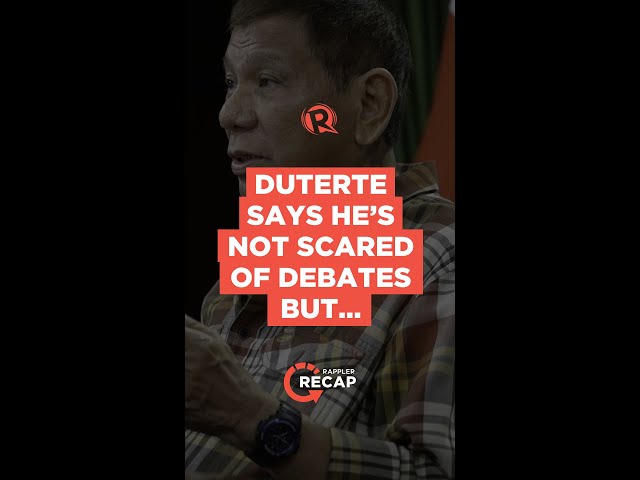 With updates on COVID-19 response over, Duterte called on two officials not usually present in his weekly pandemic-related meetings – Foreign Secretary Teodoro Locsin Jr and Chief Presidential Legal Counsel Salvador Panelo.
They were asked to join the meeting specifically to address criticism at Duterte for his approach to China and his decision not to debate with retired Supreme Court justice Antonio Carpio.
Locsin was up first. The former journalist and publisher told the public that the Aquino administration was wrong to withdraw Philippine ships from Scarborough (Panatag) Shoal in 2012 before Chinese ships withdrew.
"If I had UNCLOS (United Nations Convention on the Laws of the Sea) by my side saying we are within the exclusive economic zone and the Chinese ship is not, from my point of view, let us look at the other side, 'go.' 'If you go, I'll go, but you go first.' Instead, our side withdrew so what happens to our claim that this is ours? Just give it up," said Locsin.
"I think before you need to start any debate on the obligations generated by the arbitral award, we must first settle the issue, who in the game of chicken stopped this car on the edge of an abyss first," added the country's top diplomat.
'I'm not afraid'
Duterte heartily agreed with Locsin: "That was what was in my mind when I challenged Carpio to a debate."
The President then echoed the arguments of Executive Secretary Salvador Medialdea on why he should not debate with Carpio, like the danger of "binding the future actions of government" with what he might say.
"It's not because I'm afraid of debates. How many debates have I gone through during the elections. There was one almost every day," he exaggerated.
On Tuesday, May 11, Carpio reacted to this, pointing out the irony of Duterte's rationale, recalling past statements of the President that could improperly bind future administrations.
Carpio cited Duterte's past declarations that China is in possession of the West Philippine Sea, and the arbitral ruling of The Hague in 2016 is a scrap of paper that can be thrown in the bin. Both statements are false, he said.
"If the President does not retract these statements that he made publicly, then he knows that these statements could bind the Philippine government under present and future administrations," Carpio said. 
Duterte. on Monday, then called upon Chief Presidential Legal Counsel Panelo, who he described as a "legal luminary," to give his views on the matter.
"Mr President, from the very beginning, I was not supportive of a debate," said Panelo.
He said there was "nothing to debate about" because Carpio had already admitted China took control of Scarborough Shoal during the Aquino administration and that Mischief Reef was seized by China during the Ramos presidency.
Ironically, Carpio cited the same as reasons why the debate topic should not be who lost those two features to China. That's why the former magistrate suggested another topic: "factual accuracy and adverse legal implications to the Philippines' of the President's repeated claim that 'China is in possession of the West Philippine Sea.'"
Presidential Spokesman Harry Roque, who was designated by Duterte to debate with Carpio, suggested earlier on Monday that the debate should be about whether or not Duterte's current independent foreign policy resulted in derogation of sovereignty or loss of territory in the West Philippine Sea conflict.
Panelo also defended Duterte's other controversial remarks, claiming the President was only referring to Scarborough Shoal when he said China is "in possession of the West Philippine Sea."
He also blamed media for "twisting" Duterte's declaration that the Hague ruling was a piece of paper meant for the trash can. These were the President's exact words according to official transcripts and the video of the May 5 public address. – with reports from Lian Buan/Rappler.com