This is AI generated summarization, which may have errors. For context, always refer to the full article.
(UPDATED) 'No vaccine, no stay here,' says President Rodrigo Duterte, referring to the Visiting Forces Agreement, which is temporarily in effect until August 9, 2021
Philippine President Rodrigo Duterte dangled the precarious Visiting Forces Agreement (VFA) with the Americans and threatened the United States that if they fail to deliver COVID-19 vaccines to the country, US soldiers would be booted out.
"Kung hindi sila maka-deliver ng maski (If they fail to deliver at least) a minimum of 20 million vaccines, they better get out, no vaccine, no stay here," Duterte said in a speech on Saturday, December 26, which received soft applause from the room full of Cabinet secretaries.
In his usual off-script speech, Duterte was talking about how procuring vaccines was the sole accountability of his vaccine czar, retired general Carlito Galvez Jr, when he somehow got around to railing against the Americans.
"Do not believe in that shit America delivering kaagad, hindi nga niya ma-deliver sa kanilang lugar, dito pa? Itong Amerikano talaga. I've been in government, I've dealt with them many times, and that's why naging cynic na ako sa kanila," said Duterte.
(Do not believe in that shit about America being able to deliver vaccines immediately when they can't even deliver it to their own country. These Americans. I've been in government, I've dealt with them many times, and that's why I've become a cynic when it comes to them.)
"If America wants to help – deliver. Stop talking. What we need is the vaccine, not your verbose speeches," Duterte added.
Duterte had earlier sent notice in February 2020 that the Philippines would terminate the VFA, leaving the deal to last until August. But he suspended this twice – in June and then in November of this year – thus putting the decades-long military agreement back in effect until 2021.*
(*Editor's Note: An earlier version of this story said the VFA would expire this December. This has been corrected, given Duterte's announcement in November this year that termination would be suspended. The VFA remains in effect 6 months after a notice of termination is given by either party.)
The US first received notice of the suspension on June 1, 2020. This means that with the second extension of the suspension done in November, the termination of the VFA – should it will push through – will take effect on August 9, 2021.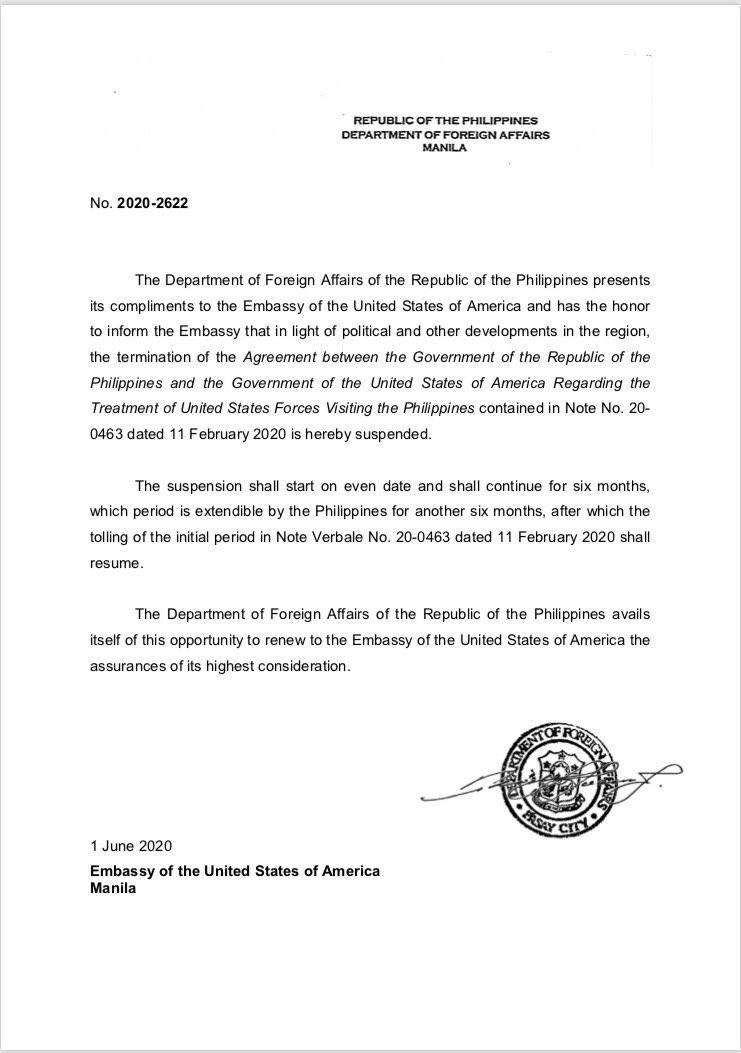 On Saturday, Duterte mentioned the VFA and said, "'Yung Visiting Forces Agreement, matatapos na. Ngayon, kapag hindi ako pumayag, aalis talaga sila." (The Visiting Forces Agreement is about to end. So if I don't allow it, they would really have to go.)
The VFA, signed in 1999, allowed the presence of US military forces in the country, but only in a visiting capacity. The Aquino-time EDCA or Enhanced Defense Cooperation Agreement was a further operational feature of the VFA, providing for increased military presence here.
Duterte's change of mind, from the initial outburst of unilaterally scrapping VFA to putting it back up in the air for 6 months, was due to the rising tensions in the South China Sea, according to Foreign Secretary Teodoro Locsin Jr.
Philippine Ambassador to the United States Jose Manuel "Babe" Romualdez had said that American pharmaceutical company Pfizer will ensure supply for the Philippines of its COVID-19 vaccine.
The United States has already started distributing the Pfizer vaccine to people on the priority list: high-risk healthcare workers and high-level government officials, including President-elect Joe Biden.
"They are put on notice that if they can't produce the vaccine, 20 million at least, immediately…" Duterte began to say.
"You choose Pfizer, Pfizer is up to its neck producing it for everybody, and then you promise so many countries of your vaccine, so ulitin ko (I repeat)," he added, before radically shifting to another topic, which involved a huge chunk on ranting against communists. – with a report from Sofia Tomacruz/Rappler.com