(1st UPDATE) Only seven hours earlier, Presidential Spokesperson Harry Roque announced an end to the face shield requirement in outdoor settings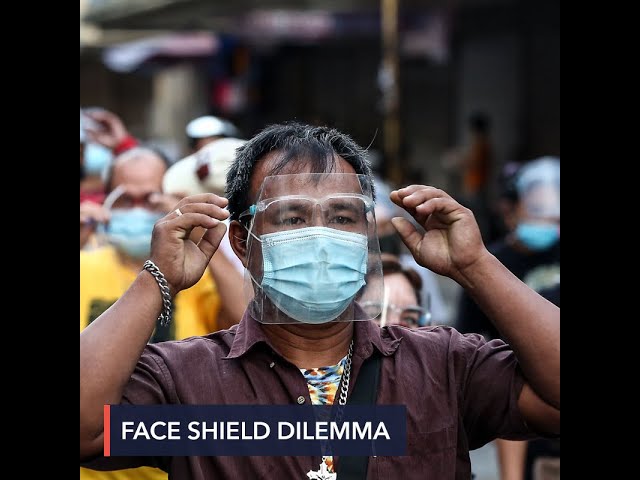 President Rodrigo Duterte has decided to again require people to wear face shields in both outdoor and indoor areas, announced Malacañang a mere seven hours after it had announced an end to mandatory face shield wearing outdoors.
"Acting on the advice of health experts and in view of the Delta variant, PRRD (President Rodrigo Roa Duterte) declared that the wearing of face shields, both indoor and outdoor, is still mandatory," said Presidential Spokesperson Harry Roque on Monday evening, June 21.
He was giving updates as a meeting with Duterte on face shields was ongoing.
Earlier that day, Roque had said face shields were no longer required outdoors and that the Inter-Agency Task Force for the Management of Emerging Infectious Diseases (IATF) would recommend to Duterte that it be required only in enclosed or indoor spaces of hospitals, schools, workplaces, commercial establishments like restaurants, malls, and public markets, public transportation, and places of worship.
But during the meeting, Duterte listened to doctors explain the greater transmissibility of the Delta variant, leading him to tighten face shield rules.
Roque is yet to respond to Rappler's query on the final list of areas and scenarios where face shields are required. This would clarify, for instance, if the list of indoor areas retaining the face shield requirement would be expanded or the policy would apply to all indoor public spaces.
However, during the meeting with Duterte, Health Secretary Francisco Duque III tried to clarify if the President meant a return to the previous face shield policy, as formalized in pandemic resolutions.
This is important because the Department of Health had enumerated areas where face shields are mandatory. These areas are mostly the same areas Roque said the task force would recommend face shield use be kept mandatory.
"We go back to the normal, before. Balik talaga (A return to the rule) before," said Duterte.
However, the DOH's position had also been that face shields are not required outdoors. A return to "before," in DOH's book, would mean that face shields are not mandatory outdoors, but this contradicts Roque's wording that the requirement would apply for both indoors and outdoors.
Just 'shooting the breeze'
Only a week ago, Duterte had told lawmakers that he believed face shields should only be required in hospitals.
Roque had even announced a day after that Duterte's view had become "presidential policy" which the IATF could "appeal."
But during the Monday meeting, Duterte contradicted Roque, saying his remarks to lawmakers was just part of casual conversation and "shooting the breeze."
"Baka nagkamali talaga kami discussing it in public (Maybe we really made a mistake discussing it in public). We both thought it was a done deal. No, it was not, it was just a casual chat," said Duterte.
In previous press conferences, Roque said law enforcers would not arrest people who go without face shields while jogging or engaging in other forms of exercise outdoors as this was "common sense."
Roque's tweet is the latest in a string of confusing announcements on the government's face shield policy. – Rappler.com