(UPDATED) President Duterte pulls off another public relations stunt to highlight his 'relentless fight against corruption'
In yet another public relations stunt to promote President Rodrigo Duterte's corruption crackdown, Malacañang released photos of the Chief Executive meeting with suspended Bureau of Immigration personnel and presenting them with money-stuffed "pastillas" – a reference to the scam hounding the agency.
The meeting took place on Monday, November 9, inside Malacañang.
In the photos released the morning after, immigration personnel in their black uniforms appear seated facing a long table where Duterte sat with Cabinet officials and Senator Bong Go.
The photos were captioned by Malacañang staff this way: "With the administration's relentless fight against corruption and strong commitment to a clean governance, no less than President Rodrigo Duterte summoned and met with officials and personnel of the Bureau of Immigration allegedly involved in the 'pastillas' controversy at the Malacañang Palace on November 9, 2020."
More than 40 BI officials and personnel were present, according to Justice Secretary Menardo Guevarra, who was also at the meeting.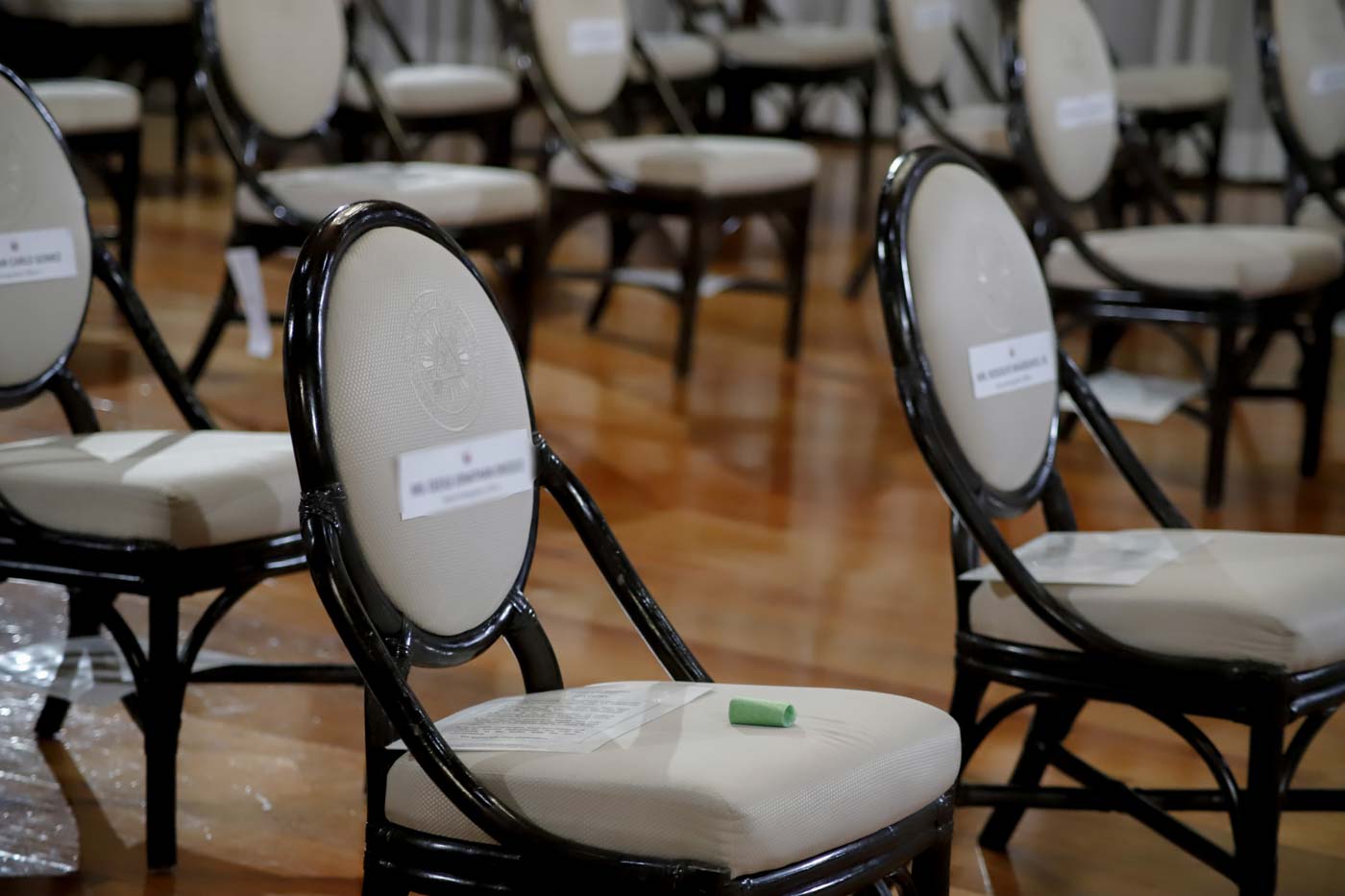 What appears to be a roll of pastillas wrapped in green paper is shown on the seats provided for the BI personnel.
Guevarra said in a message to reporters that night that Duterte distributed pastillas to the BI employees and used it to drive home a warning.
"Money had been rolled inside each pastillas, according to the President. He wanted them to eat the pastillas," said Guevarra.
Duterte did not insist on his order but he supposedly said, "Either you eat it or give it to the first beggar you see," recalled Guevarra.
The President then supposedly told the BI personnel to face charges being investigated by the Ombudsman.
What happened to the 'money'?
If it is true that the "pastillas" contained money, Guevarra and the Palace are clueless as to how much cash was involved, where it came from, nor what became of it.
Guevarra told Rappler he does not know how much money the pastillas contained. No BI personnel "dared" to open them, he said.
The justice secretary leads the "mega task force" ordered by Duterte to investigate corruption "in the entire government."
"Hindi ko po alam (I don't know)," Presidential Spokesman Harry Roque said Tuesday noon during a press conference.
But after the meeting, only one piece of pastillas remained in the chairs occupied by the BI personnel. Roque said the suspended personnel could have taken the rest home.
"Baka naman inuwi nila as a reminder sa paalala ni Presidente na itigil ang korupsyon (Maybe they brought it home as a reminder of the President's reminder to stop corruption)," said the spokesman.
He denied that it was a casual manner of treating what could be taxpayers' money.
"He did not casually give out money. He was sending a message that he will not tolerate corruption and that is why his instruction was 'eat the money,'" said Roque.
Why was it necessary?
Apart from being a PR stunt, it's not clear why it was necessary for Duterte to summon the BI personnel. As stated by Guevarra, they have already been suspended by the Ombudsman and are under investigation.
This is not the first time Duterte and Malacañang pulled off dramatic scenes to promote the President's "hardline" stance against corruption.
In the past, he has summoned 200 "scalawag" policemen to the Palace driveway to "scold" them for supposedly being corrupt. It turns out, most of the police personnel present were guilty of only minor violations like tardiness or failure to report for duty.
He's also often boasted of "slapping" a supposedly corruption budget department official inside the Palace.
In his last two "messages to the nation," Duterte read out names of Bureau of Customs, PhilHealth, and BI officials already suspended by the Ombudsman.
Even Duterte's order to "eat" the supposed cash-containing pastillas is inspired from previous stunts he claimed to pull in the past as Davao City mayor – like forcing a smoking ban violator to eat his cigarette and ordering a scammer to eat a land title. – With a report from Lian Buan/Rappler.com