Those opposed to the reimposition of the death penalty cite Supreme Court data that the high tribunal reversed 71.77% of death convictions, indicating a high risk of wrongful execution
The House justice committee has revived its hearings on bills seeking to reimpose the death penalty but after 5 hours of tense interpellation on Wednesday, August 6, sponsors of the bills, the justice department, and the chief public attorney could not present clear data on capital punishment's deterrent effect on crimes.
None of the 13 House bills filed in the 18th Congress present such data.
While HB No. 3261 authored by Valenzuela 1st District Representative Wes Gatchalian said that the prevalence rate of drug addicts increased "from 1.3 million or 1.8% of the population in 2012, to 1.7 million or 2.3%," this statistic did not offer clear comparative standards to justify how death penalty would deter drug crimes.
Surigao del Norte Representative Ace Barbers had to turn to Chief Public Attorney Persida Acosta for backing, but she only made a general assessment.
"Kasi ang tingin po namin, kung sila ay may karapatang mabuhay nang matagal, paano naman po 'yung bibiktimahin nila (For us, if they have the right to live longer, then what about their future victims)?" Acosta said.
Acosta's stance is a flip-flop – she was fiercely against the death penalty in 2005, and even argued before the Supreme Court that year to plead to get rid of it. "Death penalty is a legalized murder," Acosta said in a position paper in 2005.
On Wednesday, as she fell in line behind the supporters of President Rodrigo Duterte's pet bill, Acosta said: "Pero nagbago po ang panahon, uso na po ngayon ang bombahan. 'Yun nga pong Marawi, kung hindi lang po may makapag-tip na may nagtayo na ng bandila ng ISIS doon, wala po, 'yung buong Mindanao nasakop na tayo ng mga terorista. Kasi po ang bansa natin napakaluwag ng sistema."
(Times have changed, bombing is now the trend. In Marawi, if there was no tip that an ISIS flag was being hoisted, the entire Mindanao would have been invaded by terrorists, because our system has been so lenient.)
No DOJ data too
Justice Assistant Secretary Nicholas Felix Ty could also not provide data when asked if he could cite prosecution and conviction rates – or any numbers at all that would support the wisdom of reimposing the death penalty, including if the justice system is credible or robust enough to execute only those who are truly guilty.
"We will gather that data and comply with this committee's request," Ty told the House justice committee.
Since 2016, from the time of former justice secretary Vitaliano Aguirre II, the Department of Justice (DOJ) has not been able to show this kind of numbers.
In a position paper on November 21, 2016, former justice undersecretary Erickson Balmes told the House that "this Department does not have data or figures to show the criminal rate in the Philippines, with or without death penalty."
On February 10, 2017, Duterte claimed that since death penalty was abolished in 2006, there was a 3,180% increase in heinous crime convictions. He was citing resigned Bureau of Corrections (BuCor) chief Benjamin de los Santos.
Even though BuCor is under the DOJ, the justice department did not cite that supposed data in its next position paper dated February 23, 2017.
Instead, Aguirre said then: "The Constitution in the first place did not require that the death penalty be first proven to be a deterrent; what it requires is that there be compelling reasons involving heinous crimes."
"Nothing in the said provision imposes a requirement that for a death penalty to be valid, a positive manifestation in the form of a higher incidence of crime should first be perceived and statistically proven following the suspension of the death penalty," said Aguirre.
Justice Secretary Menardo Guevarra's October 23, 2019 position paper does not cite any supporting data too.
Guevarra backs the death penalty, but his and the DOJ's views are limited to constitutional issues anchored on Section 19, Article III of the Constitution which says that "neither shall death penalty be imposed, unless, for compelling reasons involving heinous crimes, the Congress hereafter provides for it."
Many of the bills want to impose the death penalty on drug crimes. Barbers said that because there were few cases of executions in the past that were related to drugs, it would be difficult to find related data.
"Statistical and sociological studies would show that there is no direct correlation between criminality, including drug cases and the death penalty," said Integrated Bar of the Philippines (IBP) national president Domingo "Egon" Cayosa.
Cayosa, however, said that if Congress insists that it has compelling reason for death penalty, it should limit it to the big drug lords.
Data against death penalty
Contrary to Barber's claim during the hearing that the data against death penalty are sourced mainly from foreign studies which may not apply to the Philippines, the oppositors have local data to back them.
Free Legal Assistance Group (FLAG) chairperson Chel Diokno presented this data to the House panel on Wednesday, beginning with Philippine National Police (PNP) data that show that "after the abolition of the death penalty, crime volume has actually been decreasing."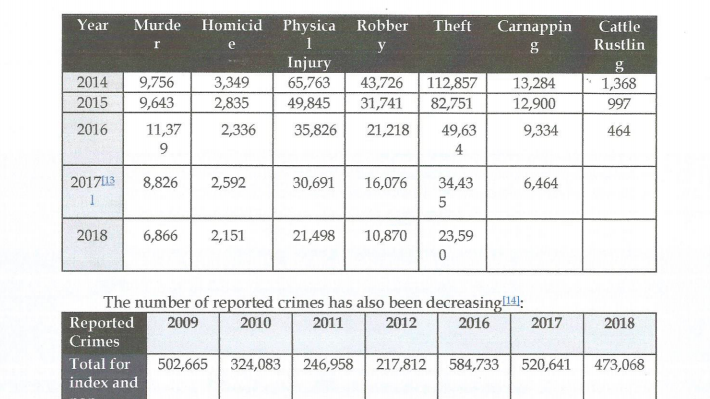 Diokno also said that their data would show rape cases actually increased from 1998 to 2002, when executions were carried out under the now repealed Republic Act No. 7659.
"It is surprising to note that for the years 1998 to 2002, when the executions took place, there was a significant increase of about 201 to 753 in the number of rape cases compared to the other years within 1993 to 2006," said Diokno.
The death penalty was reimposed in 1993, and abolished in 2006.
Death penalty is anti-poor
While the Supreme Court junked the motion for reconsideration on its decision to mete the death penalty to child rapist Leo Echegaray in 1997, one of the dissenting justices, in a separate opinion, cited "the wrenching fact that the death penalty militates against the poor, the powerless, and the marginalized," as highlighted by the "Profile of 165 Death Row Convicts" submitted by FLAG to the High Court then.
Echegaray was a house painter who was convicted of raping his 10-year-old stepdaughter. He was executed by lethal injection in 1999 – the first since the reimposition of the death penalty in the Philippines in 1993.
"Based on the income levels of death inmates, 73.1% of the death inmates were poor, 8.2% belonged to the middle class, while only 0.8% belonged to the upper class," said Diokno.
According to FLAG's "conservative" estimate, a person on death row would have to spend P329,000 per year to get competent legal defense. IBP said data would show it takes 5 to 15 years to resolve death row cases.
"The estimated cost does not yet include the loss of income of the accused because of detention," said Diokno.
Cayosa also cited Supreme Court data that 71.77% of death convictions were reversed by the high tribunal, indicating a high risk of wrongful execution.
Barbers' counter to that? The Public Attorney's Office (PAO), which is mandated to give free legal assistance to the poor.
"The argument that the penalty will only apply to poor people who cannot get the best lawyers are terribly flawed, too…. The PAO is there. Are we saying that the taxes of the people are wasted in this office and we are giving employment to ignorant and incompetent lawyers who know nothing but to have their indigent clients plead guilty?" Barbers said.
But data from 2018 would actually show it's not an issue of competence at PAO, but of manpower.
Rappler's analysis of PAO reports shows that in 2018, PAO had only 2,096 public attorneys handling close to a million cases, which meant that throughout that year, one lawyer handled as many as 465 cases.
While the number of criminal cases that ended in favorable results increased by 82.77% in 2018, data also showed that the number of cases that ended with clients being convicted of a lesser offense grew by 211% in a year, the first time since 2014 that it shot up that much.
Since 2014, the top 6 reasons for the favorable results in PAO's criminal cases have been: conviction of a lesser offense, provisional dismissal of cases, dismissal with prejudice, acquittal, grant of probation, and grant of demurrer to evidence.
On Barbers' lead, Acosta said: "Para sa akin po, dahil pinatatag 'nyo 'yung PAO, may bantay po ang mahihirap laban sa maling pagbitay (For me, because the Congress strengthened PAO, the poor will have a defender against wrongful execution)." – Rappler.com