(1st UPDATE) 'Buti pa martial law, dalhin ka pa doon sa korte ng military or at least...a court,' says the Chief Executive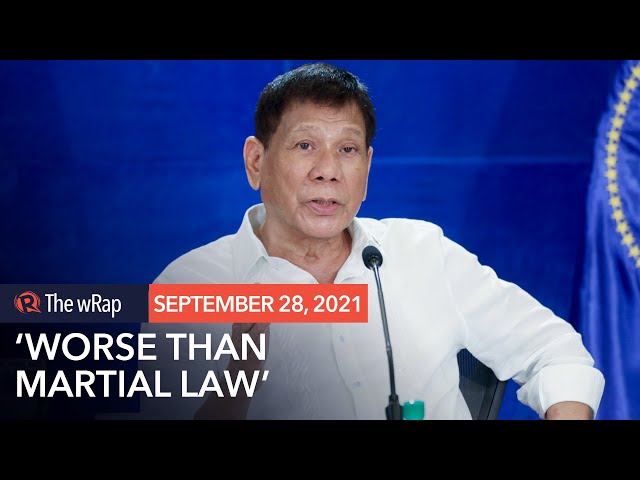 President Rodrigo Duterte spent another televised address railing against the Senate's investigation into government transactions with Pharmally Pharmaceutical Corporation, this time likening the probe to something worse than martial law.
Duterte had drawn the comparison during his regular Talk to The People address on Monday, September 27, where he accused senators of "intimidating" witnesses who appeared in the hearings.
"Akala ko ba ayaw ng mga tao ng Pilipinas ng martial law? Tignan mo ang ginagawa ng Senado ngayon. It is just more than martial law. Buti pa martial law, dalhin ka pa doon sa korte ng military or at least its a court," Duterte said.
(I though people in the Philippines didn't want martial law? Look at what they're doing at the Senate now. It is just more than martial law. At least with martial law, you'd be brought to a military court or at least its a court.)
Marathon hearings at the Senate have angered Duterte as findings raised suspicions of conflict of interest and the failure of the government to apply due diligence in dealing with Pharmally. The small firm had bagged at least P10 billion so far in government deals, making for the biggest amount of pandemic contracts awarded to a single firm.
Duterte spent most of his address attempting to counter bombshell findings extracted at the Senate's hearings, including the tampering of production date stickers on medical-grade face shields which changed the expiration date of the items, the purchase of nearly-expired test kits, and lawmakers' insistence on some procurement requirements which should have been lifted under the Bayanihan 1 law.
He called on health officials to address these issues and cited lines of questioning done by the House of Representatives' parallel probe as having addressed them adequately.
In stark contrast to revelations in Senate hearings, the probe at the House is a soundboard defending the Duterte government.
Duterte said it was "obvious" that senators were running out of issues to raise, adding that they were "trying their best to confuse everyone, even their witnesses."
"I am not bothered at all," he said.
The Chief Executive then circled back to accusations raised against the Philippine Red Cross, chaired by Senate blue ribbon committee Chairman Senator Richard Gordon, as well as, disallowances supposedly left unpaid by Gordon when he headed the Subic Bay Metropolitan Authority from 1992 to 1998.
"If there's nothing wrong we can accept that but if there's something wrong, the chairman of the Red Cross has to answer for that," Duterte said.
Upping his attacks against Gordon, Duterte directed Solicitor General Jose Calida to ask the Commission on Audit to act on the SBMA case.
"I'm now asking the Solicitor General to formally ask COA to act on the disallowance and remind them of their constitutional duty to collect the P140 million as stated in the demand letter of SBMA Chairperson and Administrator Eisma dated August of this year, which was sent via registered mail," he said.
Before this, Duterte told the senator that failure to return the funds could see the issue reach the Office of the Ombudsman.
'Protecting' human rights
In lashing out at the Senate, Duterte also said that probing alleged negligence and corruption should not come at the expense of depriving witnesses of "due process" and their "right to be heard."
"Ang human rights, gusto kong marinig kung ano yung sinasabi (Under human rights, I want to hear what is being said). The Constitution really provides that no person should be deprived life liberty or property without due process of law," Duterte said.
He continued: "Is there due process of law if you already have the preconceived answer and if it does not dovetail your frame of mind you send him to jail?" Duterte said referring to Pharmally executive Linconn Ong, who had been cited in contempt and was supposed to be transferred to the Pasay City Jail.
Duterte said this was his view "as a lawyer," and not as one defending wrongdoing.
He then told Gordon: "Mr Gordon, you're a lawyer. Try to be a lawyer and not a despot. You are not the king of Congress."
Duterte, however, has long record of disdain for human rights. In so many speeches he has belittled human rights defenders and advocates, especially those who have criticized his bloody drug war which has killed thousands of Filipinos. (READ: Duterte 'happy' to go to jail for killing human rights activists) – Rappler.com