President Rodrigo Duterte says Hidilyn Diaz will receive the Presidential Medal of Merit, P3 million from his office's funds, and a house and lot
Philippine President Rodrigo Duterte personally relayed his congratulations to the country's first Olympic gold medalist Hidilyn Diaz in a virtual courtesy call right after her arrival in Manila on Wednesday, July 28.
Diaz, a Philippine Air Force staff sergeant, wore her military uniform during the virtual meet, which began with her saluting her Commander-in-Chief.
"The nation is ecstatic about your achievement. Your achievement is the achievement of the Philippine nation. We are extremely proud," said Duterte.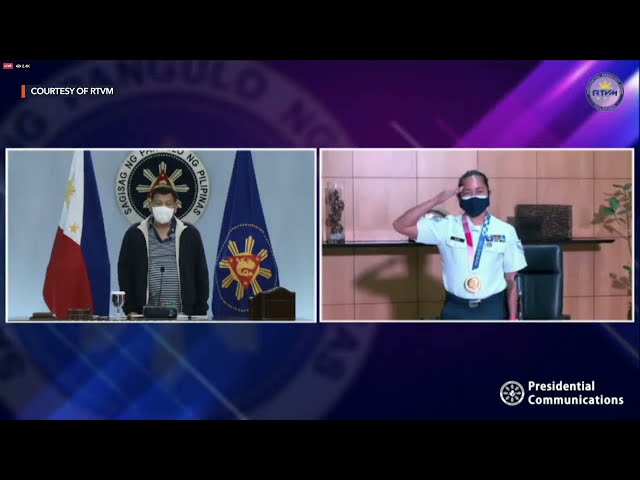 He then acknowledged the sacrifices Diaz has made and spoke of unpleasant events in the past, without being specific.
"Salamat naman sa pagtiis mo (Thank you for how you've endured). I hope that the years of toil, the years of disappointments, and the years na hindi maganda ang nangyari (when unpleasant things happened) in the past, just forget them," said the President.
"You already have the gold. Gold is gold. It can be good for you to just let bygones be bygones and dwell solely on your victory together with your family and, of course, with the nation," added Duterte.
He even hinted that Diaz could use her fame for political ends.
"You are already a celebrity. It's a political stock. Take note of that. One day you'll want also to – baka makatulong ka sa (maybe you can help the) country in some other way, other than being a soldier," said Duterte.
Presidential Medal of Merit
Diaz is also set to receive the Presidential Medal of Merit, a recognition given by the government to individuals for "gaining prestige for the country in an international event, in the fields of literature, the sciences, the arts, entertainment, and other civilian fields of endeavor that foster national pride and artistic excellence," according to Executive Order No. 236, series of 2003.
Other athletes who have received this are champion boxers Manny Pacquiao and Gabriel Elorde and champion bowler Paeng Nepomuceno.
The President also announced he would give Diaz P3 million from the budget of the Office of the President, apart from the P10 million Diaz is entitled to by law as an Olympic gold medalist.
Like Duterte, the celebrated athlete hails from Mindanao, specifically from Zamboanga City. The President promised Diaz a "fully furnished" house and lot in her hometown.
The Filipina weightlifter thanked Duterte for his words.
After he spoke, Duterte asked other government officials in the room with him to say some words to the Olympic champion. At the time, the President was about to preside over a meeting of pandemic task force officials.
One of those present was vaccine czar Carlito Galvez Jr., a former chief of the Philippine military.
"You are representing the glory of the Armed Forces of the Philippines and the Department of National Defense. Continue your hard work…. Your contribution to national pride will forever be remembered and cherished," Galvez told Diaz.
As a member of the Philippine Air Force, Diaz was promoted to staff sergeant from sergeant after her Olympic win.
No direct mention of 2019 diagrams
Not all Malacañang actions have been so solicitous of Diaz. In 2019, Duterte's office released diagrams it claimed showed a plot to destabilize the government, diagrams that included Diaz's name.
The Palace actions caused Diaz and her family mental anguish. She admitted fearing for her life and those of her loved ones because people named in similar diagrams were targeted by the government. Emelita Diaz, Hidilyn's mother, said she continues to fear for her daughter's security because of the 2019 diagrams.
Chief Presidential Legal Counsel Salvador Panelo later on claimed that the government was not accusing Diaz of plotting to oust the President. But the Palace has yet to apologize for the gaffe.
The diagrams had come from Duterte himself. – Rappler.com