The President also orders local governments not to announce which vaccine brands are available in vaccination sites, echoing a health department suggestion
Philippine President Rodrigo Duterte has ordered that only the country's indigent population, or A5 in the government's vaccine priority list, will receive sought-after Pfizer-BioNTech doses from COVAX Facility.
"The President also ordered that Pfizer be given to the poor or the indigent population because that is the rule of COVAX," said Presidential Spokesperson Harry Roque on Thursday, May 20, during a Malacañang news briefing.
"The President added that Pfizer should not be administered in malls but in vaccination sites in barangays where vaccine take-up is low," he added.
This order, however, will most likely apply to the next shipment of Pfizer doses from COVAX Facility since most of the over 193,000 Pfizer doses delivered to the country have already been either administered or reserved as second doses.
The government expects 2.2 million more Pfizer doses from COVAX Facility to arrive within the month.
The COVAX Facility, an initiative co-led by Gavi the Vaccine Alliance, the World Health Organization (WHO), and the Coalition for Epidemic Preparedness Innovations (CEPI) to ensure developing nations have access to affordable vaccines, has rules that say vaccines it provides to countries should be given to the vulnerable sectors of their population, according to vaccine czar Carlito Galvez Jr.
While the poor are one of these vulnerable sectors, medical workers and the elderly also qualify. Last Tuesday, May 18, Galvez had already announced that only medical workers, elderly, persons with comorbidities, and the indigent population would get COVAX Facility vaccines.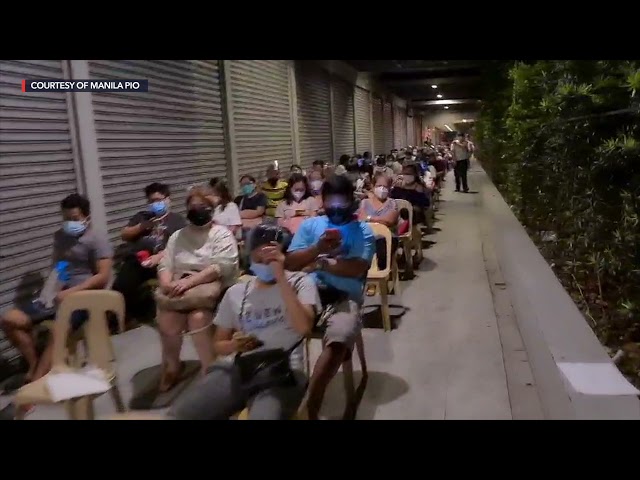 The A4 group, or the economic frontliners, will receive vaccines purchased by the government. So far, all of the Pfizer doses expected to arrive in the country were secured through COVAX Facility, therefore none of these will go to economic frontliners. The government is still finalizing a purchase of Pfizer vaccines.
The government aims to begin vaccinating economic frontliners and indigents simultaneously after May.
Duterte orders LGUs not to announce vaccine brands
Duterte has also ordered that local governments not announce which vaccines will be administered in vaccination sites, a suggestion previously made by the Department of Health (DOH).
The President's instructions came after he saw how droves of people lined up in vaccination sites where local executives had announced beforehand Pfizer shots would be administered.
According to Roque, the President was dismayed by apparent violations of the social distancing rule.
"Ito rin ang sabi ni Presidente, hindi puwede pumili ng brand ng bakuna (That's what the President said, you can't choose your vaccine brand)," said Roque.
The Palace appealed to Filipinos to accept whatever vaccine is administered in their assigned vaccination site.
"Lahat naman po ng bakuna ay pantay-pantay. Dumaan po 'yan sa masusing pag-aaral. Lahat po 'yan ligtas at epektibo," said Roque.
(All vaccines are equal. They all went through comprehensive studies. All of them are safe and effective.)
Asked by reporters if the directive violates the right of Filipinos to information and informed consent, Roque said that as long as they are getting a vaccine that passed the government's regulatory process, they would be adequately protected.
Metropolitan Manila Development Authority Chairman Benhur Abalos, meanwhile, said that people would still be informed of what shot they would be getting, but when they are already at their designated vaccination site, not beforehand. This was also the assurance of the DOH.
Abalos said the purpose of the rule is just to prevent people from crowding at particular vaccination sites because of the vaccine brand available there. – Rappler.com