This is AI generated summarization, which may have errors. For context, always refer to the full article.
The Pulse Asia survey defies expectations that President Rodrigo Duterte's ratings will plummet due to his mishandling of the COVID-19 crisis
The performance rating of President Rodrigo Duterte rose to 91%, getting the highest boost from the poorest Filipinos, in the first major nationwide survey during the COVID-19 pandemic.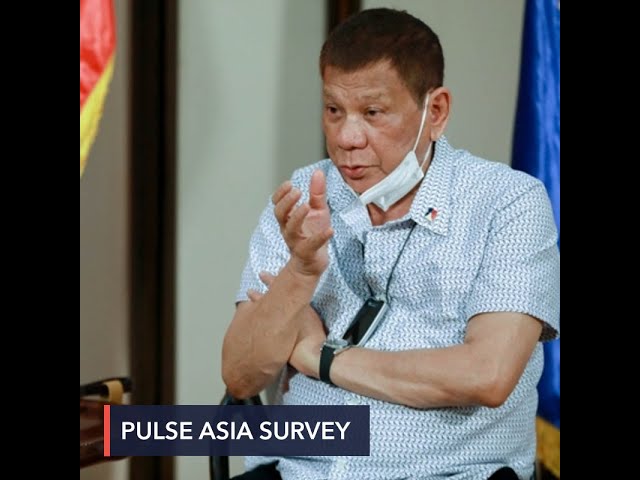 Pulse Asia, one of the Philippines' two biggest survey firms, released these findings on Monday, October 5, half a year after the country started going on COVID-19 lockdown. Pollsters Pulse Asia and Social Weather Stations said lockdowns had prevented them from conducting surveys earlier.
In its survey released on Monday, Pulse Asia reported that Duterte's performance rating rose by 4%, from 87% in December 2019. According to this latest survey, 5% disapproved of Duterte while 5% were undecided.
Duterte's rating rose even if the Philippines is Southeast Asia's worst-performing country, and also one of the world's laggards, in battling the pandemic.
When Pulse Asia's survey period ended on September 20, the Philippines had 286,000 cases of COVID-19. This number has risen to more than 322,000 as of Sunday, October 4, as the country is among the world's top 20 countries with the most coronavirus cases.
The survey showed that Duterte got the highest increase, at 11%, from the poorest socio-economic sector – Class E. He got an increase of 2% from Class D, and a decrease of -1 from Class ABC.
The survey was conducted from September 14 to 20, and involved face-to-face interviews with 1,200 adult respondents. The nationwide results have an error margin of +/- 2.8% at 95% confidence level.
The survey defied expectations that Duterte's ratings will plummet, as US President Donald Trump's popularity did, due to his mishandling of the COVID-19 crisis. It reflected, however, a similar phenomenon in Brazil, where populist Jair Bolsonaro recently got his highest rating even if Brazil has recorded the world's highest number of coronavirus deaths.
Robredo's ratings
In contrast to Duterte, opposition leader Vice President Leni Robredo – often compared to New Zealand's acclaimed Prime Minister Jacinda Ardern – got the second to the lowest rating among the 5 top officials in the Pulse Asia survey.
Robredo, while heaping praises for her projects and messaging during the pandemic, got a performance rating of 57%. This is a 1% drop from her 58% rating in December 2019.
Beating Robredo in terms of popularity ratings were Senate President Vicente Sotto III with 84%, and Speaker Alan Peter Cayetano with 70%.
Robredo got a higher rating only compared to Chief Justice Diosdado Peralta, who received 44%. Peralta's low rating might be attributed to respondents not knowing about him. Unlike Duterte, Robredo, Sotto, and Cayetano of whom 100% of respondents were "aware," Peralta got an awareness rating of 68%.
Key developments during the survey period include the corruption scandal in state insurer PhilHealth, claims of irregularities in procuring COVID-19 testing kits, public backlash against the fake white sand in Manila Bay, and Duterte's decision to pardon US soldier Joseph Scott Pemberton.
Duterte remains the Philippines' most powerful and most popular president in the post-Marcos years, keeping a tight grip on power well past his midterm, despite domestic controversies on top of condemnation from the international community. – Rappler.com