This is AI generated summarization, which may have errors. For context, always refer to the full article.
The President also mentions the killing of Jevilyn Cullamat, who he said, was 'sure to die' at the hands of the military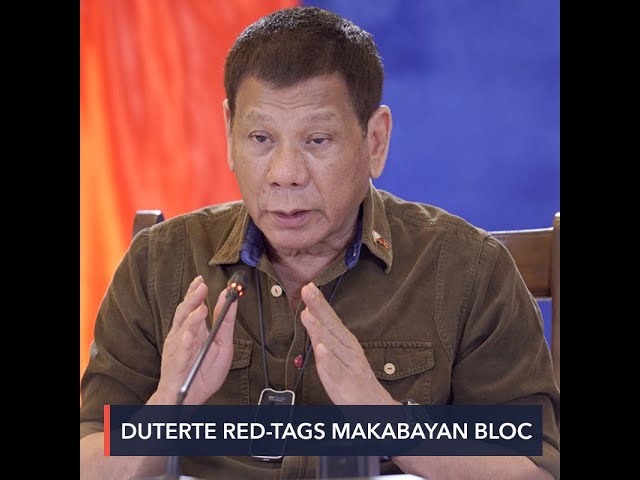 Philippine President Rodrigo Duterte again spent part of a meeting on the pandemic attacking people and groups critical of his administration.
The subject of his ire for this Monday, November 30 meeting, were progressive groups in Congress, particularly Bayan Muna Representative Carlos Zarate.
Duterte claimed progressive groups represented in the House of Representatives are part of a "grand conspiracy." He claimed they were all "legal fronts" of the Communist Party of the Philippines and are "co-conspirators" of its armed wing, the New People's Army.
"Itong mga legal fronts ng komunista, lahat 'yan (These legal fronts of the communists, all of them), Makabayan, Bayan, they are all legal fronts, Gabriela," railed the President.
"We are not red-tagging you. We are identifying you as members in a grand conspiracy comprising all the legal fronts you have organized headed by NDF (National Democratic Front) and the New People's Army," he continued.
Leftists and activists have said the Duterte government has yet to present credible proof that they are indeed members of the CPP. So far, the government relies heavily on the claims of a "star witness" whose credibility was assailed by the leftist groups.
In Philippine jurisprudence, Supreme Court Associate Justice Marvic Leonen has used this definition of red-tagging, from a 2011 journal: "The act of labelling, branding, naming and accusing individuals and/or organizations of being left-leaning, subversives, communists or terrorists (used as) a strategy…by State agents, particularly law enforcement agencies and the military, against those perceived to be 'threats' or 'enemies of the State.'"
The Commission on Human Rights has said labelling a person a communist without proof and judgment from a court violates the right to be presumed innocent and exposes him or her to security threats.
Insults Zarate
Duterte fixated on one lawmaker representing the progressive group Bayan Muna, Representative Carlos Zarate.
"You are a communist, huwag sabihin you are friends with the NPA. You are co-conspirators, komunista ka, adre," said Duterte.
(Don't say you're just friends with the NPA. You are co-conspirators, you're a communist.)
Zarate has vehemently denied several times, including during a November 24 Senate hearing, that he is a member of the CPP or the New People's Army. He has also denied that Bayan Muna was created or is being controlled by the CPP.
Bayan Muna is a legitimate party with members elected to the House of Representatives.
This did not stop Duterte from piling insult upon insult on Zarate. He appeared to be particularly outraged by Zarate's criticisms of the Duterte administration related to corruption.
"Kung magsalita ka, you make it appear that we are milking the government… Alam mo sa totoo, Zarate, 'pag nakita kita sa TV, para akong nakakita ng tae ng aso," said Duterte.
(When you talk, you make it appear that we are milking the government… To tell you the truth, Zarate, when I see you on TV, it's like I'm looking at the feces of a dog.)
Mentions killing of Jevilyn Cullamat: 'Sigurado patay 'yan'
Towards the end of his aired remarks, Duterte brought up the killing of the daughter of Zarate's Bayan Muna colleague, Representative Eufemia Cullamat, at the hands of the military.
"Makita mo yung kay Cullamat, anak niya mismo, babae pa. Sigurado patay 'yan. Babae ilaban mo sa sundalo, sigurado," said Duterte.
(Look at what happened to Cullamat, her child, female at that. She was certain to die. Put a woman against soldiers, it's certain.)
Soldiers said Jevilyn, Cullamat's daughter, was a medic for the NPA. She was killed in an encounter with the military in Marihatag town, Surigao del Sur.
Bayan Muna's Cullamat, also a leader of the indigenous Manobo tribe, said her daughter saw military abuses firsthand. This, she said, may have prompted Jevilyn to join the NPA.
The Makabayan bloc in the House, of which Bayan Muna is part, slammed the military for circulating photos of Jevilyn's corpse as a "trophy for propaganda purposes." – Rappler.com