President Rodrigo Duterte thumbs down a relaxation of quarantine restrictions in Metro Manila proposed by his task force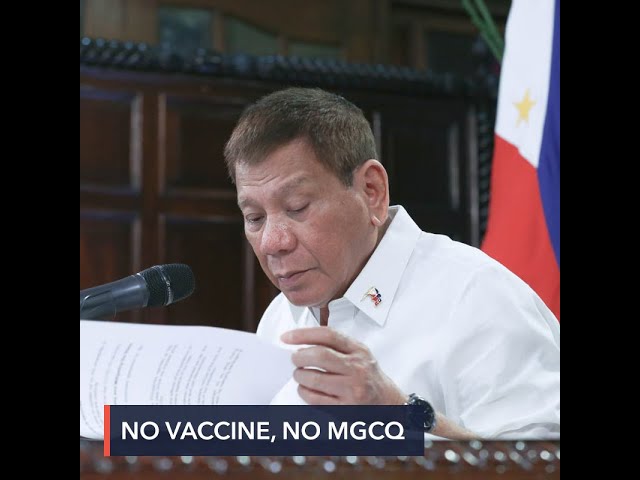 Philippine President Rodrigo Duterte rejected his pandemic task force's recommendation to place the entire country under the lightest quarantine classification, modified general community quarantine (MGCQ), "unless there is a rollout of vaccines," announced Malacañang.
Duterte made his decision during a full Cabinet meeting on Monday, February 22.
"The Chief Executive recognizes the importance of reopening the economy and its impact on people's livelihoods. However, the President gives higher premium to public health and safety," said Presidential Spokesperson Harry Roque on Monday.
The move foils the bid of economic managers and most Metro Manila mayors to loosen pandemic restrictions in March in order to raise the country from economic doldrums brought about by one of the strictest lockdowns in the world.
Under MGCQ, face-to-face classes for higher education institutions is allowed. All private and public offices can resume operations at full capacity, with special remote arrangements for persons aged 60 and above, pregnant women, and people with comorbidities.
All types of establishments are allowed, but those related to entertainment and leisure, like cinemas and concerts, are limited to half capacity.
When will vaccine rollout start?
A shift to MGCQ now depends on when the government can begin vaccinating Filipinos. But there is still no set date for the vaccine rollout, which was supposed to begin with inoculations in mid- to late February of Pfizer and AstraZeneca shots obtained by the government through the COVAX Facility.
But delivery of these doses were delayed due to paperwork on indemnification, which vaccine czar Carlito Galvez Jr blamed on the supposed late advice from Pfizer that such documents were necessary.
Malacañang now thinks it likely that 600,000 doses of vaccines from Chinese firm Sinovac may arrive before the Pfizer and AstraZeneca vaccines after the Food and Drug Administration issued emergency use authorization for its vaccine. But even the arrival of the Chinese jabs has no set date yet.
Caution from experts
Duterte's caution echoes the recommendations of the Octa Research Group, which warned that if the entire country were to shift to MGCQ on March 1, it would take less than a month for new cases to reach 2,400 daily – the level it was at in August 2020 when hospitals in the region became overwhelmed.
The experts had said an MGCQ shift would be "risky" and "contrary to sensible epidemic management."
Duterte had earlier thumbed down physical classes for elementary and high school students until the government's vaccination rollout is underway. But Roque said the Commission on Higher Education can still propose a limited trial of physical classes for at least college or post-graduate students.
Duterte had also been conservative in the debate on easing age-based restrictions, ultimately rejecting the proposal of his economic team to allow kids inside malls.
The Inter-Agency Task Force on Emerging Infectious Diseases, at the urging of the National Economic and Development Authority, had recommended loosening the quarantine restrictions even in pandemic epicenter Metro Manila because it accounts for 40% of the country's economy.
On March 15, it will have been a year since Metro Manila was first placed on lockdown due to the pandemic. March 17 will mark the day the entire Luzon region was placed under quarantine.
Meanwhile, the country is yet to begin vaccinating its citizens, lagging behind many of its Southeast Asian neighbors.
The initial 600,000 doses of vaccines from Sinovac are expected to arrive within the week, but the government is yet to give a date for when the rollout will begin. – Rappler.com