(1st UPDATE) President Duterte says COA chairman Michael Aguinaldo's refusal to audit the humanitarian organization would constitute 'dereliction of duty'
President Rodrigo Duterte warned Commission on Audit Chairman Michael Aguinaldo of a "long legal battle" if the COA chief refuses to heed his call for an audit of the Philippine Red Cross' (PRC) use of funds from the Philippine government.
In a recorded briefing aired Saturday, September 11, Duterte said Aguinaldo was aware that the PRC had been receiving money from the Philippine government, which Duterte believed to be a valid reason to audit the private humanitarian organization.
While Aguinaldo earlier said that COA had no jurisdiction to audit PRC, he acknowledged that it could audit the payments delivered by the Philippine Health Insurance Corporation (PhilHealth) to the nonprofit.
Addressing the PRC, Duterte said, "Any money belonging to the government of the Republic of the Philippines given to the agency, whatever be the nature, if they are operating here and you receive the money and spend it, you are accountable to the government and therefore an audit is in order."
Referring to Aguinaldo, the President said, "It's going to be a long legal battle if he refuses." He claimed that doing so would constitute "dereliction of duty."
In a statement on Sunday, September 12, the PRC said it "faithfully accounted for the use of such funds in compliance with donor agencies' liquidation and reportorial requirements," and that these agencies are subjected to audits by COA.
"To date, there has not been any adverse finding on any transaction whereby government funds were given to the [PRC]," it said.
"Reports of these donations may be obtained by the Office of the President directly from these government agencies, and audits on these government agencies, if any, may be secured from the [COA]." PRC said.
Education Secretary Leonor Briones, a former secretary to the COA, backed the President in pushing the COA to audit the Red Cross, saying there was basis in Presidential Decree No. 1445 or the Government Auditing Code of the Philippines to pursue this.
"The provision is very specific. Any transaction involving public interest and public funds has to be traced and audited, whether it is public or private," said Briones.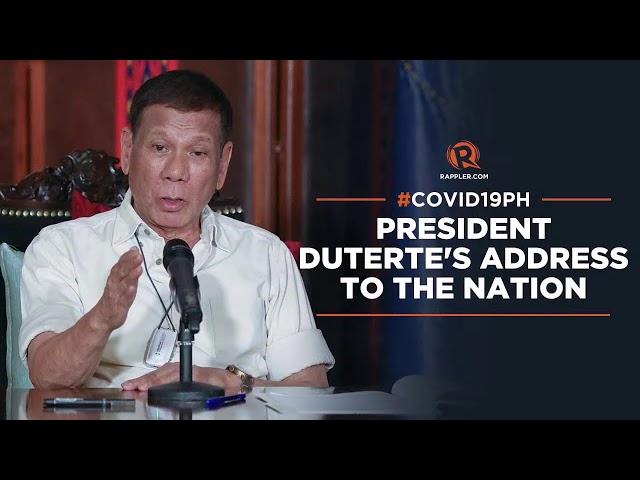 Dereliction of duty?
During the briefing, Chief Legal Counsel Salvador Panelo backed the President's position and said in Filipino that in his legal opinion, "no further discussions were necessary" on whether COA can audit PRC.
Panelo, who said that he had submitted his legal opinion on the matter to Duterte, told the President that he can "compel" COA to conduct the audit.
"Anong puwedeng gawin kay COA? Puwede tayong magfile ng petition for mandamus compelling COA to perform its duty to audit this nongovernmental organization like the PRC. At tama rin sinasabi 'nyo na pag hindi ginampanan ni Michael Aguinaldo ang kanyang tungkulin, dereliction of duty po 'yan," Panelo said.
(What can you do to COA? You can file a petition for mandamus compelling COA to perform its duty to audit this nongovernmental organization like the PRC. And you're also right in saying that if Michael Aguinaldo does not fulfill his duty, that is dereliction of duty.)
After Panelo spoke, Duterte told him, "Ikaw na bahala diyan kay Gordon pati kay Aguinaldo 'pag ayaw nilang sumunod (You deal with [Senator Richard] Gordon as well as Aguinaldo if they don't follow)."
Gordon, who has been the subject of the President's tirades since he led the probe into the government's pandemic deals, chairs the PRC.
At the end of the briefing, Duterte's final words were still for the senator and the COA chairman. "I'm sure Aguinaldo and Gordon should know where they are now. So I hope they'd stop invoking that phrase about being independent."
Duterte had earlier called out COA for supposedly maligning government officials over its audit reports, particularly on the Department of Health's use of pandemic funds in 2020. He later scored lawmakers for probing his government's pandemic spending. (READ: After slamming COA, Duterte hits lawmakers' hearing on pandemic spending)
Both actions of the President were widely criticized, as supporters of the COA and the congressional investigations stressed the independence of the constitutional body and lawmakers in carrying out their respective mandates.
Attacking Gordon
Duterte renewed the call to audit the PRC as Gordon led the Senate blue ribbon committee investigation into the government's muti-billion pandemic deals with Pharmally Pharmaceutical Corporation – a firm linked to Duterte's former economic adviser Michael Yang.
On Friday, the same day the President recorded his briefing with the government's coronavirus task force, Gordon's panel issued another round of arrest warrants against Yang and Pharmally director Linconn Ong for allegedly "lying" during the probe.
Addressing Gordon, the President said in a mix of English and Filipino: "I will be forced to totally disassociate with you. I will stop national government from having transactions with you in any manner. I don't care, I will not give money to you. Red Cross does not exist as far as I am concerned."
The PRC receives donations from the Philippine Charity Sweepstakes Office (PCSO). It has also provided its services to PhilHealth, which owed the PRC over P500 million for COVID-19 tests as of late August.
While the PRC is recognized by Philippine law as an autonomous nongovernment organization auxiliary to Philippine authorities, it is required to submit to the Philippine president an annual report containing its activities and showing its financial condition.
Duterte claimed that he has not received a single report from the PRC during his term.
After dismissing the Senate probe into Pharmally and Yang as nothing more than a "fishing expedition," the President said, "Ganito na lang laro natin (Let's just play this way): You find fault in us, we will find what's wrong with you."
Duterte claimed on Saturday that senators like Gordon were using the marathon probe as "mileage" for the 2022 elections, an addition to his earlier claim that Gordon was using Red Cross funds to bankroll an electoral bid.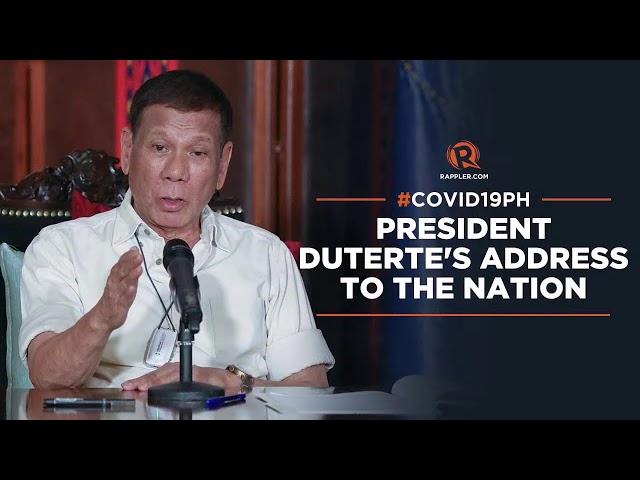 – Rappler.com