The President describes Yang as a 'middleman' for a Singaporean company with access to stocks of medical supplies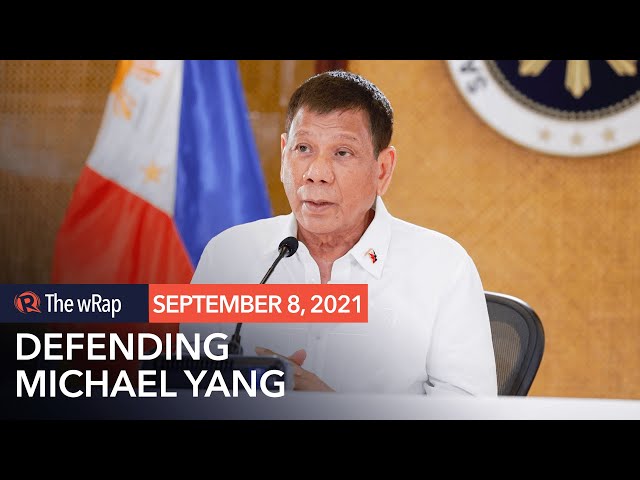 Philippine President Rodrigo Duterte said Michael Yang, his former economic adviser who is a Chinese citizen, was instrumental in laying the groundwork for new deals with China and even his approach to the Asian giant as a whole.
Duterte spoke about Yang anew on Wednesday, September 8, during a convention where his faction of the PDP-Laban party announced its candidates for the 2022 elections.
"I admit it, it was Yang whom I requested to lay the ground, do the legwork of my going to China and getting into a new deal, new relations because of foreign policy ko, mag-neutral ako para makagalaw ako (because my foreign policy is I would be neutral so I can be flexible)," said the Philippine leader.
Specifically in relation to Yang's ties to the government's biggest pandemic supplier, Duterte described Yang as a "middle man" who linked the government with a Singaporean-led company that had access to many stocks of sorely needed personal protective equipment, masks, COVID-19 tests, and more.
Duterte was likely referring to Pharmally International Holding Company, whose local subsidiary, Pharmally Pharmaceutical Corporation, bagged the at least P8.7 billion worth of government contracts related to pandemic response.
Yang, as a Rappler investigation showed, is linked to this company.
"Michal Yang is a middleman…because we were encouraging everybody in the world to come to the Philippines to do business. The key there is Yang. Yang is known to me," said Duterte.
'Yang has no criminal record'
The President again defendeded Yang, who was recently cited in contempt and issued an arrest warrant by the Senate for ignoring two subpoenas calling him to appear at inquiries about the government's pandemic contracts.
Yang, through his legal counsel, has now vowed to cooperate with the Senate probe.
"He has no record, he's not a criminal. That's what I want you to know," said Duterte.
An intelligence report prepared by anti-drug operative Eduardo Acierto, however, claimed Yang was involved in bringing in shabu into Mindanao, at least in the 1990s and 2000s, years when Duterte was Davao City mayor.
The report made its rounds through the police hiearchy and eventually reached Duterte. But rather than look into the findings, the President publicly cleared Yang of any wrongdoing in 2018.
Acierto is now on the run. Duterte has offered a hefty P10 million cash reward for Acierto's capture and made his own accusations against the ex-cop. – Rappler.com