This is AI generated summarization, which may have errors. For context, always refer to the full article.
'Wala talagang mangyari because we are not in the possession of the sea, sa kanila (China),' says President Rodrigo Duterte in his first public address mentioning recent West Philippine Sea incidents
Rather than join his own foreign and defense secretaries in protesting Chinese incursions in the West Philippine Sea, President Rodrigo Duterte merely repeated his old arguments against provoking China in a public address on Monday, April 19.
The Monday televised address was the first time Duterte made public remarks about the swarming of Chinese ships in Julian Felipe Reef, a coral reef only 175 nautical miles west of Palawan, and other parts of the West Philippine Sea.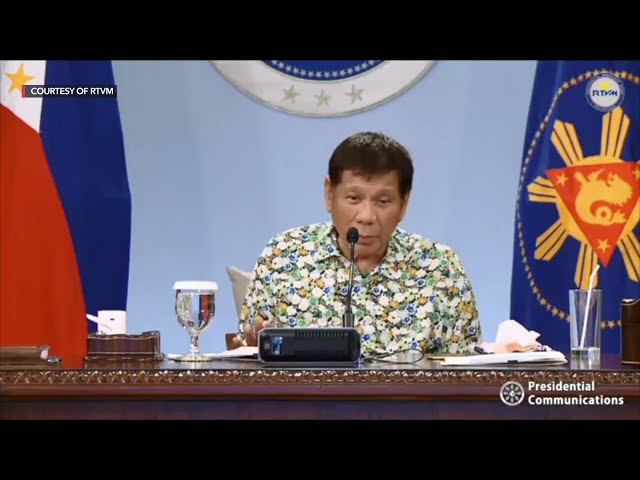 Duterte repeated his old assertion, already debunked by many experts and academe, that asserting Philippine sovereignty will only lead to a war with China.
"We can retake it only by force. There is no way we can get back what they call the Philippine sea without any bloodshed…. You know the cost of war, and if we go there and really to find out and assert jurisdiction, I said it would be bloody. It would result in a violence that we cannot maybe win," said Duterte, as Defense Secretary Delfin Lorenzana listened alongside other Cabinet members.
Lorenzana corrects Duterte on access to Kalayaan Group of Islands
Duterte also repeated an old controversial claim of his that China, not the Philippines, is "in possession" of the West Philippine Sea.
In the Monday meeting, he even asked Lorenzana if he or a team could go to the Spratly Islands "para ipakita lang natin sa Pilipino na maski ilang balik natin doon, wala talagang mangyari because we are not in the possession of the sea, sa kanila."
(Just to show the Filipino that no matter how many times we go back there, nothing will happen because we are not in possession of the sea, it's with them.)
At this point, Lorenzana spoke up, telling the Commander-in-Chief that, actually, Filipino ships and fishing boats are able to travel to the Spratlys, specifically the Kalayaan Group of Islands (part of the Spratlys that lies within the West Philippine Sea).
"Mr President, wala namang balakid 'yung ating pagpunta natin doon. Kahit 'yung mga Navy ships natin, panay 'yan punta sa Pag-asa Island at ang barko nila doon…. Our ships can go there. In fact, regularly 'yung ating mga barko dyan sa Palawan ay nagre-resupply sa ating mga islands diyan sa Kalayaan Island Group," said Lorenzana.
(Mr President, there is no obstacle to us going there. Even our Navy ships keep going to Pag-asa Island and their ship there…. Our ships can go there. In fact, our ships in Palawan regularly conduct resupply missions to the islands in the Kalayaan Island Group.)
But Duterte did not budge.
"Kaya nga. Ang China, kung hanggang diyan lang, huwag ka lang magulo. You claim even if you go there, wala rin mangyari kasi kanila, para sa isip nila, kanila," said the President.
(Exactly. China says you're only allowed until there, don't misbehave. You claim even if you go there, nothing will happen because it's theirs. In their mind, it's theirs.)
As before, Duterte expressed skepticism at the suggestion of retired Supreme Court justice Antonio Carpio to run to the United Nations to pressure China into respecting the 2016 arbitral award.
Meanwhile, the Philippines' Department of Foreign Affairs (DFA) has issued several diplomatic protests over the presence of Chinese ships in the West Philippine Sea and even summoned the Chinese ambassador.
Lorenzana himself has told the Chinese ships to leave and even engaged in a word war with the Chinese embassy.
Earlier on Monday, Presidential Spokesperson Harry Roque said Duterte was on the same page as Lorenzana and the DFA. He also said there was no need for the President to make new verbal assertions against China as he had already raised the Hague ruling in the United Nations General Assembly in September 2020.
Duterte's red line: Drilling for resources
The President also used his public address as an opportunity to "remind" China that he would become more assertive if they start drilling for oil or other mineral resources in the West Philippine Sea.
"When they get the oil, nickel, or whatever precious stones, that would be the time because that is the time that we should act on it. Not now, for this chase, like when you chased away a reporter," said Duterte, likely referring to the ABS-CBN TV crew driven away by Chinese ships armed with missiles.
"I will also start to drill my oil there. If you own it, I own it," added the Philippine leader.
He warned that if a situation similar to the 2012 Scarborough Shoal standoff were to happen, he would not withdraw Philippine ships as the Aquino administration had back then.
"Talagang hindi ako aalis. Tsaka kung may barko ako ngayon, 'yung Coast Guard nandiyan, hindi ako mag-alis (I will really not leave. If I have a ship there now, Coast Guard, I will not leave)…. If they are driven away, I will tell them to stay put," said Duterte. – Rappler.com