'Keep quiet and... ituro mo ako. Si Duterte ang nag-utos,' says President Rodrigo Duterte to Ronald dela Rosa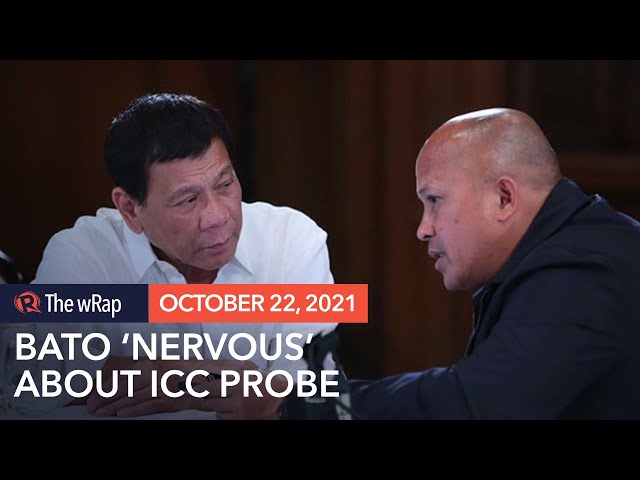 Philippine President Rodrigo Duterte said his former police chief and now presidential candidate Ronald dela Rosa is getting the jitters from the International Criminal Court (ICC) investigation into the drug war he led.
"Si Bato nanerbyos kasi kasali siya doon, sa Tokhang niya. Sabi ko, huwag ka mag-alala. ," said Duterte on Thursday, October 21, in Lucena City, using Dela Rosa's nickname.
(Bato is nervous because he is included in the complaint, because of his Tokhang. I said, don't worry.)
"If there is any person who is going to prison it would be me. But it should be a Filipino court, manned by a Filipino judge and being prosecuted by a Filipino prosecutor," continued Duterte.
The Philippine government has consistently said it would not cooperate with the ICC investigation into Duterte's drug war and extrajudicial killings in Davao City back when he was mayor.
Dela Rosa, who led the drug war during his time as Duterte's first police chief, is likely to be included in the probe.
The President told his loyal ally to "keep quiet."
"I assume full responsibility kaya sabi ko kay Bato, huwag kang mag-ano. Keep quiet and just, ako, ituro mo ako. Si Duterte ang nag-utos. Kung ano nasa listahan mo, utos ni Duterte 'yan," said the Chief Executive.
(I assume full responsibility so I told Bato, don't do anything. Keep quiet and just point to me. Duterte gave the orders. Whatever is in your list, those were Duterte's orders.)
The ICC announced last September 15 it opened a formal investigation into the drug war killings.
Dela Rosa, an incumbent senator, is running for president under Duterte's party, PDP-Laban. Unsurprisingly, he has thumbed down any possibility of the Philippines rejoining the ICC if he wins the presidency. – Rappler.com