Asked if President Rodrigo Duterte now has the power to let certain people skip the line, Malacañang says it's his way of 'recognizing' the sacrifices of soldiers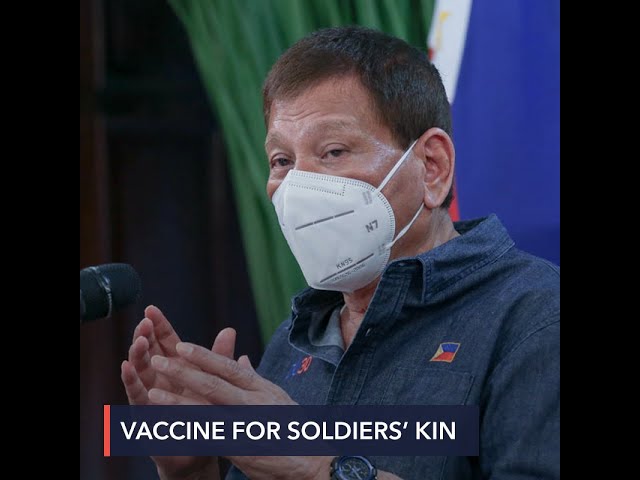 Philippine President Rodrigo Duterte upped the ante in his expression of appreciation for soldiers' sacrifices by promising them a most sought-after service – prioritization for their families in the government's COVID-19 vaccination program.
"Mauna kayo. And if Secretary Galvez would – sabihin ko sa kanya kasali na 'yung pamilya ninyo. Magpunta 'yung mag-inject sa mga kampo, tuturukan pati 'yung mga anak ninyo (You'll be first. And if Secretary Galvez would – I'll tell him to include your families. The health workers will go to military camps, vaccinate even your children)," said Duterte on Friday, January 22, during a visit to a military camp in Jolo, Sulu.
"Libre 'to (This is free)," he said, to applause from his audience.
"So that you would depend – para hindi kayo mag-worry kung nandiyan na na ano kayang mangyari (so you won't worry no matter what happens)," Duterte continued.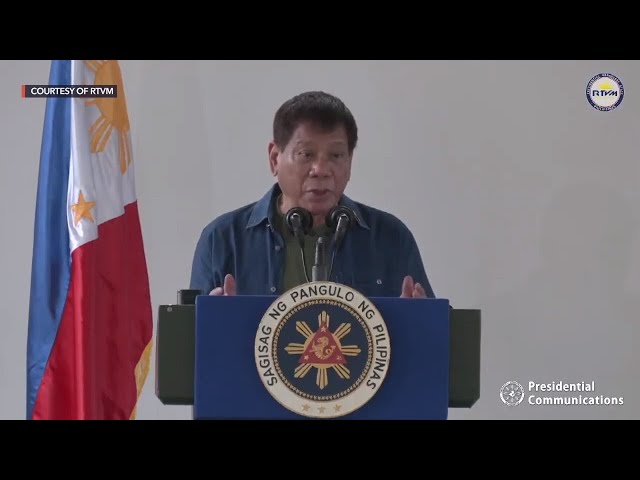 Presidential Spokesperson Harry Roque said on Monday, January 25, the President was likely referring to families, not just of soldiers present at the Jolo event, but families of all roughly 140,000 members of the Armed Forces of the Philippines (AFP).
In previous speeches in front of soldiers, Duterte would often promise other goods to show his appreciation to uniformed personnel – from brand-new handguns to housing and scholarships for high-performing soldiers. Observers have said this was Duterte's way of wooing the military.
Why does this matter?
Families of soldiers are not in the government's list of sectors prioritized for receiving COVID-19 vaccines. Soldiers and other uniformed personnel are 5th in line, after health and government frontliners, elderly, and the poor.
Asked if Duterte's promise is tantamount to allowing soldiers' families to skip the line for a COVID-19 vaccine, Roque said, "He (Duterte) is only expanding it to the families of soldiers and that's out of recognition, on the part of the President, that our men in uniform play an important role because theirs is the maintenance of peace and order in our society."
But the government's prioritization of who should get COVID-19 vaccines is based on who are the most vulnerable sectors in society.
Asked by Rappler if Malacañang thinks families of soldiers deserve priority slots over persons with comorbidities who are deemed vulnerable to COVID-19 but are not in the list of priority sectors, Roque sidestepped the question.
"I don't think I need to answer that because I already answered that it will be the IATF (Inter-Agency Task Force on Emerging Infectious Diseases) that will operationalize what the President said," said the Duterte spokesman.
Roque himself had said in previous press briefings that he had lobbied for persons with comorbidities to be among those prioritized for the vaccine.
The World Health Organization has identified those with heart or lung disease, diabetes, or conditions affecting their immune system as "high-risk" because they are more likely to experience a severe COVID-19 infection.
But Roque had said the proposal was not approved because some people in the pandemic task force said it could be an easy way for people to skip the line.
Vaccine at Duterte's disposal?
Roque did not know where soldiers' families would be inserted into the prioritization program for vulnerable or frontline sectors.
But he said other Filipinos should "not worry" because there will be an "excess" of doses of the sought-after and valuable COVID-19 vaccines.
"Huwag naman po kayo mag-alala kasi sa ating initial list, 24 million ang ating babakunahan. If at all, siguro madadagdagan ito ng mga 2 million if there are 3 members of the family of men in uniform. And sobra-sobra ang inaasahan nating dumating na bakuna by the 2nd or 3rd quarter of the year," said Roque.
(Don't worry because in our initial list, 24 million will be vaccinated. If at all, 2 million would be added to the list if there are 3 members in the families of men in uniform. And we expect an excess in the vaccines that should arrive by the 2nd or 3rd quarter of the year.)
Malacañang previously came under fire for the unauthorized vaccination of Duterte's security aides, ahead of any local vaccine approval and ahead of sectors deemed of higher priority. – Rappler.com