This is AI generated summarization, which may have errors. For context, always refer to the full article.
(3RD UPDATE) This comes after over a year of rumors that the former president would join the Duterte administration after her Speakership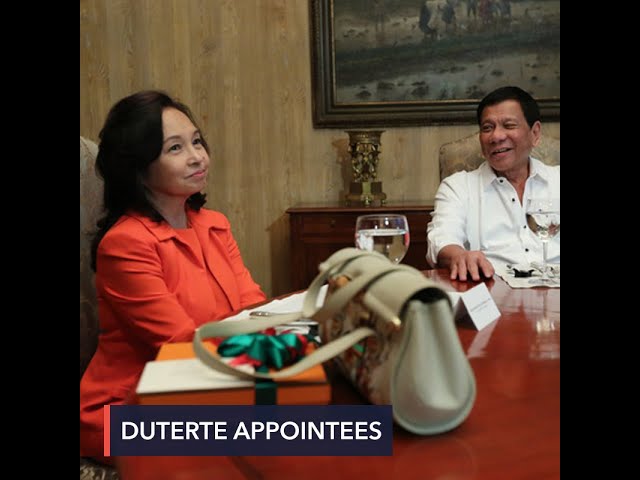 President Rodrigo Duterte has tapped former president and former speaker Gloria Macapagal Arroyo as his Presidential Adviser on Clark Programs and Projects.
Executive Secretary Salvador Medialdea confirmed this to Rappler through text message on Thursday, November 26.
Arroyo's appointment paper has not yet been officially released.
Arroyo's last government position was House Speaker and Pampanga 2nd District Representative in June 2019. Clark or Clark Freeport and Special Economic Zone (CFEZ) encompasses a portion of Arroyo's home province Pampanga and Tarlac province.
The former president, who previously faced plunder charges before she was acquitted in 2016, will assume this role after Duterte issued an executive order creating a National Government Administrative Center (NGAC) in New Clark City, Tarlac.
A massive project meant to be a "backup" government compound in case of a calamity hitting Metro Manila, the NGAC is to be built inside New Clark City which is inside Clark.
The construction of the NGAC is being led by the Bases Conversion and Development Authority (BCDA), whose CEO and President is another Duterte adviser, Presidential Adviser for Flagship Programs and Projects Vince Dizon.
Duterte's other advisers include Presidential Adviser for Entrepreneurship Joey Concepcion and Presidential Adviser on Economic Affairs and Information Technology Communications RJ Jacinto who is now a Department of ICT undersecretary.
'Immense undertaking'
Arroyo, in a statement, thanked Duterte for the appointment.
"This is an immense undertaking that was one of my priority thrusts during my presidency, and I am grateful to President Rodrigo Duterte for his trust in empowering me to provide advice on this economy-boosting initiative once more," she said.
Developing the Clark-Subic Freeport zones, she said, would be "indispensable for national recovery" amid the coronavirus pandemic.
Presidential Spokesman Harry Roque wished Arroyo luck in her new role.
"PA Arroyo's wisdom and her vast experience as a former head of state and head of government, coupled with her great concern in her native Pampanga, would be valuable as she would assist the Administration in the planning and execution of programs and projects to turn Clark as the next premier metropolis of Asia," said the Duterte spokesman.
Clark International Airport Corporation (CIAC) President Aaron Aquino also welcomed Arroyo's appointment.
"President Arroyo's legacy has been an additional rock in the edifice of a strong Republic. Now, her unparalleled expertise in economics and governance, along with her sincerity and wise counsel, will hasten the growth and progress of Clark as one of the major economic engines of our country," Aquino said in a statement on Friday, November 27.
Arroyo's debt of gratitude to Duterte
Arroyo's appointment comes after over a year of rumors that she was going to join the Duterte administration as finance secretary, supposedly to replace Duterte's childhood friend Carlos Dominguez III. Dominguez had brushed aside the rumors back then.
Arroyo has been a staunch Duterte ally since the start of his presidency. She has publicly expressed gratitude to Duterte for supposedly having "provided the atmosphere" that led to the Supreme Court acquitting her of plunder over the alleged misuse of P366 million in PCSO funds during the tail-end of her presidency.
On the 2016 presidential campaign trail, Duterte had said there were grounds to acquit Arroyo.
Less than a month after his inauguration as President, the Supreme Court acquitted Arroyo, allowing her to walk free after almost 4 years of hospital arrest. – Rappler.com