'No one is safe unless everyone is safe,' says the Philippine President as he calls for universal access to COVID-19 vaccines
Philippine President Rodrigo Duterte called for universal access to COVID-19 vaccines before the United Nations General Assembly, saying it would be a "gross injustice" if developing nations were left behind in the road to post-pandemic recovery.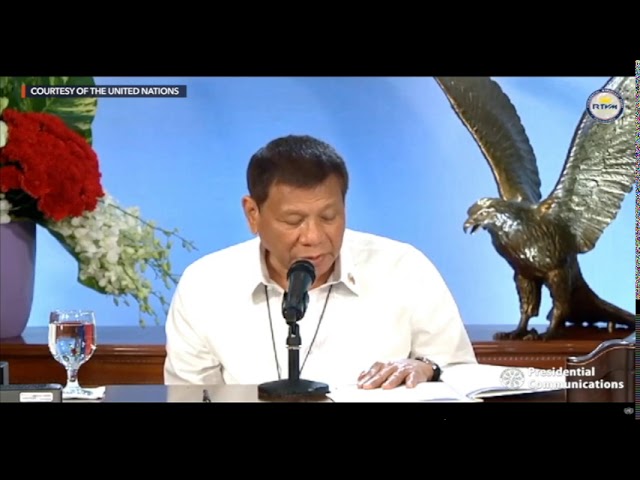 "If any country is excluded by reason of poverty or strategic unimportance, this gross injustice will haunt the world for a long time," he said in a pre-recorded speech aired before the UNGA's 31st Special Session around 2 am Manila time, Friday, December 4.
A poor country suffering from lack of access to COVID-19 vaccines would "completely discredit the values upon which the United Nations was founded," said Duterte, who leads a country also struggling to secure a supply of vaccines.
"We cannot let this happen. No one is safe unless everyone is safe," he said.
He threw his support behind mechanisms like the COVAX Facility, which the Philippines joined, which is supposed to pool together the resources of developing countries and secure a limited supply of vaccines from developers who are part of the initiative.
Duterte said the Philippines will help other countries manage their pandemic "without preconditions."
The President also echoed the calls of UN Secretary General Antonio Guterres for a global ceasefire, or for all warring parties to lay down their weapons in order to focus on addressing the COVID-19 pandemic.
Duterte's early Friday morning speech was the second time he addressed the UN General Assembly. The first time was last September 23, when he spoke at its 75th session.
Scramble for vaccines
Duterte's own vaccine czar Carlito Galvez Jr has said that 80% of the world's coronavirus vaccine supply has been secured by rich nations, leaving 2% for the countries in the COVAX Facility, and only the remaining 18% up for grabs.
As early as late August, and even before clinical trials of experimental vaccines have ended, developed countries like the United States, United Kingdom, Canada, Japan, and nations in the European Union have put in orders for at least 3.1 billion doses, according to an Agence France-Presse count.
The Philippines, meanwhile, has not made any advance payment for any COVID-19 vaccine. It is, however, assured a supply of at least 2.6 million doses of the AstraZeneca vaccine, after the government and private firms signed a deal last November 27.
Half of these doses will be used to vaccinate the employees of the participating firms who footed the bill for the vaccine order. The rest will go to the government, which has said it would prioritize the vaccination of health workers, poor households, military, and police.
It was Duterte who rejected the idea of giving advance payments for a vaccine, claiming on September 14 that procurement laws don't allow it. Former Supreme Court justice Antonio Carpio countered this, saying such payments are permitted.
Two months later, Duterte reversed his position, finally giving the go signal for advance payments to be made. – Rappler.com