This is AI generated summarization, which may have errors. For context, always refer to the full article.
'I will limit what you can do with the executive department,' says President Duterte, addressing senators holding probes into his government's pandemic deals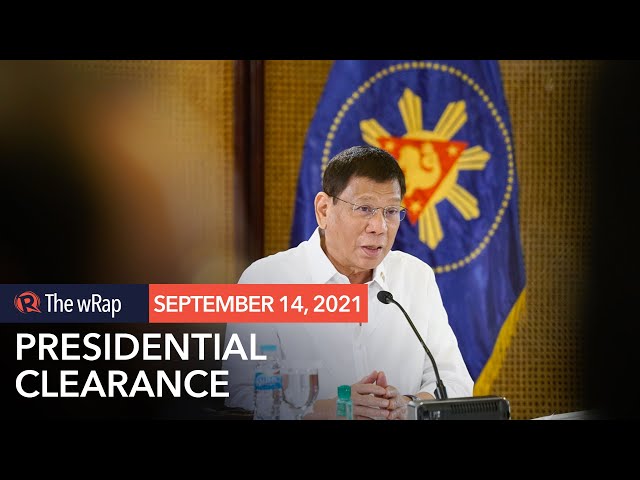 President Rodrigo Duterte said on Tuesday, September 14, that he will require members of his Cabinet to secure his clearance before attending Senate hearings.
In his now bi-weekly public address, Duterte again lambasted senators for investigating the alleged corruption in his administration's pandemic response and the link of his former economic adviser Michael Yang to alleged anomalous contracts. (READ: Michael Yang, associates expand businesses under Duterte presidency)
"With due respect to the Senate, umabot down to Pharmally (the hearings reached Pharmally), now you are branching out to drugs issue. Mahirap 'yang ganun (That is difficult). This time I will require every cabinet to clear with me any invitation. And if I think he will be called for, walang silbi (without purpose) except to harass, to be berated in front of the republic, ay hintuin ko na 'yan at pagbawalan ko na (I will stop it and will prohibit them from attending)," Duterte said.
Duterte, aware that such behavior from the resource persons would typically prompt senators to cite them in contempt, said he has the power to do so.
"Now may option kayo, cite the person in contempt. Pero ako naman magsasabi, ako ang may utos na hindi mag-attend (Now you have the option to cite the person in contempt. But I will be the one to say, I ordered them not to attend). I think I can do it as President really if there is abuse of authority…. I will limit what you can do with the executive department," he said.
Duterte said Health Secretary Franciscio Duque III and other DOH officials have wasted so much time in Senate hearings.
The President again slammed Senate blue ribbon committee chairman Richard Gordon and said he would campaign against his former ally.
"I will campaign against you for being unfit to be a senator of this republic," Duterte said.
Duterte's plan brings to mind Executive Order No. 464, issued by then-president Gloria Macapagal Arroyo in 2005, requiring all heads of departments of the executive branch to secure prior presidential consent before facing any congressional probe.
Arroyo issued EO 464 in September 2005 on the same day that military officials appeared before a Senate panel investigating the election fraud in the 2004 elections or the so-called "Hello, Garci" scandal.
The 1987 Constitution states that the Senate or the House of Representatives "may conduct inquiries in aid of legislation in accordance with its duly published rules of procedure. The rights of persons appearing in or affected by such inquiries shall be respected."
In response to Duterte's plan, Senate President Vicente Sotto III said: "That is the prerogative of the Chief Executive. It's up to him. However, the Senate will exercise our legislative oversight function over government projects and expenditures that we approved." – with a report from Mara Cepeda/Rappler.com