'I have not visited America and I do not have any intention of visiting anymore,' says President Rodrigo Duterte in his final State of the Nation Address
To the very end, President Rodrigo Duterte vowed he would not visit the United States, one of the Philippines' oldest allies, during his term as Chief Executive.
Duterte made the declaration as he went off-script from prepared remarks that were part of his final State of the Nation Address (SONA) on Monday, July 26 – one of his longest addresses to date and one of the longest SONAs delivered post-EDSA.
During his speech, Duterte repeated his defeatist arguments against China in the West Philippine Sea and claimed the Philippines would no longer act in the "shadows of great powers."
"I have not been to America, almost 10 years, 22 years, I have not visited America and I do not have any intention of visiting anymore," Duterte said, adding that any trip, if it all, would be done in his "own time."
Duterte recalled turning down former US president Donald Trump's invitation to visit the White House, first extended in 2017 and later again in January 2020, just before the COVID-19 pandemic hit. 
In rejecting invitations in the past, Duterte had often railed against US lawmakers' statements criticizing his bloody anti-illegal drug campaign.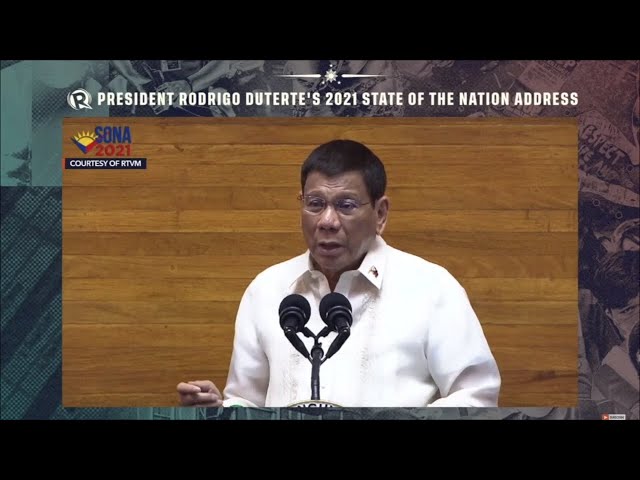 Duterte had, on many occasions, expressed his dislike for the US, particularly under the administration of former US president Barack Obama, whom the Philippine leader once told to "go to hell" after Obama urged him to fight crime "the right way."
Even after the assumption of Donald Trump, with whom he had built rapport, Duterte had repeatedly stated he would never visit "lousy" America.
Under Duterte, relations with the US hit a low after he decided to unilaterally terminate the two countries' Visiting Forces Agreement in February 2020.
Duterte said he wanted the deal scrapped over US lawmakers' criticism of his drug war and the US's decision to revoke the visa of his ally and first police chief, Senator Ronald "Bato" dela Rosa. 
The deal remains in limbo after Duterte decided to put the termination on hold and extend its suspension thrice: first in June 2020, then in November 2020 after Biden's electoral win, and again in June 2021. – Rappler.com