However, the President's public address – which ran for nearly three hours – fails to mention the government's game plan against the Delta variant
President Rodrigo Duterte on Monday, July 26, warned of a new lockdown if the highly-transmissible COVID-19 Delta variant spreads in the country.
"Delta (variant), if ever it will spread…. If something wrong happens, I have to be strict and I have now my word that there will be, just like what happened in the early days," Duterte said in his sixth and final State of the Nation Address (SONA).
Despite his own warning, Duterte contradicted himself when he said in the same speech that the country could not afford more lockdowns.
"We have spent enormous amounts of resources to build our capacity to overcome this pandemic. We cannot afford more lockdowns," he said.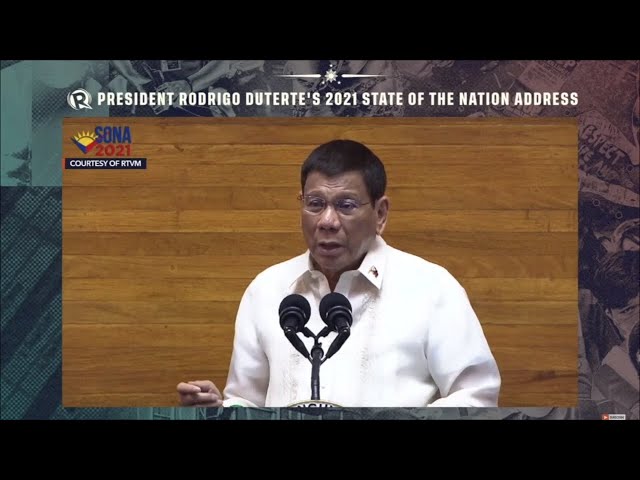 The Delta variant, which was first detected in India, is ravaging Southeast Asian countries like Indonesia, Thailand, and Malaysia.
The Philippines now has 119 known cases of the highly transmissible variant, but there are concerns that the actual number may be far higher, as the Philippine Genome Center is only sequencing a small percentage of the positive cases.
To prevent further local transmission of the Delta variant, the government has imposed travel bans where it is widespread.
Despite having one of the longest and strictest lockdowns in the world, the Philippines is still struggling to contain the deadly virus that has so far infected over 1.5 million and killed more than 27,000 of its population.
The pandemic has also left 4.14 million Filipinos jobless.
While COVID-19 daily cases in the Philippines have plateaued at around 5,000 to 6,000, this is still higher than the average daily cases before the cases surged last April.
That surge, which was driven by more infectious variants and the easing of mobility restrictions, crippled the Philippine healthcare system at the time.
The Octa Research group, which has been studying the pandemic in the country, already saw an increase in cases in Metro Manila, saying the reproduction number in the capital region increased to 1.21 from 0.92.
Experts have said that the goal is to keep R below 1 to contain virus transmission until a COVID-19 vaccine becomes available. An R above 1 means that the virus is spreading faster.
What is the game plan?
Many expected that Duterte would focus on the government's pandemic game plan, as the threat of the Delta variant looms. But millions of Filipinos who were tuned in to his more than two hour-long SONA failed to hear any concrete plans from the President.
"[The Delta variant] is far more aggressive, and far more dangerous…. But if something wrong happens, I have to be strict…[it] will be just like what happened in the early days…. I don't know. Maybe we just have to pray for salvation," he said. – Rappler.com