President Rodrigo Duterte also resumes insulting Senator Richard Gordon, the chair of the committee looking into corruption in the government's pandemic response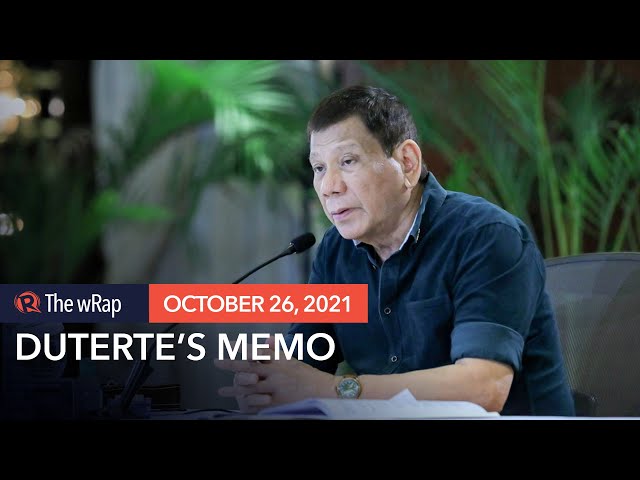 President Rodrigo Duterte said on Monday night, October 25, that he welcomed the Senate blue ribbon committee's move to question before the Supreme Court (SC) the legality of his memorandum to bar Cabinet officials from appearing in its hearings on the alleged corruption in the government's pandemic response.
During his regular prerecorded Talk to the People address, Duterte said that this was "by far the most decent thing" the Senate blue ribbon committee has done.
"At last, the members of the Senate blue ribbon committee have finally seen the light…. And we would like to congratulate the members, albeit late, that it is the Court which should eventually decide on the constitutionality of the order and we will defend it," Duterte said.
On October 22, Senator Richard Gordon, who is also head of the Senate investigating panel, said that the senators agreed to take Duterte's memo to the SC to question its legality.
The President said that he was "most eager" to answer the questions that would be raised before the SC.
Senators and lawyers have earlier condemned Duterte's order and said that it spelled a "constitutional crisis."
Meanwhile, Justice Secretary Menardo Guevarra had said that he viewed Duterte's order as a "protest" against the "manner" in which the Senate blue ribbon committee hearings had been conducted.
Several executive officials have since obeyed Duterte's memo, which the senators called "blatantly unconstitutional."
More tirades vs Gordon
The President also spewed new tirades against Gordon, whom he also had earlier accused of "playing God" in the Senate hearings.
"Ito dapat si Gordon, maglipat siya sa judiciary, doon siya magsigaw-sigaw…. 'Yang ugali na 'yan – this is not feudal times. You have to be courteous. If you want to be treated with courtesy, you have to practice it," Duterte said.
(Gordon should transfer to the judiciary. That's where he should scream at people. That kind of behavior – this is not the feudal times.)
Duterte added that the committee's manner of questioning showed "arrogance of power."
"Durgugin ninyo 'yong Pharmally, pero 'yong mga tao ko sa gobyerno, 'yong ipinapatawag ninyo at pahintay ninyo ng ilang oras, at hindi niyo naman tatawagin at kung nando'n, iniinsulto ninyo…para bang walang alam, mga moron ang kaharap ninyo. Sa judge lang 'yan eh," Duterte added.
(Go ahead and crush Pharmally. But my people in the government, those you summon and leave to wait for several hours, and insult…as if they are morons. Judges are the only ones who do that.)
This is not the first time Duterte hit Gordon during his public national address. The President earlier accused without basis Gordon of using Red Cross funds for his campaign.
Gordon had also clapped back at Duterte, calling him a "cheap politician." – Rappler.com