'For all I care, you can have a thousand franchises, you will not see the light of day,' says President Rodrigo Duterte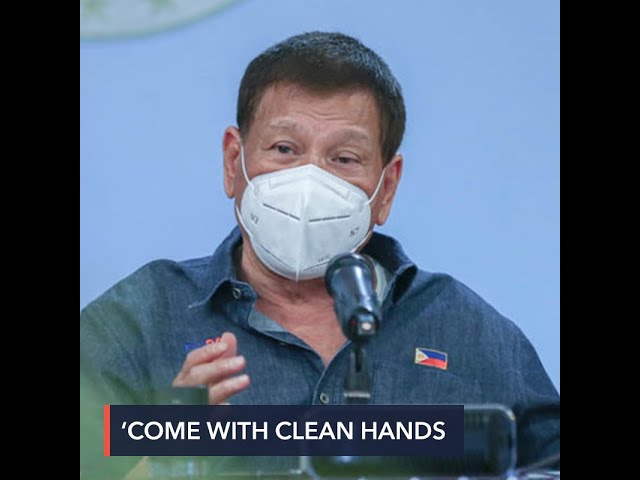 Philippine President Rodrigo Duterte warned he would not recognize any franchise granted to a company until they pay for supposed past "misdeeds."
"Mga franchise na 'yan, hindi ko i-implement 'yan hanggang they settle their full accounts with government," said Duterte on Monday, January 18, during a meeting with pandemic task force officials at the Malacañang Golf Clubhouse.
(I won't implement franchises until they settle their full accounts with government.)
"For all I care, you can have a thousand franchises, you will not see the light of day until you come to government with clean hands," he added.
Hours ago, the House of Representatives held a hearing on ABS-CBN and the Lopez Group of Companies amid the filing of fresh bills for a new franchise for the network.
The Monday hearing tackled whether or not the Lopez family "unjustly" benefited when the state-owned Development Bank of the Philippines condoned P1.6 billion worth of loans in 2006.
However, Duterte did not mention ABS-CBN specifically in the portion of his remarks chosen to be aired by Malacañang.
Presidential Spokesperson Harry Roque is yet to respond to Rappler's query on whether or not Duterte was referring to ABS-CBN.
'Serious talk' with firm's executives
In his public address, Duterte said that if a company with unsettled accounts with the government were to operate using their franchise again, he would have a "serious" talk with the firm's officials.
"Before opening, we will have a short, very serious talk…. Do not compel me to do something that is not lawful," said the Chief Executive.
"Just because you give them a franchise, it does not follow that all of their misdeeds in the past are condoned or forgiven," he also said.
Why does this matter?
His new remarks might be taken as a signal by ally lawmakers, especially in the House, that his anger at certain corporations like ABS-CBN is alive and kicking.
It could be perceived by lawmakers as a reminder of his position against the powerful media firm.
But the new initiatives to give ABS-CBN a franchise also come during a year close to the 2022 elections, which means politicians are also mindful of the network's influence to reach voters.
It remains to be seen if Duterte's latest warning will push lawmakers to support or oppose bids of firms for new franchises. – Rappler.com