President Duterte, who two months ago said women shouldn't run the country, wants Filipinos to reject 'the backward mindset that fueled a culture of gender oppression'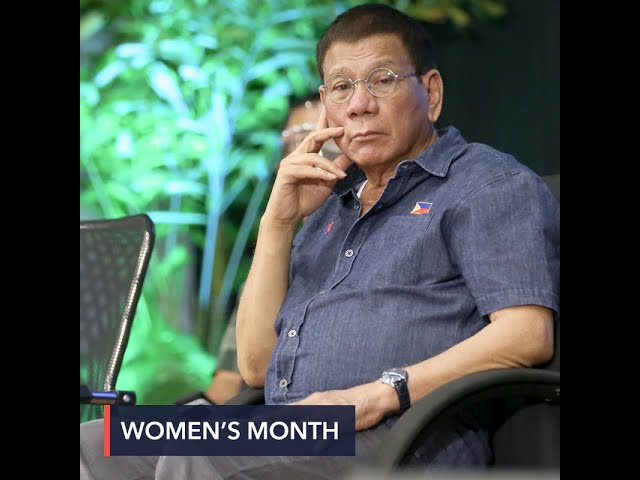 Philippine President Rodrigo Duterte, who has been criticized throughout his presidency for sexist remarks and behavior, issued an official statement commemorating March as Women's Month on Monday, March 8.
In the statement, crafted by Malacañang staff but approved by Duterte, the Chief Executive bannered initiatives by his government to promote women's rights, without being specific.
"While there is still much to be done to completely free women from this bondage of inequality, we can nonetheless proudly claim that concrete, sustainable, and inclusive actions have been taken by our government to create an environment where women's rights are respected and their contributions to society are recognized," said Duterte.
He also called on Filipinos to support advocacies that fight for the equality of women and men.
Duterte, who declared only two months ago that women are not fit for the Philippine presidency, said that women must break "the backward mindset that fueled a culture of gender oppression and inequality."
Yet Duterte himself has been criticized for making public remarks and behaving in ways that perpetuate objectification of women and even violence against women.
He once said rape statistics in Davao City, his hometown, are high because women there are beautiful, a remark critics said was tantamount to victim-blaming.
Duterte has also threatened to shoot female communist rebels in the vagina and began his presidency with controversy over his campaign remark that he should have been the first to rape an Australian missionary in a Davao City prison riot because he was mayor.
Consistency needed
Malacañang has tried to downplay the President's words by saying these are attempts at humor.
Last November 2020, Presidential Spokesman Harry Roque said Duterte resorted to sexist remarks as a way of coping with the tragedy he witnessed in typhoon-hit areas. This was after Duterte exchanged sexist jokes with government officials in a meeting about the damage wrought by Typhoon Ulysses (Vamco) in Bicol.
These remarks are inconsistent with government policies intended to fight sexism.
Duterte, for instance, signed into law the Safe Spaces Act or Bawal ang Bastos Act, a measure that protects all persons from sexual harassment in public places, work places, schools, and online spaces.
Gender rights experts have said Duterte's public sexist remarks could set back government initiatives for women empowerment.
His administration is also attempting to block a progressive women's group, Gabriela, from fielding candidates in the 2022 national elections. – Rappler.com