The group's representative – whose ascent to Congress was questioned by election lawyers and youth activists – claims academic freedom is being abused by students to 'commit sedition'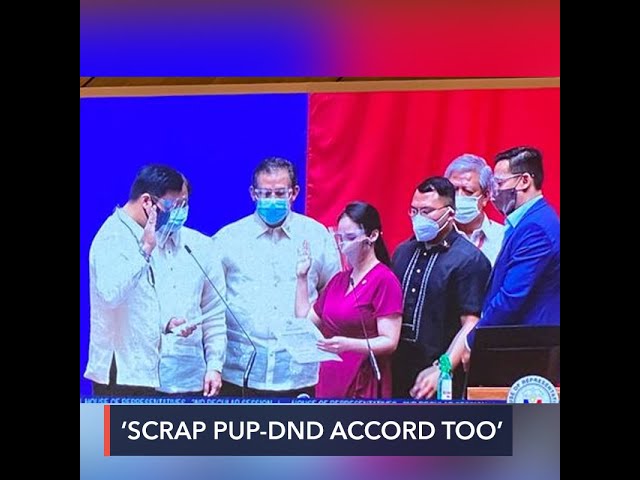 Party-list group Duterte Youth on Tuesday, January 19, called on the Department of National Defense (DND) to also terminate the Polytechnic University of the Philippines (PUP)-DND accord like what it did earlier when it abrogated its agreement with the University of the Philippines (UP).
Representative Ducielle Cardema said that the accords with the government gave the two state universities "special treatment" and have been "abused by some radical leftist groups to promote the youth recruitment" of communists in their campuses.
On January 15, Defense Secretary Delfin Lorenzana informed UP that the UP-DND pact signed in 1989 was "terminated or abrogated effective this date."
The UP-DND accord prevented state forces from entering UP campuses without notifying the university administration. If the termination is implemented, this means police and military can enter UP campuses freely.
"This is not in anyway red-tagging. My husband, NYC (National Youth Commission) Commissioner Ronald Cardema, was also a member of the League of Filipino Students (LFS) in UP before and we have schoolmates there who have already been killed as NPA fighters," she said.
Cardema said she also supported the Department of National Defense's abolition of the UP-DND accord because there were students who "fanatically believe that they can serve the people by bringing down the Government established by the Filipino People."
The PUP-DND agreement, also known as the Prudente-Ramos accord, was signed in 1990 by then-PUP president Nemesio Prudente with then-defense chief Fidel Ramos. It was patterned after the UP-DND pact enforced the previous year.
Both accords were accomplished during the time of Ramos as defense chief. In essence, these were an assurance that the government respected university campuses as safe havens in the pursuit of knowledge and academic excellence.
The scrapping of the UP-DND agreement has been widely condemned, as students and various groups blasted the Duterte government for militarizing campuses. UP President Danilo Concepcion said that the abolition of the arrangement was "totally unnecessary and unwarranted.
Various youth groups staged a protest action at the PUP campus in Sta Mesa, Manila, on Wednesday, January 20, opposing Cardema's call.
In a statement on Wednesday, Cardema said academic freedom does not "include freedom to commit sedition by calling on the people to rebel against the government."
"Walang kaugnayan ang academic freedom d'yan…. Paano 'nyo pinoprotektahan ang school ninyo 'pag nagsusunog na ng mga school equipment ang iilang leftists d'yan habang di naman makapasok agad ang gobyerno dahil sa accord na 'yan?" Cardema asked.
(Academic freedom has nothing to do with that. How will you protect your school when a handful of leftists are burning your school equipment while government forces cannot just enter your campus because of that accord?)
Duterte Youth was criticized across the political spectrum when Duterte Youth and its nominees skirted rules to be able to run in the 2019 party-list election. It's top nominee, Ronald Cardema, didn't proclaim his intentions to be nominated when members of the Duterte Cabinet were asked to resign if they were seeking elective posts. He got to stay as NYC chair until the filing of nominations.
When Cardema was found to be overaged as youth sector representative, he sought to substitute his wife Ducielle as the group's top nominee – past the deadline of the Commission on Elections.
Election lawyers have asked the Supreme Court to undo the "grossly illegal" proclamation of Ducielle Cardema, citing Duterte Youth's failure to meet hearing and publication requirements to be considered a registered party. – Rappler.com