There will be 110 additional hospital beds for moderate to severe cases of COVID 19, says Malacañang, amid a surge that hit 15,000 infections in a single day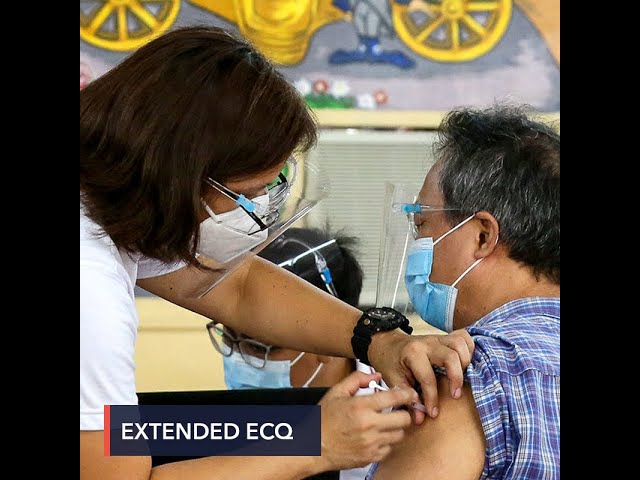 After back-to-back record-high increases of daily COVID-19 cases, the Duterte government has extended to at least one more week the enhanced community quarantine (ECQ) over the collective National Capital Region or NCR Plus, Malacañang announced Saturday, April 3.
"One more week at least of ECQ in Metro Manila, Laguna, Bulacan, Cavite and Rizal," Presidential Spokesperson Harry Roque said over a televised announcement Saturday evening. The extension will be from April 5 to 11.
The Philippines on Saturday recorded 12,576 new COVID-19 cases, the second day in a row the country tallied more than 10,000. The infections peaked at 15,310 on Friday, April 2, which was country's highest single-day caseload so far.
Roque said the government will be adding beds for moderate to severe cases of COVID-19 in hospitals, in the wake of reports from the ground of family members sharing horror stories of critical patients being turned away by hospitals because these were in full capacity.
"We will have 110 additional moderate to severe beds which will be operational in Quezon Institute, this is on top of the other additional beds next month which will be not less than 160," Roque said in Filipino.
The 2021 ECQ has a 6 pm to 5 am curfew except for food deliveries and other essentials. Some restaurants are still open during these hours but only for takeout and delivery.
Roque called on Filipinos to avail of vaccination if they were on the priority list – which are elderly and those with comorbidities.
Roque said they would reassess after a week, and see if it could be eased to Moderate ECQ (MECQ) the week after.
There was no mention if additional aid would be given. For the initial ECQ imposed on March 29, the government said eligible Filipinos will get a measly P1,000 worth of cash or goods each, while families can receive a maximum of P4,000 – or only up to 4 individuals receiving the P1,000 each. In 2020, low-income families received P5,000 to P8,000, depending on the prevailing minimum wage in the area.
"I will answer all questions by Monday," Roque said in Filipino. – Rappler.com