When the family reaches the city's lone crematorium in the wee hours, the workers refuse to accept the cadaver because the body was not placed in a body bag
Ailing senior citizen Cresencio Abendan had wanted to be confined in a hospital because he suspected he had COVID-19. He died in a van surrounded by his family while waiting for a test result required of him before he could be admitted to a hospital.
The 66-year-old Abendan of Barangay Fatima, General Santos City in south-central Mindanao, died of COVID-19, an infection confirmed only after he breathed his last on Tuesday, August 31.
"Gipasa-pasa mi nila. Naglibog na pud mi kon unsa among buhaton. Subo pa kaayo kay namatyan mi. Lisud kaayo," Abendan's son Jay said, crying.
(We were given the runaround. We were confused and didn't know what to do. It's painful that we lost a loved one. It's very difficult.)
His father had to be rushed to the Diagan Cooperative Hospital in General Santos because he could no longer breathe properly.
Jay said they had to wait for the result of his father's COVID-19 test before he could be admitted to the hospital. The old man Cresencio had to be content with their Hyundai van, where he died Tuesday evening without knowing if he really had COVID-19.
The younger Abendan said it was as if his father's death was not enough – their next problem was where to bring his remains.
Jay said the hospital referred them to Barangay Fatima Rural Health Unit (RHU), but attempts by the hospital staff to reach it by phone proved futile.
"No one was picking up the phone," he said.
Jay said he and other family members were left with no choice but to board the van and leave the hospital without any protective gear while the body of their father was wrapped in the same blanket he had on him when he was rushed to the hospital.
At the RHU, he said, they were made to wait for hours as staff made arrangements for the cremation of his father. He said they were later told they had to pay P10,000 before the body could be cremated and another P10,000 after they are given the cremation ashes.
When the family finally reached the city's lone crematorium in the wee hours, the workers refused to accept the cadaver because the body was not placed in a body bag, Jay said.
Seeking help
With no one giving them advice on what to do, the family decided to go to the local Bombo Radyo station at around 8 am on Wednesday, September 1, and asked the help of the media outfit where his father once worked as a talent banduria player.
Jojo Bacalanmo, chief of reporters of Bombo Radyo-General Santos, said the radio station's staff helped by connecting the family with Dr. Butch Dulduco, head of the Department of Health (DOH) in Sarangani province.
Bacalanmo said he and other radio station staff had to keep their distance from the Abendans after being told that Cresencio died of COVID-19 and his family members had been exposed.
"I told them not to come near, stay put, and that we can talk away from each other," he said.
Dulduco later came from Sarangani province with PPEs and a cadaver bag, and only then did the crematorium agree to take in the body for cremation.
Dulduco said he was bothered by what happened to the Abendans, and how people who could have immediately helped them apparently did not see the urgency.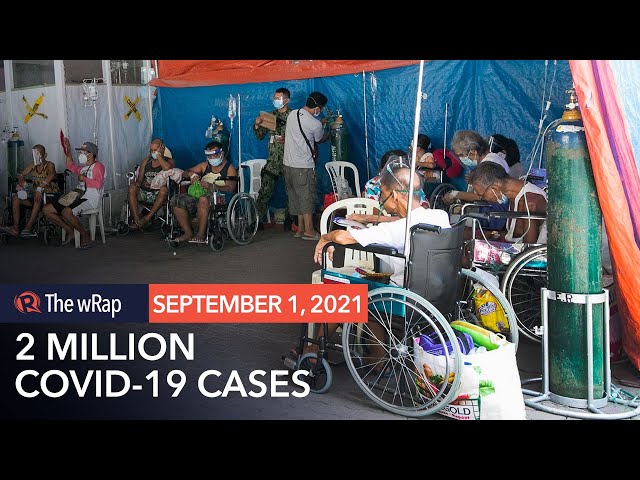 On the other side of the mainland, in western Mindanao, people getting sick with COVID-19 were enduring similar difficulties.
Outside the provincial hospital in Ipil, Zamboanga Sibugay, for instance, sick people were crowding inside an emergency room in the hope there would be vacancies so they could be confined.
COVID-19 patient Leizel Magdamit, 36, wanted to be in the ward of the government-owned Zamboanga Sibugay Provincial Hospital, but there was no vacancy, forcing her to stay in a private hospital in Kabasalan, a town some 30 kilometers east of Ipil. There, she has been on oxygen support.
Her sister-in-law, Christelle Magdamit, said physicians there advised them to transfer their patient to a COVID-19 referral hospital.
Aside from Leizel's breathing difficulties, the family was also worried about how they would pay the private hospital.
Dr. Sherwin Bastero, chief of the provincial hospital, said the COVID-19 wards were already full. The wards, according to him, have only 29 beds, and all were taken.
Nationwide, the utilization rate of ward beds is at 71%. In the case of Zamboanga Sibugay, it's 100%, Bastero said.
As of Wednesday, September 1, there were 11 COVID-19 patients waiting for ward spaces in the provincial hospital's emergency room, he said.
Zamboanga Sibugay has seen a surge in newly-documented COVID-19 cases for a week now, averaging no less than 20 cases a day.
As of Tuesday, August 31, the province logged 36 new cases, and a total of 2,335 since 2020. Of the cumulative cases, 261 are active.
Compared to other areas in the Zamboanga Peninsula, however, the province still managed to keep its COVID-19 cases relatively low. Data from the DOH showed that Zamboanga City registered the highest with 13,688 cumulative cases since 2020; Zamboanga del Sur, 8,329; and Zamboanga del Norte, 5,973.
Bastero said he was still optimistic the situation in Zamboanga Sibugay would not worsen.
"We had this similar situation last May…. We were able to manage and admit all patients and some were referred (to other hospitals)," he said.
Bastero said in the event the cases continue to rise, the provincial hospital would expand its capacity and turn an annex building into a COVID-19 facility. – Rappler.com
Rommel Rebollido and Antonio Manaytay are Mindanao-based journalists and awardees of the Rufo Aries Journalism Fellowship