President Benigno Aquino III poses a challenge to his allies: Do more to make Mar Roxas known to all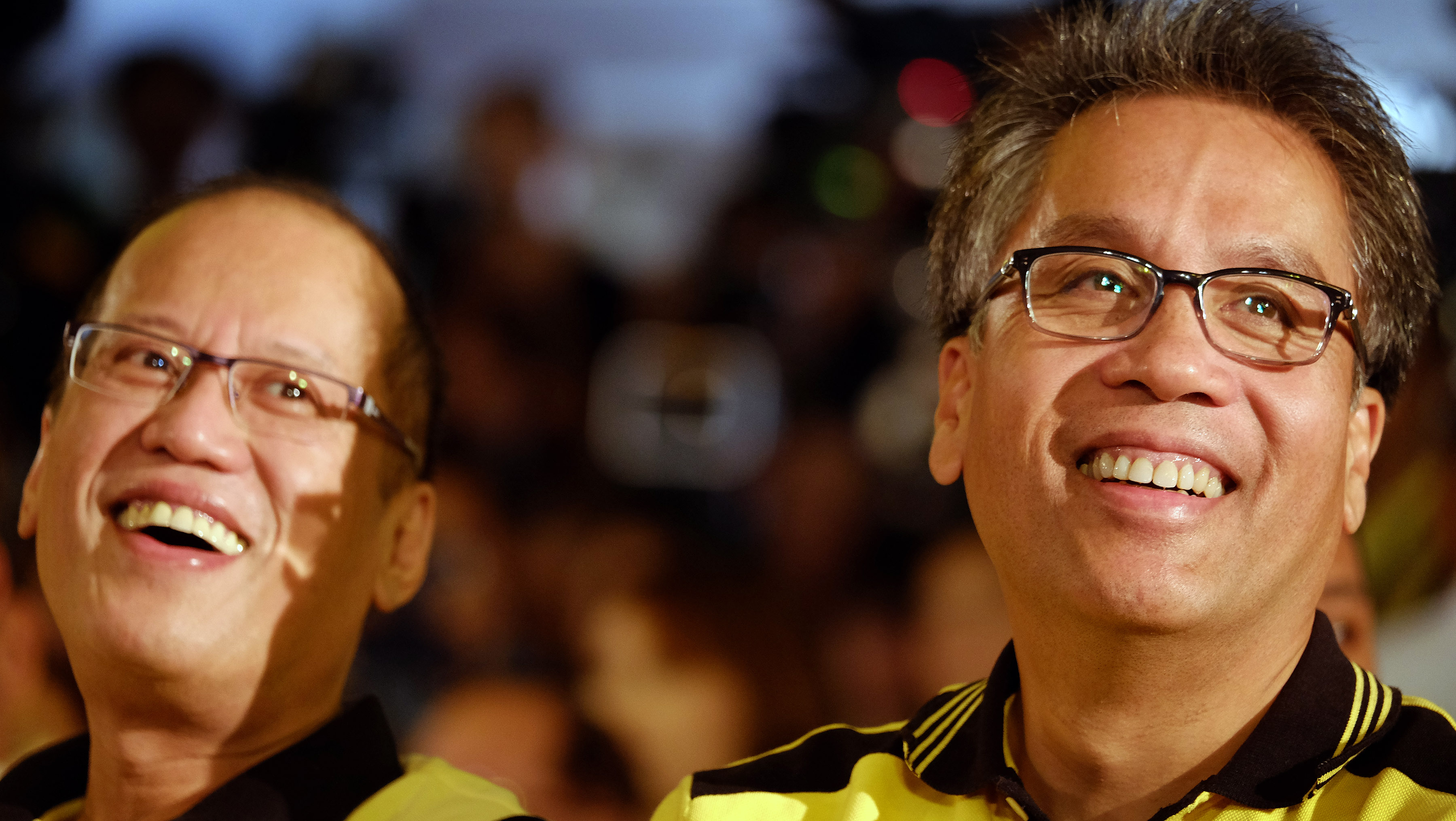 MANILA, Philippines – Manuel Roxas II's political allies and supporters aren't worried about his discouraging survey numbers. After getting President Benigno Aquino III's endorsement, his allies say there's nowhere else to go but up.
"Internally, he has 13 percentage points. First of all, this launch has a kick. There will be a nomination bounce – the certainty of running, the certainty of the appointment. So we're competitive. I think, after this, Mar will overtake [Vice President Jejomar] Binay," Albay Governor Joey Salceda told Rappler on the sidelines of Roxas' anointment at the historic Club Filipino in San Juan City.
Aquino on Friday, July 31, endorsed Roxas, who, in turn, accepted the "challenge" of continuing the current administration's reforms. The endorsement came after months of meetings and consultations with key players in the coming elections – in particular, survey leader Senator Grace Poe and her friend, Senator Francis Escudero.
It was Roxas' subpar numbers, and Poe's stellar showing in surveys that have caused some allies in the broad LP-led coalition to back Poe instead of Roxas, who is LP president-on-leave.
But in his speech in Club Filipino, Aquino dismissed that concern.
"Malinaw po kung sino sa mga pagpipilian ang tunay at karapat-dapat nating maging susunod na pinuno. At kung mababa man ang kanyang mga numero sa ngayon, ibig sabihin kailangan pa nating paghusayan ang pagpapakilala sa kanya," he said.
(It is clear who, of all the choices, deserves to be our next leader. And if his numbers are low at this point in time, it only means that we need to do even more to make him known to all.)
For Budget Secretary and LP stalwart Florencio Abad, Roxas' tepid numbers are "understandable" because he had yet to declare his candidacy, was not yet being campaigned for by the president, and was not yet talking about his own achievements.
But, Abad said, "the more you get to know Mar Roxas, the more you get to believe that he should be the next president of this country."
Binay, during a media interview in Cavite, meanwhile, said Roxas' declaration would boost his candidacy. 
From blue to yellow
Roxas' 2016 campaign, if he and his allies are to be believed, will not be about Mar Roxas. Instead, it will hinge on the Aquino administration's "Daang Matuwid (Straight Path)," the tagline for its good governance and anti-corruption platform.
The LP president-on-leave nixed his trademark blue and instead donned the bright LP yellow.
"It's the color of continuity all the way from 1986. That's the symbol, it's the color of change, continuing reforms. [Roxas is] picking up from somebody who also picked up from his parents," said Abad.
Aquino, Abad said, is sure to campaign for Roxas.
"Remember the word he used: obligation. That means he ought to be out there telling the people that of all the people, candidates who have offered themselves to serve na sigurado (for sure), he said, I'm sure, [Roxas is] going to continue," said Abad.
But Salceda was quick to admit that the path to Malacañang isn't all that clear.
"Ang pinaka-risk lang naman talaga kay Mar ang Grace Poe [presidential campaign] (The biggest threat to Mar is a Poe campaign)… because they cater to the same psychographic population," said Salceda.
LP allies say they're still in the process of convincing Poe to ally with the ruling party for 2016, but Poe's recent pronouncements seem to hint at a split. – Rappler.com