Former Isabela governor Grace Padaca says she's being urged again to run against the Dy dynasty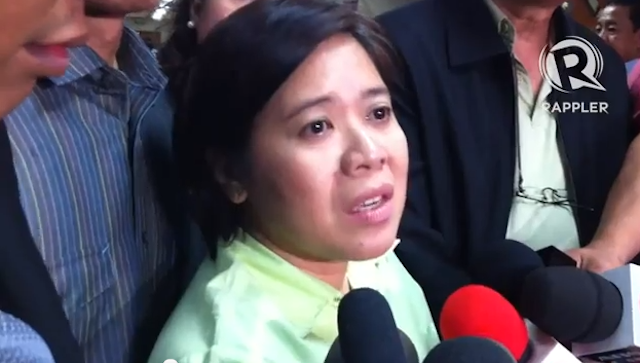 CAGAYAN, Philippines – Former  Isabela governor and  ex-election commissioner Maria Gracia Cielo "Grace" Padaca might run against incumbent Governor Faustino Dy III for the gubernatorial post in 2016.
Padaca, who beat Faustino Dy Jr in the 2004 Isabela gubernatorial race but lost to the incumbent governor in 2010, said she has not made up her mind although her allies are urging her to "join them in their fight for good  governance" in the 2016  elections. 
"The mayoral levels are asking me, actually, quite  begging  me, to go with them because they said it will be difficult to run without a head,"  Padaca told  Rappler in a phone  interview on Friday, August  21. 
She said they gave her until end of September to decide.
Padaca refused to say whether she would, as in the past, be running under the ruling Liberal Party.
In 2012, two years after she lost the gubernatorial race, Padaca was appointed by President Benigno Aquino III as Commission on Elections commissioner. Aquino however chose not to re-appoint her in 2014 after she was bypassed by the Commission on Appointments. (READ: Padaca speaks out on Comelec departure)
Padaca stressed then that the President's decision would not affect her ties with him. 
Isabela, which has a voting population of 924,892 per latest government data, has been an opposition country under Aquino, a situation that the LP intends to cure in 2016. Opposition standard-bearer Vice President Jejomar Binay considers Isabela his bailiwick; his mother is from the province.
"Ang  sabi nila para mas buo ang  laban sa Isabela kung may head, kung  kasama  ako kasi they have been doing  their  own  service," Padaca said, referring to her local allies. (They said the fight in Isabela will be complete if they have their head,  [or] if I am  with  them, because they have been doing their own service.) 
Padaca said she "cannot totally dismiss their request" because "if there's  someone who will face [issues] with them,  it would  still be  me."
Padaca said she is also worried about the entry of "political dynasties" in different Isabela towns. 
"Dati  ang  mga  political dynasties, naka-concentrate  lang  sa  mga  cities  at  capital  pero ngayon nandun  na sila  sa  kabilang  bayan," Padaca said. (Before, political dynasties [in Isabela] are only concentrated in  cities and capital, but they are now in various towns.)
Dy country
Padaca said the Dys now control 3 or 4  areas. She  said  some  old  families are complaining why some  prominent  politicians  "suddenly  enter  [the landscape] just  for  the  sake  of elections."
Padaca first ran in 2001 as representative against then Congressman Faustino Dy III, but she lost by 84 votes.
Her victory in 2004 put an end – albeit temporarily – to the Dy's decades-long control of the province.
On the graft charges filed against her with the Sandiganbayan, she said they have already submitted "hundreds of boxes" of documents to prove her innocence.
She said it took them almost 3 years to gather these, which include receipts from farmers.
Padaca faces graft and malversation charges in Sandiganbayan for allegedly giving "undue advantage" to a non-governmental organization  tapped to manage credit facility for rice farmers in the province. – Rappler.com