This is AI generated summarization, which may have errors. For context, always refer to the full article.
Rodrigo Duterte's 'final' decision breaks hearts and dashes hopes. But some netizens also thank him for stacking the odds against certain presidential bets.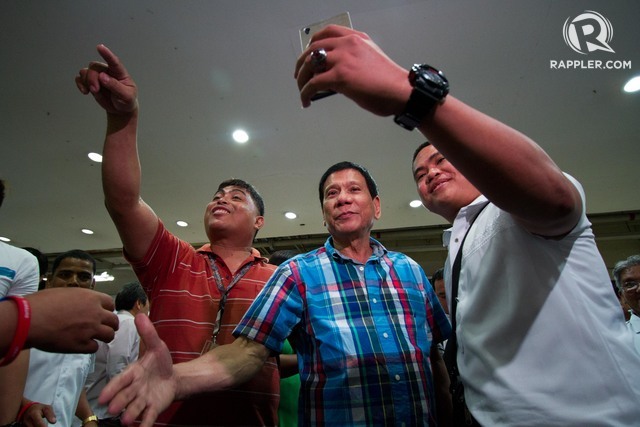 MANILA, Philippines – "You have to run, sir! We can't do this on our own."
That was one way netizens responded to Rodrigo Duterte's announcement that he won't be running for president in the 2016 national elections.
Social media exploded with reactions to his much-awaited decision. In the past months – agonizing for both his supporters and detractors – the popular Davao City mayor had been sending mixed signals about his 2016 plans.
So Duterte is officially not running wow he is paasa to a whole new level…

— Dona Lee (@donaleaf) September 7, 2015
Filipinos went online to vent their emotions and express their thoughts.
Reactions crowdsourced by Rappler through Facebook and Twitter showed a variety of sentiments: disappointment, gratitude, or wishful thinking that Duterte would change his mind. (Scroll down to see crowdsourced social media posts.)
Twitter user Luis Cuevas said: "This broke my heart. He was our last hope at the moment for our country to be better."
Migs Perez-Rubio wrote: "But we need an iron hand to guide [our] countrymen…. You have to run Sir!! We can't do this on our own… . Who knows who's going to run this country again. Another Trapo for sure!"
There was more than a hint of bitterness for others.
"Pa-announce announce ka pa…PAASA (You made announcements. You made us hope)," wrote Arnold Baitan on Facebook.
The silver lining
Yet there were those who saw his begging off from the presidential race as something worth admiring.
"Your decision is laudable Sir. You are my Pambansang (national) Sheriff in so many ways," said Paulo John Israel on Facebook.
Thank you, Duterte. Good move for the country.

— that ronald tho. (@SitBadDog) September 7, 2015
Remz Tru's reaction was, "Good, not like those who are very [thirsty for] power. You're the man."
Words of gratitude for the mayor could also be found among the responses. Some even think that with Duterte out of the race, votes for other candidates would be intact.
"I'm more [concerned] you may break the vote of Roxas that will lead Binay to win. Now you made the best decision in your life. Thank you Mayor for being a true man with his word," says Ronaldo Mardaz.
For others, hope springs eternal.
Some think Duterte will still change his mind. After all, it's not the first time he has said publicly he wouldn't be running.
"Mayor Duterte can still change his mind. I mean, filing does not end until October right?" asked @findingmiemoi3 on Twitter.
"Is that your final answer? May call a friend ka pa…the people (You still have a choice to call a friend, the people)," said Adugadir Muhammad on Facebook.
Despite Duterte also announcing that he is retiring from politics when his term as mayor ends in 2016, netizens still want him in the national government.
Some even suggest that he would make a good Interior Secretary.
"If Mar Roxas can promise to make him DILG head, baka pag isipan ko siya botohin (I might consider voting him)," said Facebook user Tintin Chua.
"Good move. Mar [needs] you as DILG, more powerful" weighed in Jonathan Ildefonso.
Duterte had been a favorite candidate for president, earning the 3rd top spot in Pulse Asia Poll. His rise as people's choice was also captured in a later Social Weather Stations survey.
Crowdsourced responses on Facebook:
<div class="fb-post" data-href="" data-width="500″>
Monday, September 7, 2015div>
Crowdsources responses on Twitter:
" data-widget-id="640816576078319616″>'I am not running.'
What are your thoughts on Duterte's decision not to run for president? Share them with us by using #PHVote. – Rappler.com