President Benigno Aquino III says the ruling party is not giving up on getting Senator Grace Poe as Mar Roxas' running mate until the end of the filing period in October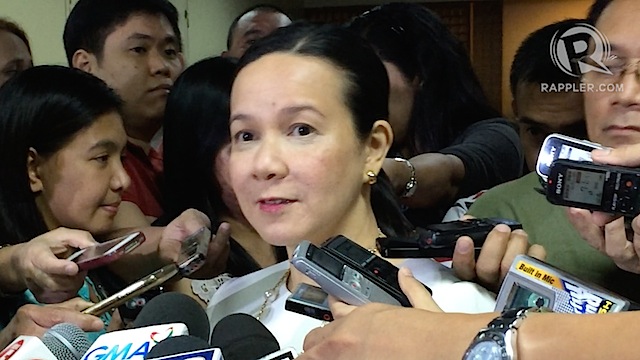 MANILA, Philippines – President Benigno Aquino III on Tuesday, September 8, reiterated the need for Senator Grace Poe to gain more experience in government before gunning for the country's highest elective post in 2016.
Responding to questions in a Q&A with the Philippine Daily Inquirer aired live on state-run PTV4, Aquino said he chose Roxas over Poe to be the administration standard-bearer because he is "sure" that Roxas has the "track record and experience" to continue what he started.
"At the end of the day, is she as prepared as Mar? I don't think anybody can argue that she is as prepared as Mar at this point in time," the President said. 
In a game prepared by PDI, Aquino was asked to choose a hashtag from a list, to match a name or issue. When Poe's name was mentioned, he chose "#SaTamangPanahon (at the right time)" – consistent with his belief that the neophyte senator needs more experience to gun for the presidency.
Despite the jabs at Poe, Aquino said they the ruling party will continue to woo her to be the administration's vice presidential bet. "Until the end of filing, I don't think we're giving up. Iba pa rin (It's still better) that we get united."

"I hope there will be less division of forces that are allied in Daang Matuwid (Straight Path) and thereby ensure that there is continuity," the President added.
Mar's choice
If Poe decides to run for president, Aquino said there are at least two potential candidates he has in mind to be Roxas' running mate, one of whom he is "really pushing for."
He declined to name the two, and later said that Roxas would make the final decision, as the President had mentioned in his speech endorsing Roxas as the administration's standard bearer.
Asked about Camarines Sur Representative Leni Robredo, one of those being eyed as Roxas' running mate, Aquino said that if Roxas so decides, then they will talk to Robredo. He  said he wouldn't want to make any statement until then so as not to put any undue pressure on the neophyte lawmaker.
Other potential vice presidential candidates reportedly being eyed by the ruling party are Batangas Governor Vilma Santos, and Senators Alan Peter Cayetano and Antonio Trillanes.
It was not the first time the President criticized Poe's inexperience in government service. He had earlier referred to Poe, a first-time lawmaker, as "unripe" for the presidency.
Poe, the current front runner in presidential preference polls, is widely believed to be eyeing the presidency. She has been going around the country to  as she maintained she is qualified to run for president. (READ: Grace Poe to Aquino: 'Unripe' ones last longer) – Rappler.com