This is AI generated summarization, which may have errors. For context, always refer to the full article.
'Political dynasties do not cause poverty. Poverty is caused by poor leadership,' the Vice President tells students and professors at UPLB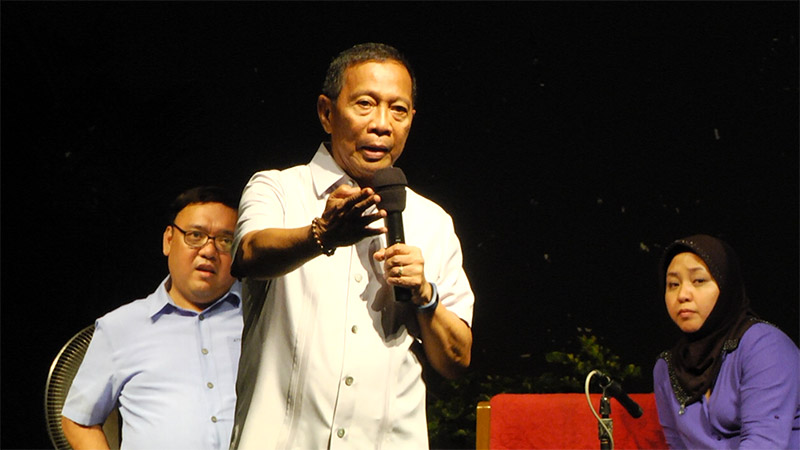 LAGUNA, Philippines – "Since there are dynasties, don't politicians deliberately keep people poor to make them submissive? Honorable Vice President, what is your take on this?"
This was one of the hard-hitting questions that University of the Philippines (UP) students and professors asked Vice President Jejomar Binay in a forum here on Tuesday, September 15. (READ: Students roast Binay at UPLB forum: 'Wala namang ganyanan')
The opposition standard-bearer was the speaker at the "Forum on Governance, Transparency, and Social Transformation" in UP Los Baños, where he engaged students in a question-and-answer session that lasted for about an hour and a half. 
Watch the full video of the Q&A here:
Assistant Professor Diosdado Lopega cited a 2013 study linking political dynasties with poverty. Hailing from Samar, the teacher said that many of the roads in his hometown were not yet paved, and power was only fully installed lately.
Binay, who has 3 children in key government posts, said that having political families dominate public office does not make people poor.
"'Yung poverty, 'di ko malaman paano may kinalaman ang dynasty. Nagkakaroon ng poverty dahil 'di tama ang pamamahala, economic reasons, pero it's not because dynasty causes poverty. Of course, not. I'm willing to debate with anybody sa issue ng anti-dynasty," Binay said.
(I do not see the connection between poverty and dynasty. Poverty occurs because of mismanagement, economic reasons but it's not because dynasty causes poverty.)
Binay reiterated his defense of political dynasties, saying only families who resort to cheating and violence are harmful. He said what matters is that families win in clean elections.
He then focused on his own family. Binay's children in government are Senator Nancy Binay, Makati Representative Abigail Binay, and Makati Mayor Jejomar Erwin "Junjun" Binay Jr.
"Yes, we are 4 in government, but we were elected. I can say the son is even better than the father. He even increased the budget of Makati…. Political dynasties do not cause poverty. Poverty is caused by poor leadership," Binay said.
The forum was the first in a series that the university is hosting for the 2016 election featuring presidential bets. Organizers also plan to invite Senator Grace Poe and resigned Interior Secretary Manuel "Mar" Roxas II.
Binay's allies joined him in the event. They included unseated Laguna Governor ER Ejercito, lawyer Harry Roque, and Princess Jacel Kiram, a senatorial aspirant under the opposition United Nationalist Alliance (UNA).
Ejercito is running for governor under UNA in 2016 after the Commission on Elections removed him from his post for campaign overspending.
Unaware of agrarian reform bill
The Vice President highlighted the features of what he called a "Binay administration" – experience and competence.
Yet the presidential bet could not answer some of the students' policy questions.
One student asked him about the Genuine Agrarian Reform Bill (GARB) of Anakpawis, but Binay confused it with the bill to extend the Comprehensive Agrarian Reform Program (CARP).
The student then explained that the GARB was meant to end the "feudal and semi-feudal exploitation" of farmers, and to increase the income of farmer beneficiaries.
Binay said: "Sorry, 'di ko talaga alam ang House bill na iyan, pero ang intention…. Inihain nila [Bayan Muna] Congressman [Neri] Colmenares? Okay iyon. Inaanyahan ko si Congressman Colmenares magkandidatong senador. Kailangan natin ng representation ng sector niya."
(Sorry, I really do not know that House bill, but if the intention…. It was filed by Congressman Colmenares? Then that's okay. I invited Congressman Colmenares to run for senator. We need representation of his sector.)
One topic that students repeatedly raised was human rights. They asked Binay what he intends to do about allegations linking the military to extrajudicial killings, forced evacuation, attacks on schools, and the recent killings of the Lumad, the indigenous people of Mindanao. (READ: Leave the Lumad alone!)
Binay said: "I am also an indigenous people. I am an Ibanag from Isabela. I wrote the Department of National Defense to investigate what happened."
Yet the human rights lawyer who fought the Marcos dictatorship was hard-pressed to answer questions on steps he already took. He reiterated that he was only assigned to the housing sector, up until his resignation from the Cabinet in June.
"'Di ko trabaho iyan. Wala akong pagkakataon na gumawa ng hakbang diyan sa maling ginagawa. 'Di ako decision maker diyan. [Pero] human rights lawyer ako, involved ako sa human rights. 'Di ako papayag papatayin ang mga iyan, mga human rights violation. Ipaglalaban ko, paiimbestigahan natin."
(That is not my job. I had no opportunity to take actions on those violations. I am not a decision-maker there. But I am a human rights lawyer. I am involved in human rights. I won't allow these people to be killed. That's a human rights violation. I will fight for them, and we will have these allegations investigated.)
'FOI must regulate social media'
The Vice President was also asked about his support for the freedom of information (FOI) bill, which intends to institutionalize access to government records and data.
A student asked Binay what his alternative to the measure was.
Instead of answering the question, Binay said the FOI needs to be amended to regulate the media and social media.
"Lahat ng provisions tama, pero ang ibang sectors sa media ay libelous. Sa FOI, walang accountability. Ang social media, maganda ang purpose: para maraming tao makaalam ng balita. Ang problema sa social media, napasukan ng pulitika. Ginagamit sa paninira sa kapwa, pagsisinungaling," he said.
(All of the bill's provisions are correct but some sectors in the media are libelous. In FOI, there must be accountability. Social media has a good purpose: so many will know the news. But the problem is that politics got mixed into it. It is being used to destroy others, for lies.)
Despite the tough questions, Binay was a good sport, and entertained the students' queries even beyond the time limit.
He said he is fond of open fora to show that he is not hiding anything but still would not agree to facing his accusers in the Senate. The chamber is probing corruption allegations against him.
"Walang problema doon [sa mga tanong]. Ang problema ang demeanor doon [sa Senado]. At least ito, hindi bastusan." (There's no problem with [the questions]. The problem is the demeanor [in the Senate]. At least here, it's not disrespectful.) – Rappler.com