(UPDATED) This is the first time that SWS released a breakdown of its presidential poll to show the top pick of respondents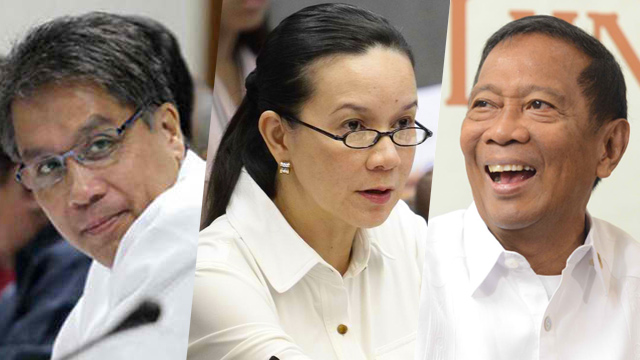 MANILA, Philippines (UPDATED) – A breakdown of the  Social Weather Stations (SWS) latest poll shows administration presidential candidate Manuel Roxas II catching up with survey leaders Senator Grace Poe and Vice President Jejomar Binay in an apparent three-way tie a month before the October filing of certificates of candidacy.
Up to 26% of 1,200 respondents picked Poe, 24% picked Binay, and 20% picked Roxas when they were polled from September 2-5, according to a report published by SWS media partner Business World published Tuesday night, September 22.
The 3-point error margin of the SWS survey puts the numbers of Poe within the range of 23% to 29%, Binay from 21% to 27%, and Roxas from 17% to 23%.
It's a statistical tie with their numbers criss-crossing at 23%.
The SWS survey was conducted a month after President Benigno Aquino III endorsed partymate Roxas but before Poe officially announced her presidential bid on September 16.
Binay, on the other hand, continues to be confronted with corruption allegations against him and his family.
All 3 presidential candidates have already been airing TV ads during the survey period.
The respondents were shown a list of 12 names and were asked the question: "Among the names found in this list, who will you probably vote for as president of the Philippines if elections were held today?"
This is the first time that SWS released a breakdown of its presidential poll to show the top pick of respondents.
It previously only released surveys that asked voters to name 3 possible candidates they would vote for. Based on this methodology, 47% of respondents picked Poe, 39% chose Roxas, and 35% said they will vote for Binay, according to a BusinessWorld report last Monday, September 21.
Duterte is 4th
The SWS breakdown also shows Davao City Mayor Rodrigo Duterte getting only 11% even before he called a press conference on September 7 to announce he was not seeking the presidency.
Senator Ferdinand Marcos was picked by 4% of respondents, Senator Francis Escudero by 4%, former president and Manila Mayor Joseph Estrada by 3%, Senator Miriam Defensor Santiago by 2% and former Senator Manuel Villar by 1%.
Former Senator Panfilo Lacson, Senator Alan Cayetano, and Senator Loren Legarda were picked by less than 1% of respondents. Only 2% of the respondents said they have not decided whom to vote for.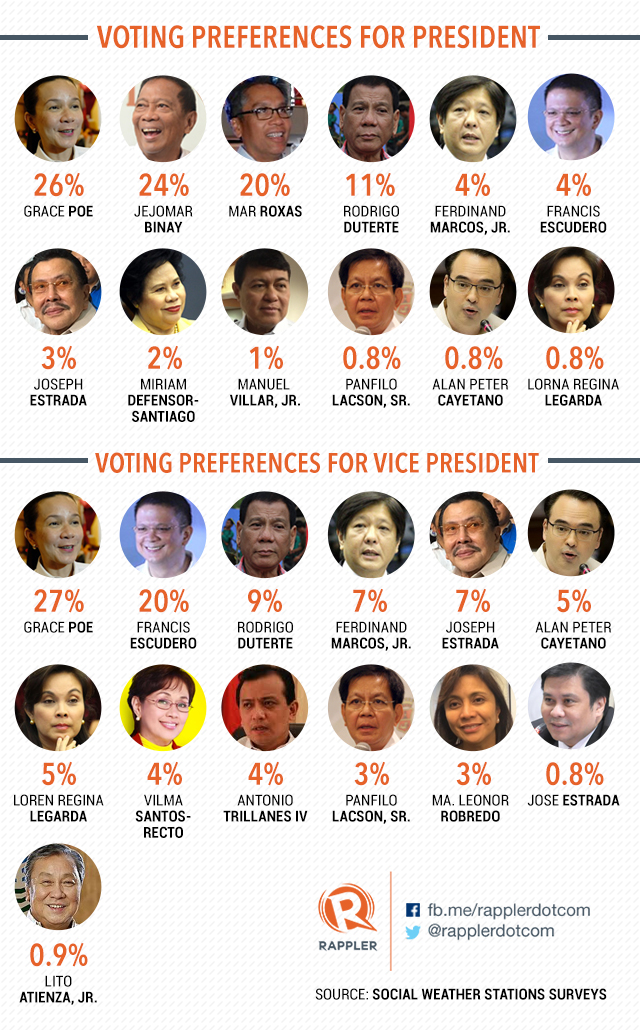 VP race
The SWS poll also shows Poe and Escudero topping the vice-presidential poll with 27% and 20% of respondents choosing them, respectively.
The survey period covered the time that the administration was still wooing Poe to become the running mate of Roxas. She opted to run for the highest post with Escudero as her running mate.
Both Binay and Roxas have yet to announce their running mates. Binay is wooing Marcos. Roxas recently started asking the reluctant Camarines Sur Representative Leni Robredo.
Marcos was picked by 7% of respondents for the vice presidency while Robredo was chosen by 3%.
Others names that figured in the vice-presidential poll were Duterte (9%), Estrada (7%), Cayetano (5%), Legarda (5%), Batangas Governor Vilma Santos-Recto (4%), Senator Antonio Trillanes IV (4%), Lacson (3%), Senator Jinggoy Estrada (2%), and former Manila mayor and now Buhay Party-list Representative Lito Atienza (0.9%).
Polling firm Pulse Asia is also expected to release its presidential survey soon. — Rappler.com