(UPDATED) But the Davao City mayor says forming a tandem with the senator won't be possible until he makes his final decision on whether or not to run for president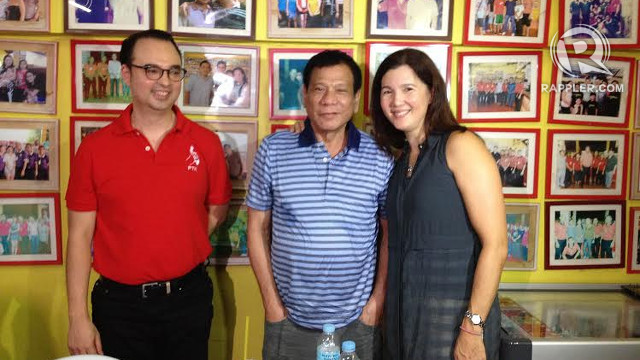 DAVAO CITY, Philippines (UPDATED) – "Wala, wipe out 'yan sila (They will all be wiped out)."
This was how Davao City Mayor Rodrigo Duterte weighed in on chances of other vice presidential candidates against Senator Alan Peter Cayetano in the upcoming 2016 elections.
He made the statement after a dinner meeting with the senator on Tuesday, September 29, the same day Cayetano declared his bid for the vice presidency in Duterte's city.
The meeting, held in one of the mayor's favorite restaurants in Davao City, lasted over two hours. Present in the meeting were Cayetano's wife, Taguig City Mayor Lani Cayetano; eldest sibling Senator Pia Cayetano; and brother Ren. 
Despite his praises for Cayetano, Duterte made it clear the two politicians have not yet formed a tandem.
"I cannot answer that question because I have to resolve first whether I am running or not," he told reporters. (READ: Alan Peter Cayetano: A good partner is worth waiting for)
Asked how his final "soul-searching" is going, he quipped: "The problem is I have started the search but apparently my soul has been lost. I cannot start the process of soul-searching. I seem to have lost my soul."
His supporters have been encouraged by his latest announcement that he needs more time to make a decision – a far cry from the "categorical no" he gave in early September.
Asked what made him change his mind, he said, "Wala na akong ibang masagot, eh kasi pinipilit nila (I have no other answer to give because they are insisting on it)."
His deadliest deadline, he said, would be the last day of the filing of candidacy – October 17. 
Most likely, he'll declare from Davao City.
"I told you I'm not running but if I change my mind, I'd do it [here] because dito ako nag-umpisa, dito rin ako matatapos sa Davao (I started here, I will end things here in Davao)."
'Nothing definite'
Duterte said he and Cayetano share at least one thing in common: "A good grasp of the practical solutions of our problems: poverty, the need to upgrade infrastructure. We cannot hope to improve the economy without the infrastructure." 
He also explained that his first ties with the Cayetano family were with their patriach, the late senator Renato Cayetano.
"My bond with them is [through] the father. The father was very good to me so I have to be very good to the family," said Duterte.
For his part, Cayetano said he feels "honored and privileged" to receive praises from the Davao City mayor.
Though one or two questions came up about the 2016 elections, Cayetano said nothing definite was discussed.
Duterte said: "We were just making some projections. We also talked about team-ups and tandems but nothing definite. What I said to him was right now, I'm not a candidate."
But the Cayetanos could not help but try to convince the Davao leader to take on a presidential bid.
"We were just telling him, 'Mayor, future generations, give them the opportunity to say that the country is transforming.' We left it at that but it was a very good evening," said Cayetano.
Senator Pia Cayetano told reporters the next day that their family will continue discussions with the mayor.
"We will probably have the next round in the home of Alan and Lani in Taguig. Sabi ko we have a cafe named Luna, we can also host it there. Definitely, we said the next meeting will be in Manila." – Rappler.com