Luis Campos, husband of Makati Representative Abigail Binay, will run to replace her in 2016. Is this the start of an extended Binay political dynasty?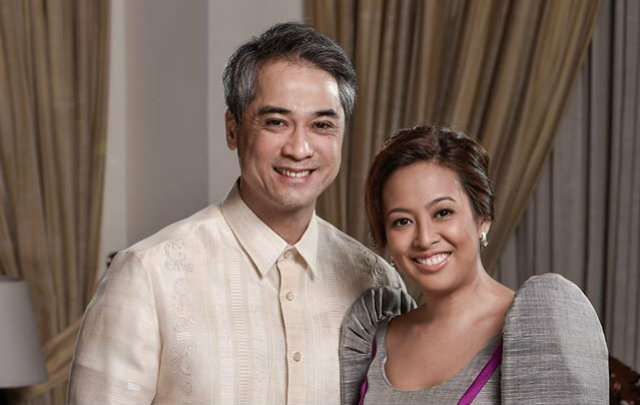 CEBU CITY, Philippines – Is the political dynasty of Vice President Jejomar Binay extending to in-laws? 
The opposition United Nationalist Alliance (UNA) confirmed that it will field Binay's son-in-law, Luis Campos, as representative of the 2nd district of Makati. Campos is vying to replace his wife, Binay daughter Mar-Len Abigail, who will reach the 3-term limit in 2016. 
UNA Secretary-General JV Bautista told Rappler that the Campos couple reached the decision even before the Ombudsman on Friday, October 9, dismissed the Vice President's son, suspended Makati Mayor Jejomar Erwin "Junjun" Binay Jr, over the alleged overpriced Makati parking building. 
Representative Binay said she will be "forced to run" for Makati mayor if her brother is perpetually disqualified from holding public office. If she runs and wins, she could end up becoming mayor and her husband as congressman of the financial district.  
"It was the decision of Congresswoman Abby and her husband for him to run. The incumbent officials and party members are allowed to recommend who they want to replace them," Bautista said in an interview after the UNA Visayas-wide launch here on Friday. 
The party official said he already issued a Certificate of Nomination and Acceptance (CONA) for Campos ahead of the filing of candidacies from October 12 to 16.
A neophyte politician, Campos is the first Binay in-law to run for public office.
In past months, he has been joining his wife's medical clinics and jobs fairs. Banners of the events show the family's photo and the text "Lingkod Bayan Caravan" with the letters L and C, his initials, highlighted.  
Campos is a scion of the Nakpil clan that once owned Juan Luna's "Parisian Life." He was also a partner in the Filipino restaurant Andres, and opened the Botong's resto-bar in Makati. 
Representative Binay and Campos met in Ateneo Law School, and are both art afficionados and collectors. A Philippine Daily Inquirer feature story and an article of Philippine Star columnist Alfred Yuson detail their expansive art collection.  
The Campos family used to live in the posh Dasmariñas Village but left the place last year. It was in the gated subdivision where Mayor Junjun Binay drew controversy for allegedly refusing to follow village rules, and supposedly ordering the arrest of security personnel. 
Extended dynasty? 
The Vice President has 3 children holding public office: eldest daughter Senator Nancy Binay whose term ends in 2019, Mayor Binay, and Representative Abigail Binay. The Binay patriarch's wife, doctor Elenita Binay, also became Makati mayor when the Vice President sat out a term limit in 1998. 
Political dynasty and corruption are two issues hounding the Vice President's campaign. 
Bautista dismissed criticism that Campos' candidacy signaled an extended Binay political dynasty. 
"It's another person. He's only related to the family by marriage. Do you want another one of the children to run? He just wants to serve. Perhaps having been exposed to the job of Congresswoman Abby for the past years, he wants to continue her programs and principles," Bautista said. 
Bautista said Campos was qualified for the post. "He's a natural-born Filipino, and a resident for a period of at least one year [before the elections]."
The UNA secretary-general said it is up to the residents of Makati to determine if Campos should be a lawmaker. 
"Let the people decide. That's democracy. If the people have spoken, it must be respected. It won't be democratic if we say we won't present somebody because of criticism. You don't run politics that way," Bautista said. 
The Binay ally said the family and its camp are ready for criticism. 
"Whatever we do they will criticize us. They will look for anything to criticize us. It's par for the course," Bautista said. 
Will Abby run for mayor or not? 
UNA is fielding Campos along with reelectionist Makati Representative Monique Lagdameo of the first district. 
Vice President Binay and Senator Binay told reporters in Cebu on Friday that despite Mayor Binay's dismissal, he will continue to file his candidacy for reelection in 2016. 
The Ombudsman suspended Mayor Binay for grave misconduct and serious dishonesty. The anti-graft body found him administratively liable for the anomalous bidding, construction and payment of the Makati carpark building project worth P2.28 billion ($49.90 million). 
The Vice President said his son's dimissal is not yet final, and the family's lawyers will question the move. 
"The administrative aspect of the case is not a ground for disqualification. Filing [a certificate of candidacy] is just ministerial. The Commission on Elections will accept it, and if they (critics) want, they can file a disqualification case," he said. 
The statement clashed with what Representative Binay told reporters in Manila. 
"I am not presenting myself because my brother still has one term left. But if needed because he cannot run, I would be forced to run for mayor," the Binay daughter told reporters in Manila. 
The congresswoman initially said she had no plans for 2016 but has "other options." 
"Worst case scenario, tatakbo ako, sorry." (I will run for mayor.) 
Will husband and wife Campos then rule Makati? – Rappler.com